Why John Legend Thinks 'Underground' Is Needed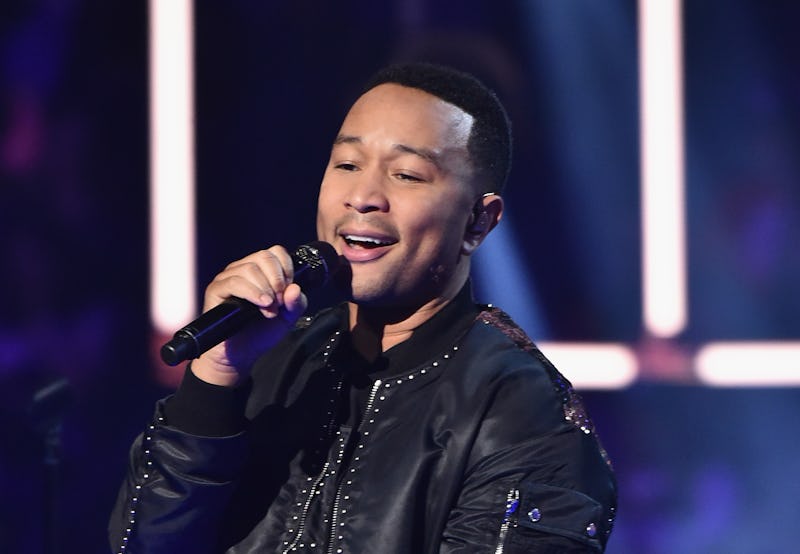 Theo Wargo/Getty Images Entertainment/Getty Images
Musician and producer John Legend has always been vocal about the many injustices in the world, more specifically in America. The "Ordinary People" singer uses his influence to spread a message of equality to anyone who will listen, which is why having a hand in bringing WGN America's Underground to life makes so much sense for the star. In a recent interview with People, Legend shared his take on Underground's cultural relevance. Any fan will rant about how real, dramatic, and intriguing the show is, but Legend's comments prove the series also transcends time.
Underground, which premiered Season 2 on March 8, delivers a unique narrative of slavery, but none of the plots are farfetched. It's found the perfect balance between history and thriller, and I think it's one of the greatest pieces of work currently on television. Legend, who will be introduced to the series as renowned social reformer Frederick Douglass in the April 5 episode, made it clear that we're not too far removed from the past. Taking 2016's presidential race into account, Legend said,
"I think this has been a pretty divisive time for politics — time when people's freedom appears to be in question again, though not in the same way."
Trying to block the history of slavery out of our minds, as it seems several Americans have, will only do us a disservice. And labeling America with the "post-racial" adjective is just another alternative fact. If the 2016 presidential election showed me anything, it's that we're far from being equal on any front — whether that be based on race, sex, or religion — and Legend appears to feel the same way. He told People,
"The idea of a country that's free, and just, and promises equality to all no matter what they look like, and who they love, and where they come from, all of those ideas are in question right now."
His colleague and actor Jurnee Smollett, who plays the role of Rosalee in the series, also seems to agree. In a recent interview about the show's historical accuracy with Bustle, Smollett drew the connection between America's dark history of slavery and the fight for racial equity and equality today.
"I think people will see a direct connection from our past to our present. It is undeniable that there are a lot of wounds that our country still is trying to repair, and it is directly because of where we come from," Smollett said. "Because we come from a history of slavery, and that dynamic is in our society and in our culture, we are still experiencing the residue from it."
I'm fully aware that watching Underground can be a little too much for some. Admittedly, there are quite a few scenes where I have to cover my eyes. However, it's totally something that's been missing from the viewing line-up. Legend also told People,
"It's helpful to look back at another era when freedom was in contention, when people stood up to fight for freedom against all odds and succeeded."
As his quote suggests, the show can not only help us confront our past, but also inspire us to build a better tomorrow.