Why 'Game Of Thrones' Fans May Recognize 'Queer Eye's New Styling Expert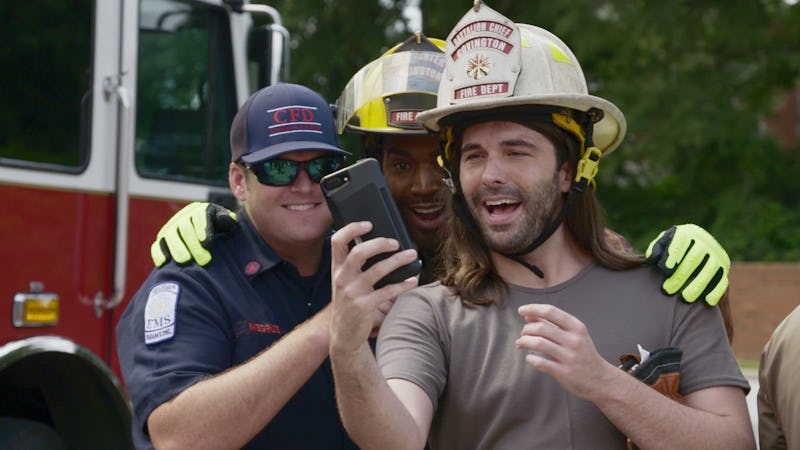 Netflix
Back in the aughts, Kyan Douglas was the grooming guru on Bravo's Queer Eye For The Straight Guy. But in Netflix's reboot, Jonathan Van Ness is the style expert. The new groomer of Queer Eye is a hilarious hair stylist with an internet following, thanks to a video series and a podcast. So before he starts making over men in Atlanta, Georgia, you might want to get to know Jonathan.
Just like in Bravo's version of Queer Eye, Netflix's version has five gay men who are experts in different lifestyle aspects. Joining Van Ness is Bobby Berk (design), Karamo Brown (culture), Antoni Porowski (food and wine), and Tan France (fashion). The long haired and bearded Van Ness is taking on the role of teaching the makeover subjects about products and how to use them. (And coincidentally enough, original groomer Kyan is rocking long hair and a beard these days.) His experience as a hair stylist with an amazing sense of humor has opened up a lot of doors for Jonathan over the years.
The casting for the reboot was extensive. Series creator David Collins told Entertainment Weekly what he loved most about Van Ness, which ultimately got him the job. Collins said:
"Jonathan, obviously, it would be hard to miss how authentic he is. He's so proud of being himself and he's so confident in himself because he really battled that. He was the middle-of-nowhere kid who really grew up getting bullied hard. He fought, he really fought, for being who he is; he has no body shame, he has no shame of his sexuality, he is beautifully himself and authentic. [Laughed] And he's kinda funny too… just cracking you up at every turn."
The new Queer Eye premieres on Feb. 7, so here's what Jonathan was been busy doing before he became a member of the revamped Fab Five. And you'll see why he's so ideal for the makeover show.
Styling In New York
Jonathan often shares some of his hair styles on Instagram. And when he's on the East Coast, one of the salons he works at is Arté Salon in New York City.
Styling In Los Angeles
But Jonathan is bicoastal. So when he's in California, he works at Sola Salon Studios in the Brentwood neighborhood of Los Angeles.
Filming "Gay Of Thrones"
Jonathan is best known for his web series "Gay Of Thrones" on Funny or Die where he provides hysterical, pop-culture-filled recaps of each episode of Game Of Thrones. He is joined by a guest each week — sometimes a comedian, sometimes a major celeb — who helps with commentary as Jonathan does their hair. He uses Daenerys' line, "Where are my dragons?" as his catchphrase. And as the rest of this list shows, "Gay Of Thrones" has made a minor celebrity of the stylist.
I Love The 2000s
Jonathan was a talking head for VH1's I Love The 2000s in 2014. In the episode for 2003, he even had the opportunity to talk about the show he'd eventually star in. "Queer Eye was the first show that really brought a whole harem of gays into the living rooms of middle America," he said. "Being a little boy from Illinois, Queer Eye For The Straight Guy was major for me."
Bonding With Game Of Thrones People
At Comic-Con 2013, Jonathan had the opportunity to meet Tyrion Lannister actor Peter Dinklage and A Song Of Ice And Fire author George R. R. Martin. Martin would later make a cameo on "Gay Of Thrones."
Doing The Hair Of Game Of Thrones Stars
As shown on Jonathan's Instagram, Oberyn Martell actor Pedro Pascal frequently gets his hair done by the "Gay Of Thrones" star.
Being Nominated For An Emmy
Even though it didn't win, "Gay Of Thrones" was nominated for Outstanding Short Form Variety Series at the 2016 Creative Arts Emmys.
Getting His Yoga On
Beyond his entertainment and styling work, Jonathan is a self-professed yogi. He often posts videos or photos of him doing yoga on Instagram. And he uses his yoga flexibility in his dance video posts as well.
Recording "Getting Curious"
Jonathan moves the conversation away from Game Of Thrones on his podcast "Getting Curious." It's a biweekly podcast where he covers any topic he's curious about.
Hanging With Margaret Cho
Comedian Margaret Cho appeared on "Gay Of Thrones" and she is not only Jonathan's client, but he also considers her a friend. She frequently appears on his Instagram account and was a guest on "Getting Curious."
Working The E! Red Carpet
He often does Cho's hair when she appears on E!'s Fashion Police, so it's only right that E! recruited him to recreate iconic red carpet looks for the 2017 Oscars.
Staying Authentic
While Jonathan is poised for a major breakout with Queer Eye, he noted on Instagram how what's most important on his social media is portraying his authentic self. And that's exactly why Queer Eye creator Collins cast him.
Keeping With The Styling
Even with so much on his plate, Jonathan's passion is for styling hair, as he noted in a post in December 2017. So as his celebrity continues to rise, he'll stick with the job that helped make him famous.
As he has proved through "Gay Of Thrones," Jonathan is a star. And with his background in hair styling and his focus on spreading acceptance with humor and love, he is perfectly coiffed to star in Queer Eye.