Jordan Is Joining Grocery Joe On 'DWTS' Next Week, So Brace Yourselves, 'Bachelor' Nation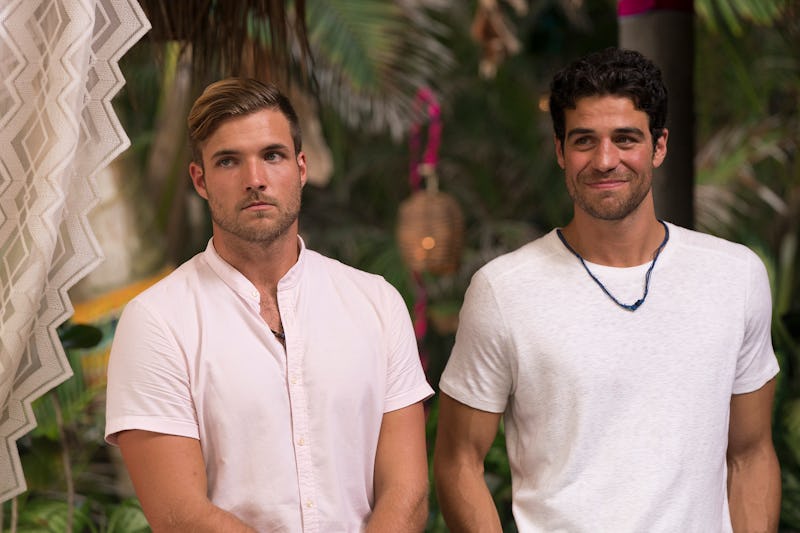 ABC/ Paul Hebert
Arguably the best relationship to come out of Bachelor in Paradise Season 5 is Jordan Kimball and Joe Amabile's bromance. BIP is over, but don't fret. Everyone's favorite duo will be back on reality TV soon enough — but this time as a trio. Next week, Jordan is joining Joe on Dancing with the Stars, along with his dance partner Jenna Johnson, according to Entertainment Tonight. Yep, that's right — Jordan will be on a reality TV with another Jenna. Hopefully it's not too soon to hear that name again, considering that Jordan just experienced a very public breakup with Jenna Cooper, who he got engaged to on Season 5 of Paradise.
Jenna posted about the Dancing With the Stars trio announcement in her blog post for Us Weekly. Before mentioning Jordan specifically, Jenna remarked, "We really tried to pinpoint how we could make [Joe] feel less nervous and more comfortable and confident."
There's no better way to amp up the confidence than to bring Jordan on board. This is the man who famously declared, "Before you put your socks on or your pantyhose or your shoes even, put your confidence on," during his time on the last season of The Bachelorette. In her Us Weekly blog, Jenna declared,
"I think adding in the trio next week is an awesome opportunity for Joe especially since our partner is Jordan Kimball. He exudes confidence and charisma, and they are great friends."
If Joe needs a confidence boost, Jordan is the perfect resource to get that.
Jenna predicted, "I think it will be awesome to have another male figure in the rehearsal room. He's gonna bring this masculine energy out of Joe. I think Joe's going to feel safe out there and he's going to be super pumped to do our salsa." Yes! Let's go, #TeamCheckUsOut is about to get a lot more confident and (most likely) pensive, and hilarious. She also shared,
"Jordan has great energy, and I just barely met him for the first time over FaceTime. I can't wait to have him in rehearsal. I think he's going to be super into it which will be so much fun."
Plus, it will be nice to see Jordan laughing and having fun after going through a very rough and very public breakup. DWTS' Jenna wrote, "I hope they gonna push each other, so I can't wait. I hear that when the two of them get together, they just laugh their faces off. I'm so excited."
In that blog post, there was some video footage of their FaceTime call with Jordan. Jordan told the dance partners, "I am pumped and ready to do this." Joe quoted one of Jordan's Bachelorette one-liners in response: "Tick tock, let's make it rock."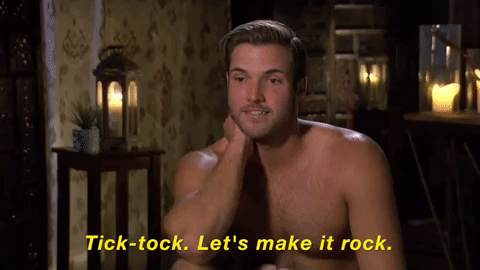 In that same video, Jenna got down to business, asking Jordan, "Have you been practicing your salsa moves?" Jordan told her, "Oh yeah. I had YouTube. I had my foot on the sand. I was moving my hips real good earlier. I'm getting a massage tomorrow to loosen up the shoulders."
Then Jenna hit Jordan with a critical question: "Will you get a spray tan?" Jordan's initial reaction was, "Wait. What?" Then he told them, "A spray tan? You know how tan I am." Joe declared, "He doesn't need a spray tan."
Jenna had even more pertinent inquiries for her future dance partner. She wanted to know, "Will you rip off your shirt?" Jordan replied, "I mean, yeah. We can do that."
Later in the call, Joe teased, "Wait until you hear our song too. It's amazing. I love it." Oh, what a cliffhanger. What could it be? The call concluded with Jordan supporting his close friend, telling Joe and Jenna, "You did so good tonight! You guys killed it." How bromantic and sweet!
Jordan posted about his Dancing With the Stars appearance on Twitter, too.
Meanwhile, Joe's girlfriend Kendall Long, who he met on BiP Season 5, posted a video on her Instagram Story sharing her excitement.
Joe shared his excitement for Jordan's arrival in an Instagram Story. He wrote, "Tic toc let's make it rock jordy boy!!! Jordan will be dancing with me next Week!!! Stay tuned," along with some crying laughing faces added in for good measure.
No matter what happens, this is going to make for some enjoyable television. It doesn't get much better than beloved reality TV stars learning how to dance together.