Jordan Fought With Basically Everyone On Becca's 'Men Tell All' Special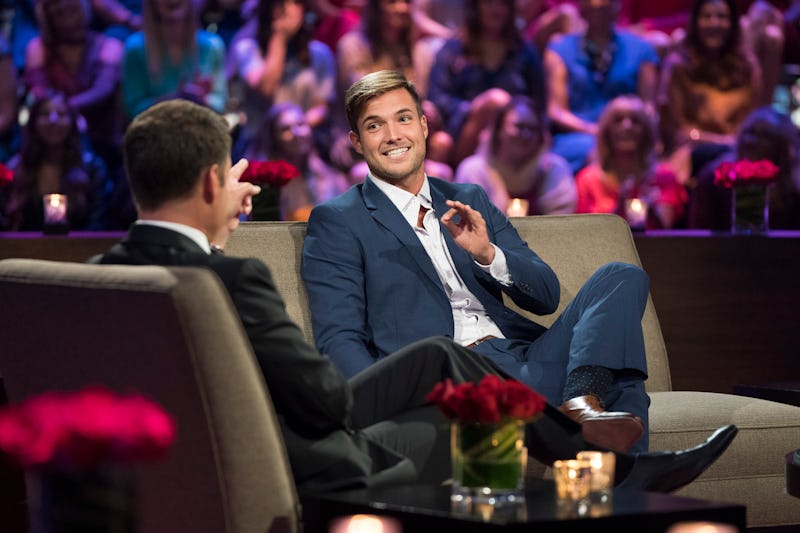 Paul Hebert/ABC
Even after Jordan was eliminated from The Bachelorette earlier this season, it was obvious that he'd definitely get the last word on Men Tell All, and now that the special is here, that seems to be exactly what happened. On Monday night, Jordan's hot seat conversation on Men Tell All with Chris Harrison gave fans answers to his model behavior while he was on the show, delivering just as much drama as we all hoped.
But even before Jordan made it into the hot seat, the confrontation was real. Basically anytime Jordan tried to talk, he was getting interrupted, especially where Colton was involved — and Jordan was loving every minute of it. In fact, he even managed to throw out a few "falling out of bed" cracks at David, and he was trying to defend himself as much as he could when it came to his style and, yes, his golden underwear.
However, Jordan sitting down on stage with Chris? That seemed to be the official signal for everyone to let loose. Everyone immediately started taking their shots, but as usual, Jordan could hold his own — and he started throwing them right back, with Colton getting the worst of it.
When Chris asked him to explain himself, Jordan pointed out that most of his behavior on the show was meant to be funny — he wasn't being sincere when he was bragging about his modeling career, he was just trying to entertain, and he assumed that his sense of humor plus his confidence probably rubbed some of the other guys the wrong way. That's definitely one possible explanation of why some of the contestants might not have liked him.
However, Colton took up yet another issue with Jordan, which was why he was upset that Jordan wasn't taking his relationship with Becca seriously when he was. At that point, Connor pointed out that it doesn't really matter if Jordan wants to wear golden underwear and prance around the mansion, why would it matter to anyone else?
And, unsurprisingly enough, Grocery Store Joe and Jordan? Big fans of each other. Can we get these two together for a special or something? They could be unstoppable.
Perhaps the best part of Jordan's hot seat, though, was when Harrison brought up the golden underwear and asked Jordan where they are right now. Jordan wasted no time in responding, "they're on me," and of course, he began to strip, right then and there on stage, to prove it.
That final moment was Jordan, wrapped up in a neat little bow — always there to put on a show and make people laugh, even if it meant he had to be absolutely ridiculous in the process. Bachelor in Paradise will definitely be more fun this season with him as part of the cast. Hopefully, everyone headed to Mexico knows what they're in for, because it's going to be quite a roller coaster with Jordan along for the ride. Do you think he's packed the golden underwear?