Justin Timberlake's Halftime Show Was Missing This One Thing & Twitter Is Calling Him Out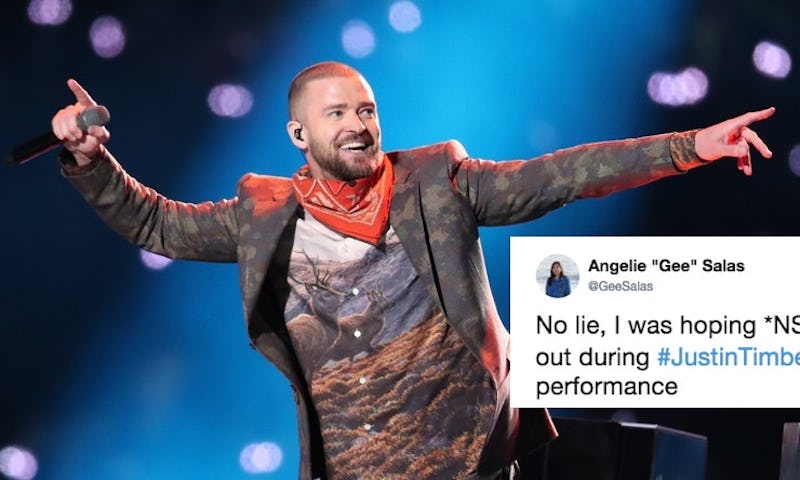 Christopher Polk/Getty Images Sport/Getty Images; GeeSalas/Twitter
Leading up to the 2018 Super Bowl, Justin Timberlake was said to be "headlining" the Pepsi halftime show. And headline he did during the Feb. 4 live broadcast. No surprise guests joined Timberlake during his performance medley, and Twitter was both annoyed and not really surprised.
The artist, who just dropped his new Man Of The Woods album the Friday before the big game, was instead flanked by his band, The Tennessee Kids, dozens of dancers, and the halftime show's obligatory and enthusiastic on-camera crowd of extras. He started the set with "Filthy," the lead single from the album, before reaching back to some early career hits, such as "Rock Your Body" and "SexyBack". While Timberlake's choreographed movements took him to several different locales in the stadium, not one of those stages included a live special guest. At one point, a video of late artist Prince singing his hit "I Will Die 4 U" was projected next to Timberlake to create a live mash-up with his song "Until The End Of Time." Also, there was the fact that Jimmy Fallon introduced the set. But that was it.
No Janet Jackson —who personally debunked rumors that she'd be making an appearance. No JAY-Z, even though Timberlake performed a excerpt from one of their collaborations, "Suit & Tie." And no *NSYNC reunion, which was another long shot.
Not one guest artist made a surprise appearance during the set, which left some viewers feeling let down. This is a HUGE night. Most of the country is watching. They expect a lot of bang for their buck come Super Bowl time, and this show didn't deliver the variety they were looking for. In fact, some fans watching at home seemed to think that Justin Timberlake's Super Bowl halftime show just had too much Justin Timberlake.
Here's how Twitter took the loss:
Some Felt Like It Was Par For The Course
Performing at the Super Bowl has to be a huge ego boost, especially if you don't have to share the stage with anyone whose popularity rivals your own.
Some Thought They Were Being Cheated
There's a reason we postpone the bathroom breaks and the snack fill-ups until the end of the halftime show! Fans are expecting the show of the year, and that ought to include some surprises.
Some Felt Like They Were Just Listening To A Playlist
Really, the halftime show was only for you if you were already a J. Timb fan. Inviting in special guests from other eras and genres is a great way to open up your fan base and get some outsiders excited. Timberlake missed the opportunity to do that, instead putting on a mini-concert that just kind of preached to the converted.
Some Thought It Exacerbated The Performance's Other Issues
No, that wasn't the settings on your TV. There were definitely some sound quality issues during Timberlake's halftime show, especially during the first couple of minutes. So the lack of guest starts just built on that existing disappointment.
Some Called Out The Artist's Ego
Of course, we weren't privy to the conversations that led up to this halftime show or know exactly why Timberlake decided to go it alone. But some fans are theorizing that the artist didn't think that he required any support acts. And they've got some feelings about that, clearly.
Some Read Between The Lines
If Timberlake considers each era of his career to be a reinvention, then sure, there was more than one lead vocalist singing up there.
Some Fell Asleep
This is a long game. A cat nap does a body good.
True, another *NSYNC reunion was never going to happen. And you knew Fallon would make himself a part of the show somehow. But still, Timberlake's performance seemed to be missing a little something. And Twitter definitely took notice.