Kanye West's Lyric About Tristan Thompson Sent The Internet Into A Frenzy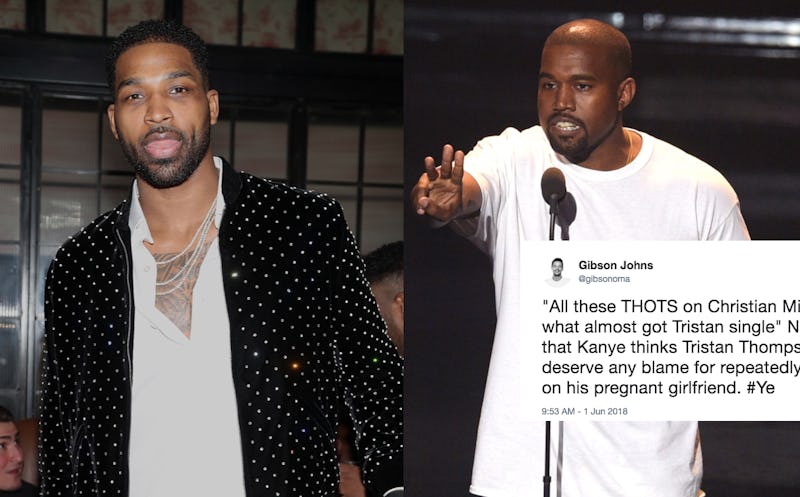 Jason Kempin/Getty Images Entertainment/Getty Images; Cassidy Sparrow/Getty Images Entertainment/Getty Images; gibsonoma/Twitter
Kanye West released his eighth album on Friday, and fans can't seem to stop dissecting its lyrical content. The seven-track project, which is simply titled ye, has listeners talking for many reasons. However, many couldn't get over the fact that West addressed the Tristan Thompson cheating rumors in one of the tunes. (Thompson and Khloé Kardashian have yet to publicly address or confirm these allegations. Bustle reached out to their reps when the news first broke, but did not receive an immediate response.)
On the song "All Mine," West goes after Thompson's alleged infidelity, rapping:
"All these THOTs on Christian Mingle
That's what almost got Tristan single
If you don't ball like him or Kobe
Guarantee that b*tch gon' leave you."
Bustle reached out to Thompson's agent for comment on the lyric, but did not receive an immediate response. As a refresher, the cheating rumors spread when TMZ published a video of the NBA player allegedly cheating on Khloé with two women at a hookah lounge. That same day, TMZ obtained another video of the 27-year-old, appearing to enter a hotel with a woman in New York City on April 8. At the time, Khloé was 9 months pregnant with the couple's first child, True Thompson.
Listeners seemed surprised to hear the lyrical reference when West premiered the new album late on Thursday at an album listening party in Jackson Hole, Wyoming. Fans who were streaming the event on the WAV app quickly jumped to Twitter to discuss the lyric about Thompson, and it may be the most talked about thing from the album thus far.
While some were here for West's mentioning of the scandal, there were others who felt that the entertainer was unfairly trying to place blame on women.
Many believed that West had previously passively addressed the Thompson cheating situation back in April when he posted a sentimental tweet about Khloé's ex-husband Lamar Odom on Twitter. The April 15 post featured a picture of the former brother-in-laws together with a caption in which West wrote:
"my favorite moment of walking into MSG to play Saint Pablo, I used to go to the hospital and play Lamar the album when he was learning to walk and talk again. Then we walked into the arena together."
While West never mentioned Thompson directly at that time, some questioned the timing of his message, which came right in the middle of the ongoing controversy. However, this has never been unconfirmed.
The Life of Pablo rapper's wife Kim Kardashian-West also weighed in on the situation during an April 30 sit-down on The Ellen DeGeneres Show. Candidly discussing how bad she felt for her younger sister, Kim agreed with DeGeneres saying, "Poor Khloé" when asked about her thoughts on the situation. The mother of three then continued, "Like, I don't even know how to describe it besides it's just so f*cked up."
Revealing that she's trying to remain composed for the sake of her new niece, Kim continued:
"We really were rooting for Khloé — and we still are. She's so strong, and she's doing the best that she can. It's a really sad situation all over. I kind of made this rule with my brother, if there's a baby involved, I'm not going to talk — I'm going to keep it cute, keep it classy, and not talk too bad. I'm going to try not to say anything so negative, 'cause one day True is going to see this and, you know, it's so messed up."
Khloé has mostly stayed mostly mum on social media, sharing only couple of photos and videos since the rumors first surfaced. However, it appears she may have recently broken her silence on the situation in response to a fan tweet.
Earlier this week, Cosmopolitan reported that new mother shared a quote in her Instagram Story which read, "10 years from now, make sure you can say that you chose your life and didn't settle for it." leaving many to believe that Khloé may have been directing the comment at Thompson. On Wednesday, May 30, a fan attempted to call her out on the message, tweeting:
"A year from now @khloekardashian will be over all of this and feeling salty for her super passive IG posts. She's just in the stage of 'but I love him!' Until then let her pretend he's changed and they'll be a happy family #WednesdayWisdom."
The tweet seemed to have quickly caught Khloé's attention, prompting her to respond, "Babe that's not wisdom at all because you're assuming you know who I'm talking about and you're assuming you know my feelings. Assuming anything is anything but wisdom."
It remains unclear if West currently has any sort of relationship with Thompson. While Khloé's situation with Thompson certainly appears to be a complicated one, West's mention of the allegations on "All Mine" seem to prove that he's not ready to sweep things under the rug just yet.