Kate Middleton Borrowed The Queen's Earrings & Your Grandma Could Never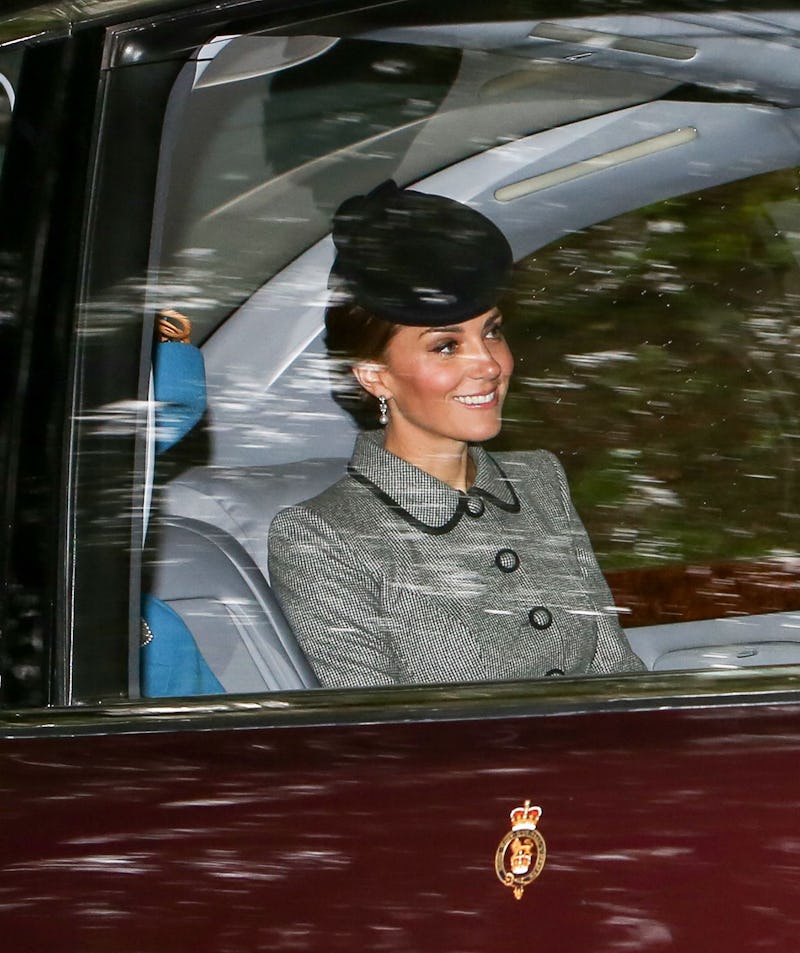 Invicta Kent Media/Shutterstock
Royal style is all the rage. Whether you consider your tastes to be more in line with Kate Middleton or Meghan Markle, there's no denying that people love to cop these two women's fashions. You won't be finding Kate Middleton's earrings online, though, because there's from none other than the Queen. Yes, the family that wears jewelry together, rules together. This sweet gesture is just one in a long line of the monarch loaning out pieces to her two granddaughters-in-law. Must be good to have the Queen as your grandmother, right?
According in People, the Duchess of Cambridge accompanied Queen Elizabeth to church on Sunday as they were visiting the Queen's summer estate in Scotland (yes, she's got earrings and a summer estate, it's good to be a member of the Queen's family). The stunning pearl drop earrings were a gift to the now queen at the time of her marriage in 1947 and were gifted to her by the ruler of Bahrain. Basically, your grandmother could never.
The accessory isn't just all pearl, though. What's a piece of jewelry without diamonds, right? These stunners feature two round diamonds, three baguette diamonds, and more small sized stones before you even get to the dropped pearl.
Yes, it is okay to swoon over a pair of earrings.
People also reports that this isn't the first time that Middleton has borrowed the pieces, though. She apparently has a particular affinity for them (who wouldn't). Middleton also wore the Bahrain earrings in 2016 at a Remembrance Day event with her grandmother-in-law.
While seemingly simple and classic, these beauties are definitely nothing to balk about with their multitude of diamonds and gorgeous pearls.
Middleton, however, isn't the only member of the royal family with access to the royal jewels. The Queen's other granddaughter-in-law and Duchess of Sussex Meghan Markle has also been known to wear a piece or two from the queen's collection.
During Markle and the Queen's first solo outing together, the pair looked absolutely smitten with one another, giggling throughout the event. If that weren't cute enough, though, Markle (like Middleton) was given a pair of earrings to wear from the Queen's own collection. The classic pearl pieces looked perfect with Markle's nude Givenchy dress and basically solidified that these two are biffles now, right?
Wearing the Queen's earrings aren't the only jewelry items Markle and Middleton have in common, though. Most royal family fans will know that Middleton's engagement ring is the same one Princess Diana wore when married to Prince Charles. While Markle's engagement ring isn't from Diana's or the Queen's collection, for she and Prince Harry's wedding reception, she did wear a stunning aquamarine ring from Diana's collection.
Clearly, the royal family isn't stingy with their jewels, and the Queen seems to love gifting pieces to her granddaugthers-in-law. In case there weren't already enough perks of being royal, add gifts from your husband's grandmother to the list. Jokes aside, the gestures of jewel giving from Queen Elizabeth is undoubtedly some of the sweetest public moments from the family