Kate Middleton Gave The Best Response To An Inquisitive Kid During Her Recent School Visit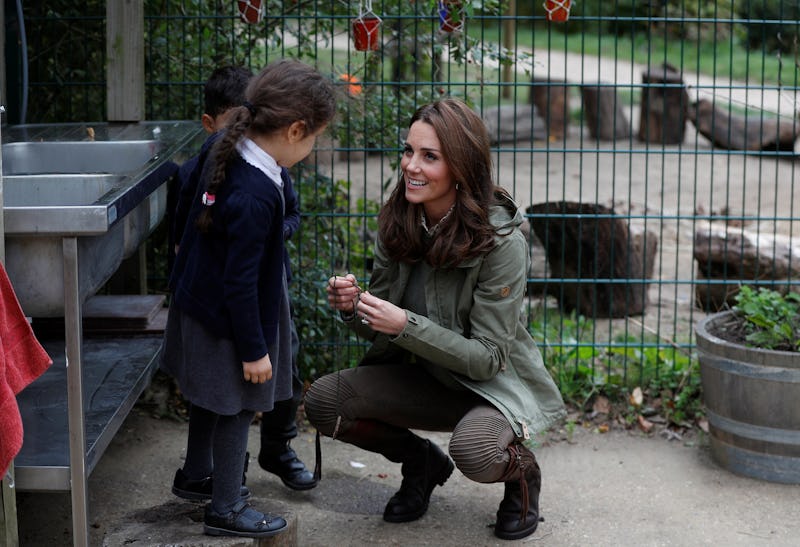 WPA Pool/Getty Images Entertainment/Getty Images
For her first official royal engagement since maternity leave, Kate Middleton seemed right at home as she spent time with young students. Yet the children were not so accustomed to all the attention that comes with hanging with royalty and one girl asked Kate Middleton why she was being photographed, as pointed out by People. During her visit to the Sayers Croft Trust Forest School and Wildlife Garden in London on Oct. 2, the Duchess of Cambridge helped students explore nature and the press were there to capture it all. And Kate's response to being photographed sweetly put the focus back on the children and showed what a pro she is at this whole princess thing.
Although she has stepped out for small events like Prince Harry and Meghan Markle's wedding, Kate has been on maternity leave since before giving birth to Prince Louis to April. Her first event kept her close to her home of Kensington Palace and her three children with Prince William as she visited the Paddington Recreation Ground. The engagement was for the outdoor educational charity Sayers Croft Trust, which gives children in London the opportunity to interact with nature.
However, photographers were far more interested in what the royal was doing than the great outdoors, so one girl felt inclined to ask Kate, "Why are they picturing you?" Without hesitation, Kate replied, "They're picturing you, 'cause you're special!"
The young girl was savvy enough to know that she probably wasn't the real reason for all the attention. But that doesn't make this interaction any less precious, especially as the she and the girl then walked hand-in-hand from the hand-washing station back to the picnic tables. And due to all that media coverage at the event, you can see the moment in all its glory in the above video at the 50-second mark.
That wasn't the only adorable interaction of the day since another girl made the most of meeting Kate. According to People, a 4-year-old girl from St. Stephen's School in London couldn't stop talking about meeting the royal. So when she got the chance to sit next to her during story time, she put on a show. Clearly not intimidated by Kate's royal status, the girl sat close to the duchess and drank from her purple cup with no hands. Kate couldn't help but laugh at the charmingly silly display.
Besides story time and making leaf crowns, Kate also went on a bug hunt — or "mini beast" hunt — with the students. As People reported, Kate revealed that she often does "spider hunts" with 5-year-old Prince George and 3-year-old Princess Charlotte in her own garden. However, Kate's search for tiny wildlife wasn't super successful during this event. People noted that Zoe Stroud, the interim head of Sayers Croft, said Kate "was lovely — although she said the only mini beast she managed to find on the hunt was a slug! But she did see a frog under a log."
While Kate got back to official royal duties, Prince Harry and Meghan Markle kept busy themselves. On Oct. 3, they made their first official trip to Sussex. As the Duke and Duchess of Sussex, they, of course, received a warm reception by young fans.
Besides being a mother herself, Kate has long been an advocate for children. In January, she launched Mentally Healthy Schools, a program that focuses on the mental health of children. Kate said in a speech during the launch, "My own commitment is to the youngest and most vulnerable in their early years — babies, toddlers, and primary school-age pupils — and to support all those who care for them, including teachers."
By engaging with children in nature, Kate reinforced her focus on the well-being of the young population of Britain. And her response to the young girl who asked about the photographers further shows her genuine concern for the mental health of children. Because by not making it about herself, Kate showed that child that she's important and deserving of attention too.