Here's What Kathleen Zellner Has Been Doing Since 'Making A Murderer' Part 2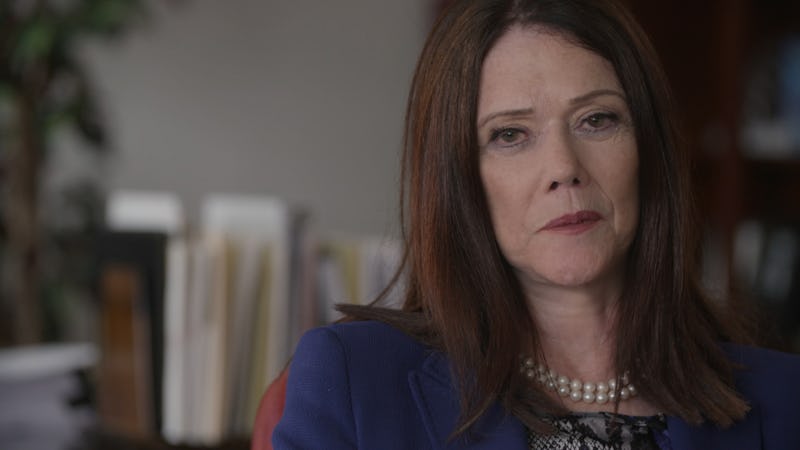 Netflix
Since being convicted for Teresa Halbach's murder in 2007, Steven Avery has spent the last 11 years upholding his innocence and trying to appeal the charge. Making A Murderer Part 2 chronicles those attempts, and introduces a new key player: Kathleen Zellner, a high-profile defense attorney who took on Avery's case in 2016. And though the season ends with Avery still in prison, Kathleen Zellner updates from 2018 show she's still fighting for Avery's release now that the cameras have stopped rolling.
Zellner's investigative efforts to find evidence that could get Avery a new trial make up a great deal of Part 2, including attempts at recreating possible blood splatter by slinging a bloody mannequin around, affixing cameras to actors and staging a reenactment, and visiting the quarry next to the Avery property. None of this has resulted in Avery being exonerated. As reported by The Wrap, Avery was denied a new trial as recently as September, after a judge ruled that CD evidence Zellner filed to introduce in court contained the same information presented in Avery's original trial.
Nonetheless, Zellner has made clear she won't be throwing in the towel any time soon. "So far only 1 Judge has ruled on Avery. At least 10 more will review before a final decision is made— on this evidence," she tweeted after the judge's September decision. "If he is not freed we will file again. Never going to end until he is free."
And these updates from 2018 should give Making A Murderer fans an idea of where Zellner's head is at moving forward.
New Evidence
The biggest development in the Avery case so far this year is Zellner's attempt to add new evidence to Avery's appeal — specifically, the aforementioned CD, which contains 2,449 pages of data pulled from the Dassey family's home computer, according to Rolling Stone. This serves as the crux of Zellner's allegations that Bobby Dassey, Brendan Dassey's brother, gave false testimony during Avery's initial trial, which would refute his claim that he saw Halbach on Avery's property the day she disappeared. (Bustle's request for comment from Dassey's mother, Barb Tadych, about the ongoing case and his inclusion in Making A Murderer was not immediately returned. He did, however, uphold his testimony during a 2017 interview with special investigators that was included in the show, saying in part, "Everything I told was true.")
Another Trial
As shown in the above tweet, Zellner doesn't believe the state definitively proved Avery killed Halbach, and in Making A Murderer, she's seen looking for other potential suspects to introduce in court — something she'll likely continue post-filming.
Subtweeting Ken Kratz
Zellner doesn't seem to be a fan of former Calumet County District Attorney Ken Kratz, who she has accused of committing four Brady violations throughout the trials of both Avery and his nephew, Brendan Dassey, who was also convicted in connection to Halbach's murder and has maintained his innocence. (Kratz did not immediately return Bustle's request for comment). Discrediting his work appears to be another important part of her case.
Not Giving Up
The day before Making A Murderer Part 2 premiered on Netflix, Zellner tweeted that she will continue to stand by Avery.
After being denied another trial in September, Avery's case seems to have stalled, but Zellner is definitely in it for the long haul.