Katy Perry Left Orlando Bloom An Instagram Comment & Made A Very… Um, Specific Request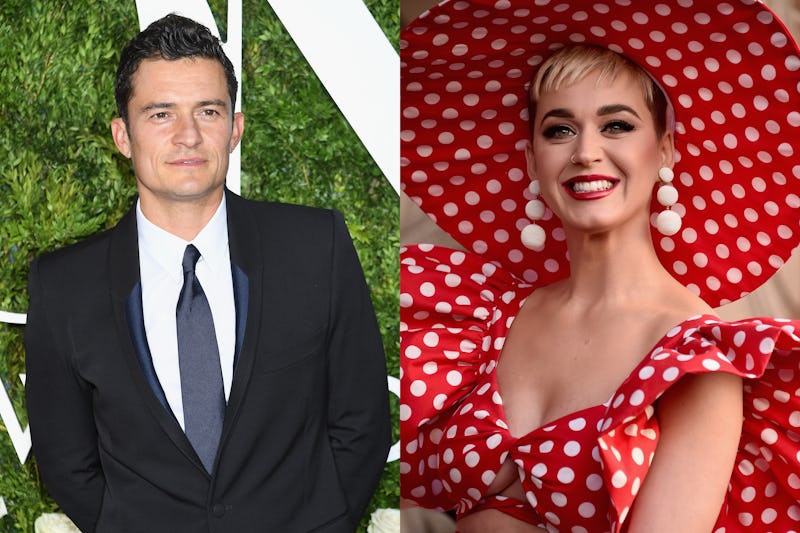 Dimitrios Kambouris/Getty Images Entertainment/Getty Images; Alberto E. Rodriguez/Getty Images Entertainment/Getty Images
Katy Perry is already a singer and an American Idol judge — but she might be able to add comedian to that list, too. Katy Perry left a comment on Orlando Bloom's Instagram that she says she meant to send "privately." But it seems pretty clear the whole thing was a joke on Perry's part.
In an Instagram post Thursday, Bloom shared a video about the play he's starring in in London, Killer Joe. "#killerjoeplay @trafstudios when #life comes undone," the actor captioned the post. Perry's comment was less about the revival of Tracy Letts' play, though, and more about a very specific part of Bloom's body.
"I need a season pass for that ass," Perry commented on the Instagram post. The American Idol judge quickly followed up with a second comment, writing, "oops I meant to send that to you privately," along with a shrug emoji.
Whether or not she really meant the comment to be private (it would be a hard mistake to make), Perry's statement is pretty funny, even if it doesn't make total sense. The website for London's West End theaters doesn't include any information about "season pass" type tickets. If Perry did want a "season pass" to the show, she'd probably have to buy tickets for each Killer Joe performance. In Perry's defense, though, the video does end with a scene of Bloom standing with his back (and backside) to the camera.
Rumors that Bloom and Perry were dating started in early 2016. The two of them went on vacation in Hawaii that February, and were photographed getting cozy and holding hands.
Perry and Bloom broke up in March 2017, and Perry shared a statement on Twitter at the time explaining that they were still friends:
Since then, though, the two of them have rekindled their flame — especially if Perry is leaving suggestive comments like this one on Bloom's Instagram posts.
It's not totally clear when Bloom and Perry got back together, but it looks like they're definitely feeling the love these days. Last August, there were rumors they were giving their relationship another try, after Bloom and Perry were seen at an Ed Sheeran concert together. Then, Perry was seen wearing a onesie printed with Bloom's face this past March — and as the old saying goes, a onesie's worth a thousand words.
This week's Instagram flub isn't the first time Perry's left a suggestive comment on one of Bloom's social media posts, either. In March, Bloom posted an Instagram photo of himself shirtless, and Perry didn't hold back with her opinion about the photo. "Oh hey I was actually looking for a washboard to do [my] laundry on," Perry commented on Bloom's Instagram post.
In April, Bloom also shared some sweet words about Perry during an interview with U.K. newspaper The Times. He called her "a remarkable human being" and said in the interview that "You don't pick who you fall in love with." Their relationship may not be a conventional one, but it sounds like it's working just fine for them.
Perry was probably just trying to be funny with her recent set of comments on Bloom's Instagram post. It looks like fans got a kick out of her messages, too — both of her comments have garnered more than 2,000 likes from other Instagram users. Hopefully, Perry will keep leaving funny Instagram comments like this one — she's clearly struck a chord with fans.