Katy Perry Thinks Taylor Swift Is Setting A "Great Example" With Her Political Instagrams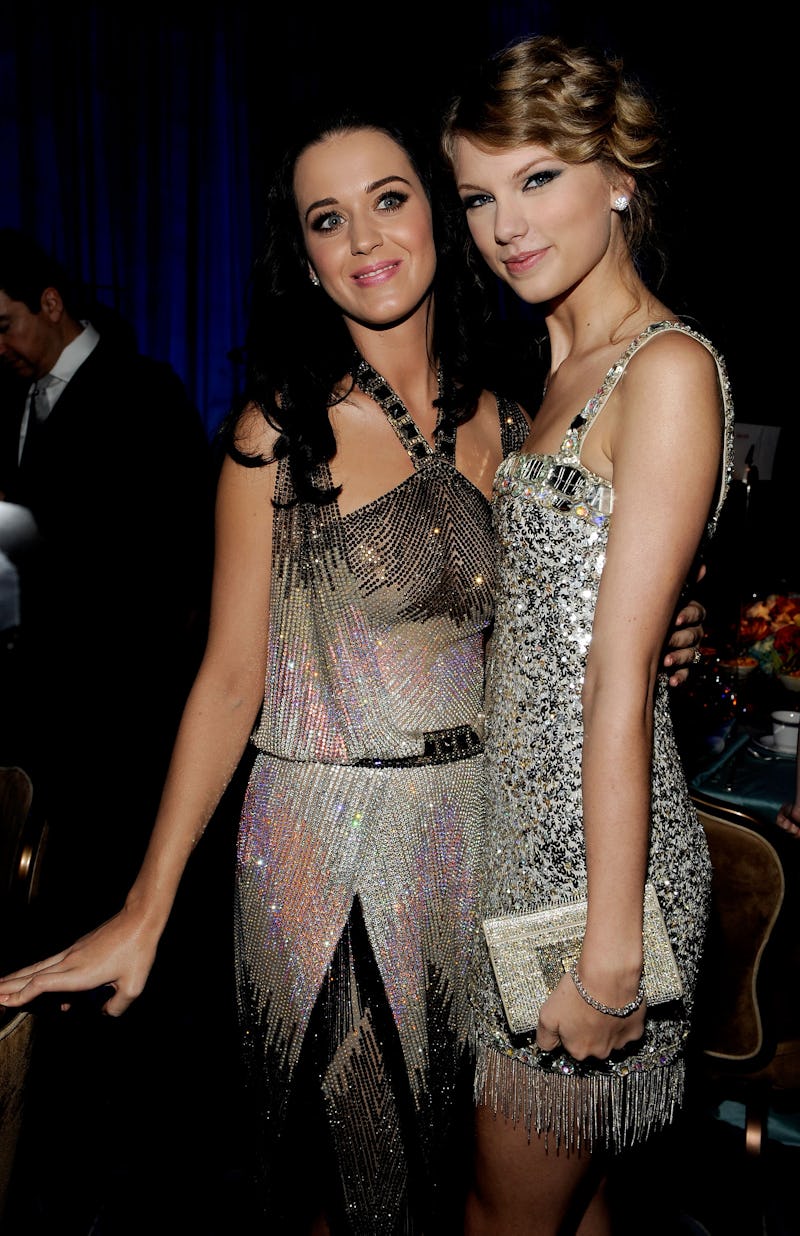 Larry Busacca/Getty Images Entertainment/Getty Images
After years of reports about these two pop stars feuding, a resolution might really be in sight. In a new interview, Katy Perry praised Taylor Swift's political Instagram posts, which means that whatever disagreement there was between them is probably over for good —in case there was any lingering concern.
"She's setting a great example," Perry told Variety of Swift on Thursday. The outlet pointed out that Perry also liked Swift's two recent Instagram posts about politics. The "Swish Swish" singer seemed to be genuinely proud of Swift, too — in Variety's video, her face lit up when Variety editor Marc Malkin asked her about Swift.
In an Instagram post on Oct. 7, Swift shared a message about the upcoming midterm elections. The 10-time Grammy winner revealed that she'd be voting for two Democratic candidates, Phil Bredesen and Jim Cooper, for Tennessee's Senate and House of Representatives.
The "Look What You Made Me Do" singer wrote in her post that while she's stayed quiet about political topics in the past, "events in my life and in the world in the past two years" have made her think differently. "I always have and always will cast my vote based on which candidate will protect and fight for the human rights I believe we all deserve in this country," Swift explained.
Perry is notable outspoken about politics, so it's not a huge surprise that she'd praise Swift for her recent posts. Perry supported Hillary Clinton during the 2016 presidential campaign, even dressing as Clinton for Halloween that year. So the fact that Swift decided to endorse two Democratic candidates is a big deal for the party's supporters, Perry included.
And while it would have been nice to see Swift speak out sooner, her Instagram post did seem to have a real impact on potential voters. Voter registration, particularly in Tennessee, reportedly surged after Swift's initial post. Regardless of who those new voters cast their ballots for, it's great to know that more people are participating in the process of democracy.
Perry and Swift have long been rumored to be at odds, but it looks like Perry's passion for politics and equal rights is bigger than any previous drama. Could this really be what brings the two stars together? For now, it doesn't look like Swift has responded to Perry's statement yet. But at this point, anything is possible.
As for what the so-called feud entailed, there was Swift's comment to Rolling Stone about a fellow star who insulted her, which fans believed was a reference to Perry. And Perry sent a vague tweet about "the Regina George in sheep's clothing," though it didn't actually mention Swift. And many fans believe the feud is because some of Swift's dancers supposedly left her tour to work with Perry. But there are lots of question marks surrounding what actually went down.
Whatever may have gone on between them in the past, though, it looks like Perry is more than ready to let bygones be bygones. It's refreshing to see her supporting Swift's recent Instagram posts — now fans just have to wait to see if Swift returns the love.