Taylor Swift Breaking Her Political Silence Confirmed What Fans, Like Me, Knew All Along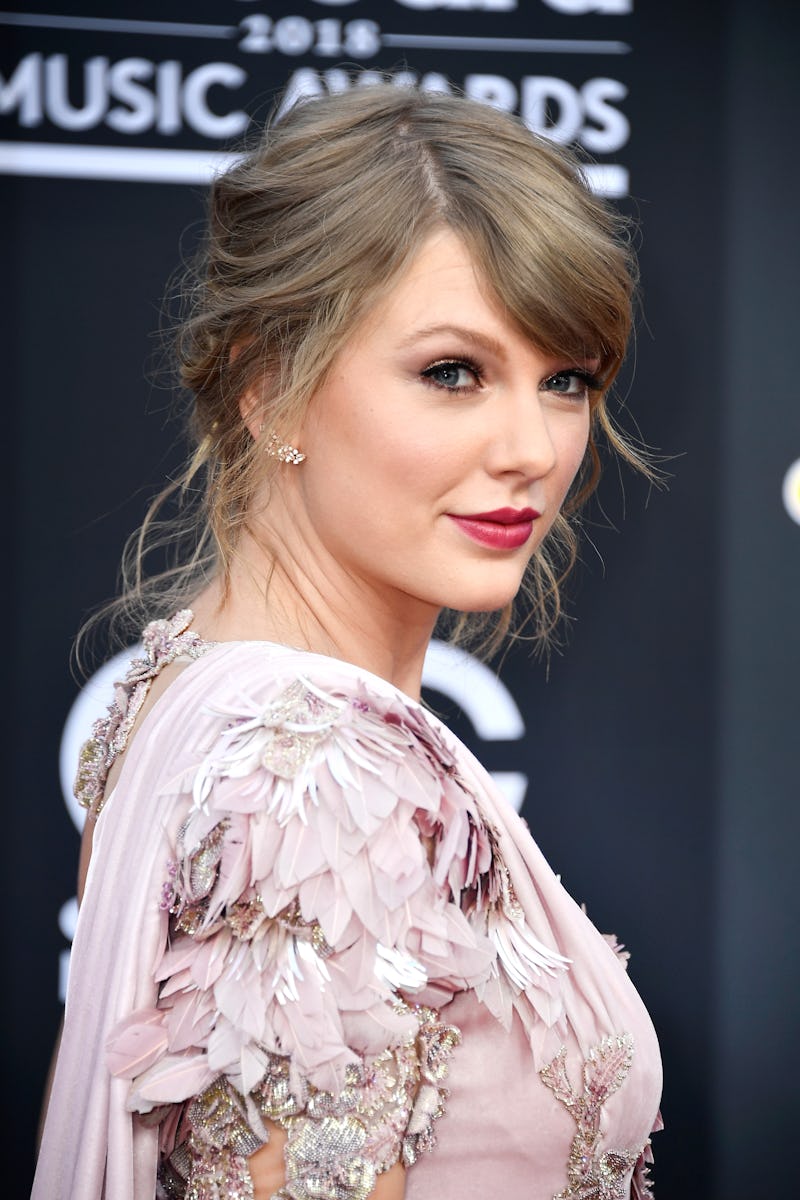 Frazer Harrison/Getty Images Entertainment/Getty Images
Taylor Swift is known for a great many things — breaking album records, performing sold-out tours, pouring her heart into her lyrics — but speaking openly about her political views has never been one of them... until now. On Sunday, Swift posted on Instagram in support of Tennessee Democrats, and since then, the internet has been abuzz with talk about this major first in her career. For some, it's too little, too late, but for others, Swift opening up has been incredibly vindicating. Despite what her detractors have been saying, Swift getting political is an extremely positive thing, and her influence is already being felt just days later. And as a longtime fan of Swift's, this only confirms what I've always known about her.
On Sunday, along with a Polaroid photo, Swift took to her Instagram caption to lay it all out there: where she stands politically; how important human rights are to her, where race, sexual orientation, and gender are concerned; and who she supports in the upcoming midterm elections.
"In the past I've been reluctant to publicly voice my political opinions, but due to several events in my life and in the world in the past two years, I feel very differently about that now," the singer wrote. "I always have and always will cast my vote based on which candidate will protect and fight for the human rights I believe we all deserve in this country."
Being that, over the course of her career (especially recently), Swift has been a polarizing celebrity, this post has already received a massive response. Not only has it already received over 2 million likes on Instagram, but after it went live, Swift immediately began trending on Twitter — and a lot of the tweets were from fans like me who couldn't help but cheer her on.
As a longtime fan, seeing Swift post this caption completely validated what I already believed to be true. Despite the conspiracy theories that Swift voted for Donald Trump in the 2016 presidential election (which Swift never publicly addressed said conspiracies) and the PopFront writer who attempted to link Swift's lyrics to the alt-right and Nazi ideology in 2017, it never made sense that Swift wouldn't be liberal. Her song "Welcome To New York" includes lyrics that seem to celebrate the LGBT community, and she tweeted in support of the 2017 Women's March.
I'd always had a gut feeling that she'd be on the right side of history, and this Instagram post only confirms that. And beyond finally finding out where Swift stands for sure, it's amazing to see her take the enormous platform she has to encourage her fans to vote.
Of course, Swift is hardly the only celebrity speaking out... but celebrating her efforts doesn't diminish the efforts of anyone else either.
Obviously, not everyone feels that way — a tweet from Mike Huckabee stands out in particular. He wrote that Swift "has every right to be political but it won't impact election unless we allow 13 yr old girls to vote." That doesn't just minimize the power that women hold, but it's also simply untrue. I'm a 29-year-old fan who has voted in presidential and local elections since the year I turned 18, and I know I'm not the only one. Swift may have some younger fans, but she has many, many older fans — and while some of them might've been 13 when they first listened to her music, those former 13-year-olds are voting age now.
And, as of Tuesday, there's actual evidence that Huckabee's words about Swift's influence aren't true. According to what Vote.org told BuzzFeed News, up to 65,000 people registered to vote in the 24 hours after Swift's post went live. To put that into perspective, Vote.org said that 190,178 people registered in the entire month of September. That means that Swift caused a huge spike in registration, and that's no small victory.
It did take her this long to open up, and of course, it would've been better for her to speak out a long time ago — but that decision is up to Swift and Swift only. It makes sense that she'd want to maintain her privacy where her political views are concerned; just look at the criticism she's already getting for her Instagram post. Many tweeted that, as a celebrity, she shouldn't share her political opinions, Tomi Lahren accused her and other celebrities of "pop[ping] off of sh*t they don't understand," and even Trump said he "likes Taylor 25 percent less" after that post. Not to speculate about Swift's reasons for keeping her politics private for all these years, but the hate that she's getting now is why many people choose not to speak up.
And despite the fact that Swift hasn't always been vocal about her political beliefs, she's always shared her values in a different way. Although she has certainly received criticism for her feminism in the past, her actions have spoken louder than her words. In 2017, Swift successfully sued radio DJ David Mueller for a symbolic $1 after he allegedly groped her during a meet-and-greet on her tour, although Mueller called it a "publicity stunt" and sent her the dollar he owed in the form of a Sacajawea coin. In 2016, she shared on Instagram that she voted in the presidential election, and earlier this year, she donated to March For Our Lives, writing on Instagram that she "support[s] gun reform."
But now, Swift is making sure there's no doubt about where she stands in American politics. She's letting fans know, in no uncertain terms, how important it is to vote, meaning she's prioritizing doing the right thing over preserving her image, perhaps even at the risk of losing Republican fans. And so far, it seems like her opening up has only made like-minded fans love her more.
And as the surge in voter registration proves, Swift breaking her political silence has the potential to truly make a difference in our country at a time when we need it the most. It's been a difficult time, particularly for women (and especially women of color), in the nearly two years since Trump was sworn in as president. And with Brett Kavanaugh being confirmed to the Supreme Court — even after Dr. Christine Blasey Ford testified about sexual assault allegations against him (which Kavanaugh has consistently denied) — it's critical for celebrities like Swift to fight for what they believe in. Of course, Swift is hardly the only celebrity speaking out and fighting for change, but celebrating her efforts doesn't diminish the efforts of anyone else either.
It's never too late to speak up and use your influence for good, and that's what Swift is doing. Hopefully, this political post is just the first in many that she'll share (she continued her urge for voter registration in her AMAs speech on Tuesday night). Swift has the potential to help change the world, along side people who are already doing so with the same goal in mind, and with this post, she's off to a very good start.