Kesha Reveals How She Got Through Her Darkest Days & It's Something We Can All Learn From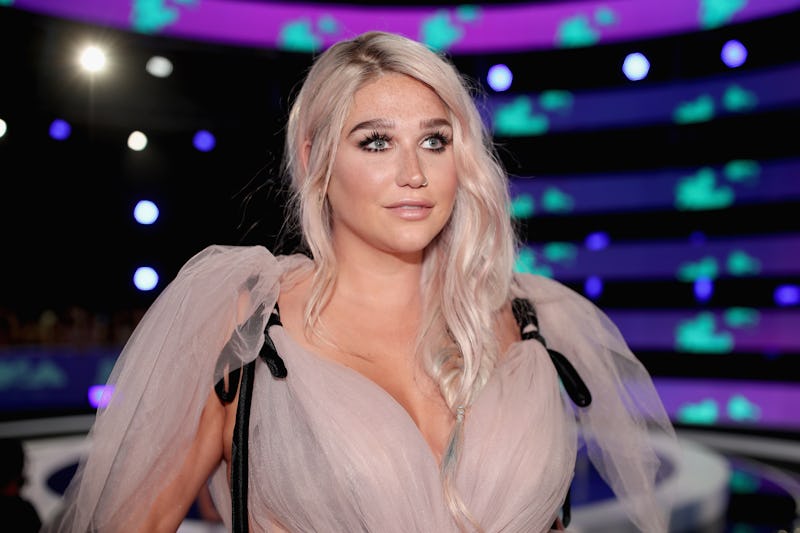 Christopher Polk/Getty Images Entertainment/Getty Images
In just about every way possible, Kesha is a true survivor. And while fans were given a closer look at that side on her defiant comeback album Rainbow, they may also be interested to know how Kesha survived her darkest days. Though music was clearly a pivotal part of her healing process, a new Rolling Stone profile on the singer seems to suggest that a solid support system is what encouraged her to make it through life's most difficult challenges. This idea might not be revolutionary, but it's certainly heartening to hear. Especially when some of those friends are made up by an unexpected cross-section of people that includes Taylor Swift, her staunch fans, and the Eagles of Death Metal frontman, Jesse Hughes.
While the profile covers various aspects of Kesha's personal life and career, the common thread within the piece is how even the smallest of gestures from other people helped to keep her strong. In one part, for instance, Kesha is described as becoming "choked up," when thinking about how "unwavering," her fans were in supporting her. Particularly in providing support through Kesha's public legal battle against Dr. Luke. In responding to such eminent shows of love, the singer said, "I don't know what I did to deserve such wonderful people in my life."
Meanwhile, other sections of the profile detail how fellow musicians showed their support in public and private ways to the singer. Memorably, of course, there was Swift's donation of $250,000 toward Kesha's legal expenses, but what the public didn't get to see was Swift's adorable treatment of Kesha behind the scenes. Describing the "Look What You Made Me Do" singer as "extremely generous" and a "sweetheart," Kesha also acknowledged that Swift "picks up the phone every time I call her. My mom doesn't even always pick up the phone!"
Then there's Hughes, framed as a long-time friend and supporter of the singer, who shared that he and his bandmates were like "big brothers." Offering, in that overly aggressive manner that well-meaning big brothers can sometimes do, to "beat the... contract out of" a certain someone for Kesha. Perhaps one of the most touching anecdotes, however, is hearing about Kesha accepting help for her eating disorder. She describes feeling "like a loser" while she was trying to restore her health until an unnamed musician gave her a call on the same day after he'd won several Grammys. Kesha said,
"He was like, 'Congratulations to you,' And I was like, 'For what?' And he was like, 'Who cares about my Grammys? You just saved your f*cking life.' And I just was blown away by that, because it made me look at the whole thing totally differently. [Kesha realized] Oh, wait. I did just take my life into my own hands and choose life over a slow, painful, shameful self-imposed death. And I need to stop just being so f*cking mean to myself."
It's clear when reading the profile how much these people, and these moments, meant to Kesha. And what's perhaps so moving is that (with the exception of Swift's financial donation) they're all simple acts of kindness and love we all can all practice in our everyday lives to people we may or may not know.
In addition to reminding us that celebrities aren't these lone, infallible figures who are immune to the hardships of everyday life, the profile also provides a crucial reminder that it sometimes takes an entire community to help heal an individual. That there's no shame in reaching out to others if you need help of any sort. But also, that there's no gesture too small in offering support to someone who may need it themselves.
Between natural and man-made tragedies, these are emotionally demanding times, and there's a lot of people feeling the impact of that right now. Kesha made it out of her own darkest days with the help of friends, fans, family, and a network of co-workers. And now is the time we can do exactly the same — for ourselves, for our loved ones, and even for absolute strangers. It can be a gesture as small as answering the phone, or one as big as giving a donation. But as Kesha has reminded us, those acts are a shining light through adversity and hardship; they may even be a rainbow.