Kevin Spacey Has Been Accused Of Using The N-Word On The 'House Of Cards' Set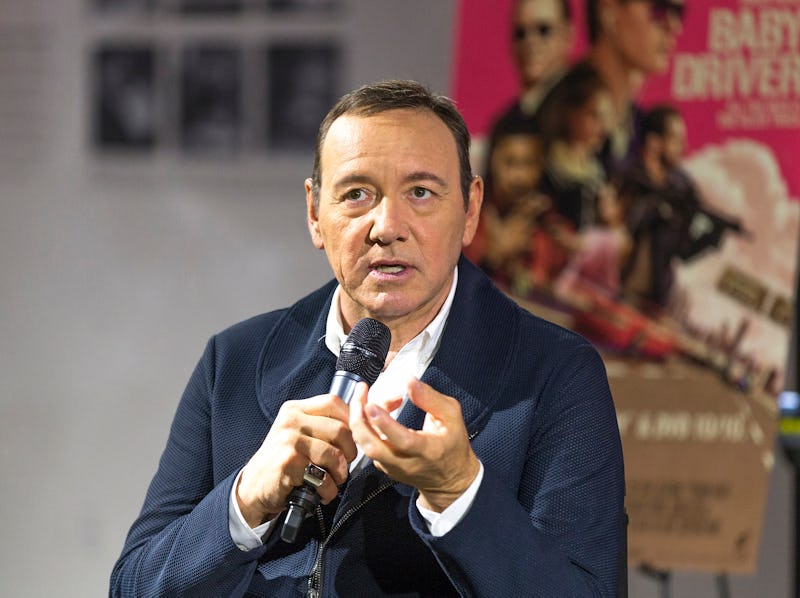 Rochelle Brodin/Getty Images Entertainment/Getty Images
As if last year's sexual assault allegations against the fallen House of Cards actor weren't enough, Kevin Spacey is now accused of reportedly racist behavior. According to a report from the Daily Mail, a security company working on the House of Cards set in 2012 claims its employees witnessed multiple reportedly racist encounters involving Spacey. (Bustle reached out to Spacey's rep, but did not receive an immediate response. Netflix declined to comment.)
As the Daily Mail reported, Spacey's history of reportedly racist remarks on the set of House of Cards dates back to the political drama's inaugural season. In 2012, while filming the show's Season 1, Spacey reportedly used the N-word when complaining to his security manager about the company's black security personnel, who were given viewing access to the series' debut trailer.
Earl Blue, who heads VIP Protective Services (the company employed by House of Cards to regulate on-set security during filming in 2012), told the Daily Mail that a group of black security guards were watching the show's trailer when Spacey reportedly turned to his own personal security manager and said that he didn't "want n*ggers watching [his] trailer," after taking note of the "predominantly black staff" members working on set. According to the Daily Mail, Eric Lyles — one of Blue's employees — also claimed that Spacey reportedly refused to shake the hands of any black security guards on set, or even so much as look them in the eye, while filming the first season.
But when Blue reportedly brought his concerns about Spacey's behavior to the show's set managers (whom he referred to as "The Powers That Be" in his comments to the Daily Mail), he claims he was immediately shut down. According to Blue, the series' higher-ups told him "that's just the way [Spacey] is" and "we've got to keep him happy." Needless to say, VIP Protective Services' $1.1 million contract with House of Cards was reportedly not renewed for a subsequent season, despite having reportedly received praise from the show's producers. And while Blue did not offer definitive proof that the contract cut was directly related to Spacey's reported behavior, he did tell Daily Mail that he intends to sue Spacey for loss of income.
For Spacey, these allegations trail an extensive rollout of accusations of alleged misconduct, both on and off set. Last October, in an interview with BuzzFeed News, Star Trek: Discovery actor Anthony Rapp accused Spacey of allegedly sexually assaulting him in 1986, when Rapp was just 14 years old (and Spacey was 26). Rapp's initial accusation opened the floodgates to more than a dozen accusations, creating a chain reaction of career setbacks for Spacey, including getting fired from House of Cards and cut from All the Money in the World (he was swiftly replaced by Christopher Plummer). Netflix, who's been streaming House of Cards for the entirety of its five-season run, cut ties with Spacey, confirming that his Netflix original film, Gore, would also be removed from the platform's release lineup.
Back in October, Spacey penned an apology post in response to Rapp's accusations via Twitter. "I'm beyond horrified to hear this story," Spacey wrote. "I honestly don't remember the encounter." The actor continued to note that the alleged encounter with Rapp "would have been over 30 years ago." But if, in fact, he had behaved in the way that Rapp described, then, Spacey wrote, "I owe him the sincerest apology for what would have been deeply inappropriate behavior."
While the tweet garnered a substantial bout of media traction, many argued that Spacey's attempt at "I'm sorry" might've actually reaped more problematic repercussions than restorative ones. Following the introductory paragraph, Spacey cinched his apology with a coming out announcement. "This story has encouraged me to address other things in my life," Spacey wrote. "As those closest to me know ... I have loved and had romantic encounters with men throughout my life, and I choose now to live as a gay man." Based on the general reaction, the tweet read as offensive more than anything else, since Spacey's coming out news managed to overshadow Rapp's initial accusations in the media coverage that followed.
Here's to hoping Spacey's response to this most recent bout of allegations, if true, is a bit more apologetic.
If you or someone you know has been sexually assaulted, call the National Sexual Assault Telephone Hotline at 800-656-HOPE (4673) or visit online.rainn.org.