Khloé Kardashian Clapped Back After An Unfair Comment About Her Relationship With Tristan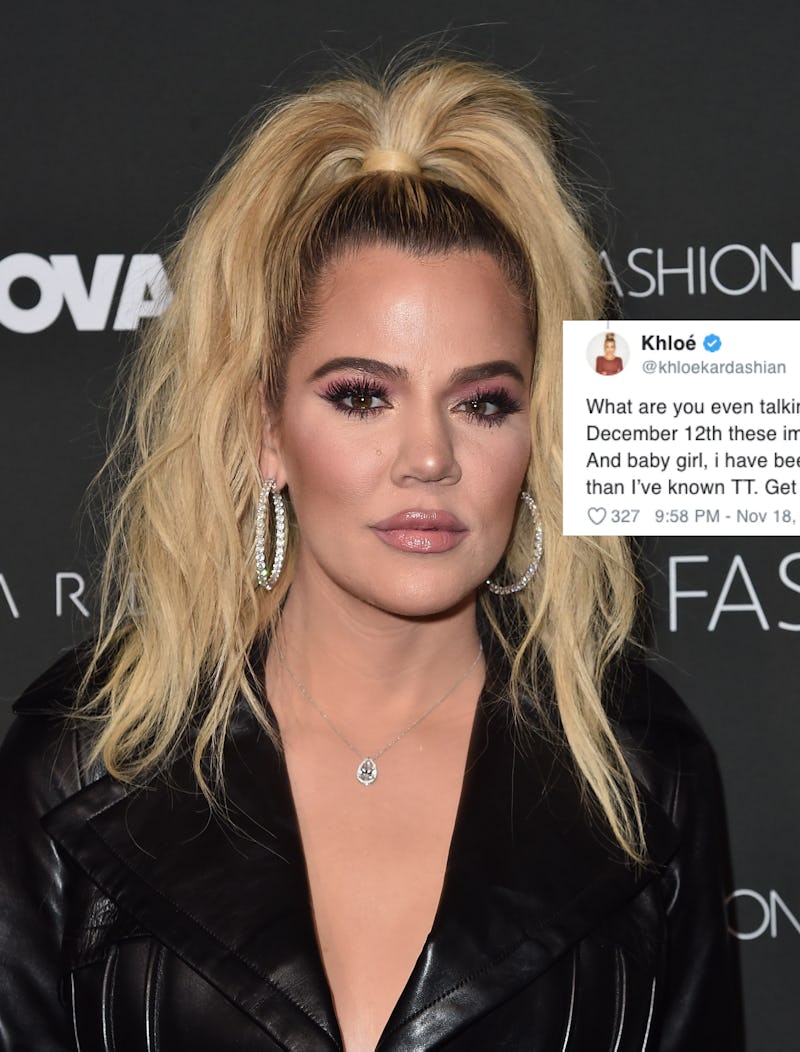 Alberto E. Rodriguez/Getty Images Entertainment/Getty Images; Khloe Kardashian/Twitter
As if getting cheated on publicly wasn't bad enough, there were people who called it "karma" for Khloé Kardashian when the Tristan Thompson allegations emerged back in April while she was nine months pregnant. Some people assumed that Tristan originally left the mother of his first child for Khloé while she was pregnant. Now, Khloé is shutting down the claim that Tristan cheated on his then-pregnant girlfriend with her. The timeline for Khloé and Tristan's relationship has been very unclear, but she may have just set the record straight on social media.
According to Us Weekly, Khloé went on the defensive in some Instagram comments on a now-deleted post on Nov. 18. A commenter claimed that the NBA player "left his pregnant girlfriend to be with" the reality star.
Khloé reportedly responded in all capital letters: "PS he never left ANYONE for me." She also wrote,
"I have said this before but as I have learned the truth isn't as exciting as a lie. So the lie is what gets traction. The truth seems to get buried and ignored. Either way, it's all love and peace over here."
Has Khloé not been through enough? Why is she getting dragged? She's always tried to keep it real with her fans and she's never had a problem sharing her truth or defending herself.
On Sunday, Khloé live-tweeted the Keeping Up With the Kardashians episode where she gave birth to her daughter True Thompson, and the episode where she found about the alleged cheating. As if everyone doesn't already know this, but Khloé went into birth right after videos surfaced of Tristan spending time with other other women. (As for Tristan, he has not publicly commented on the cheating rumors).
This had to be a devastating experience, let alone reliving it by watching the episode, and then sharing her insights on social media. Props to Khloé for being so vulnerable and open.
Khloé tweeted about her decision to have Tristan in the delivery room while their daughter was born April 12. She wrote, "A birth is not something you can 'redo.' Once you make that choice you can never get it back #KUWTK think big people." That was a very positive tweet that should have garnered support from her fans.
However, one tweeter responded, along with a series of photos:
"Agreed. Jordan will never get that moment back where U made the birth of her & Tristan's son all about YOU. U staged pics so everyone would see you with T at the Bel Air hotel a day after Jordy gave birth. U could have been classy & made it a private moment between parents."
Khloé did not let that one slide. The reality TV icon came through with some hard facts in response to that tweet:
"What are you even talking about. Their son was born December 12th these images were taken many months later. And baby girl, i have been wearing those rings way longer than I've known TT. Get your facts straight."
You tell them, Khloé. And she did. Will this clear up the rumors once and for all? Let's hope so. If anyone deserves support right now, it's Khloé. She seems to be doing the best she can to live a very public life. She refuted the claims against her. Can people just leave her alone and "Keep Up With" some other Kardashian-centered news story. Maybe even a positive one?