Khloe's Comments On 'KUWTK' Show She Didn't Want Drama Interfering With True's Birth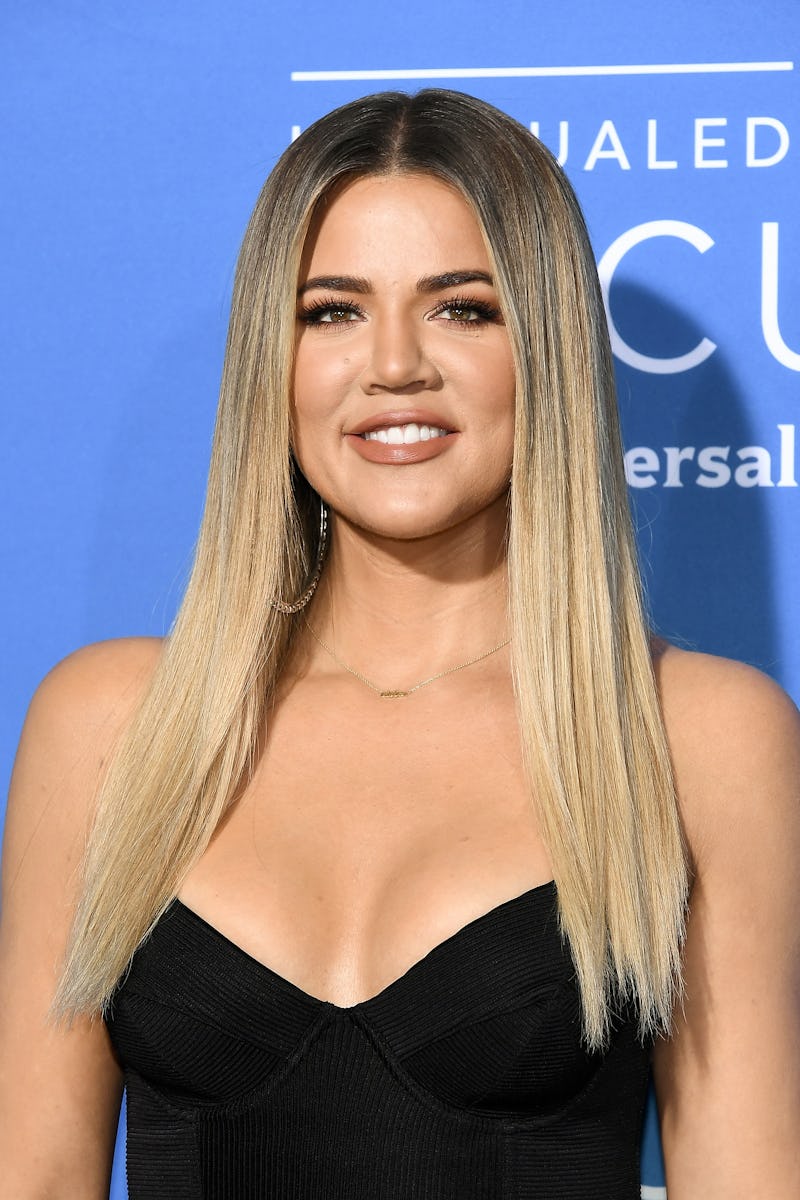 Dia Dipasupil/Getty Images Entertainment/Getty Images
By the time the episode aired on television, most fans of the Kardashian-Jenner clan were already aware of the scandal that was eventually rock this season of the family's reality show. It was intense to watch the events unfold as news broke in real-time, but seeing the reactions to Tristan's reported cheating scandal on Keeping Up With The Kardashians is another ordeal entirely. Khloé's entire family is devastated when the alleged cheating is discovered, but throughout this week's episode of KUWTK, Khloé doesn't want the Tristan drama to ruin the happiness of her delivery.
After the news that Tristan has reportedly been out with other women makes its rounds, Khloé is heard getting emotional on the phone, but still gives her family strict orders on how to handle things moving forward. She's literally about to give birth to True any day now at this point in the show, and even though she's obviously upset at what she's learned, she doesn't want anyone to bring bad vibes to Cleveland when she has the baby.
"Everybody wants me to make a decision [about Tristan] right this second, but I just want to … give birth and enjoy this, and enjoy this with him," Khloé is heard saying over the phone with Kim. "As crazy as it sounds, I wanna enjoy it with him. I don't want negativity in the delivery room."
In case you've been in the dark until now, here's some background for you on what exactly allegedly went down with Tristan. Earlier this year, The Daily Mail reported that Tristan was seen interacting romantically with other women. Just after TMZ had reported another instance of the basketball player reportedly cheating on her, as well. The outlet shared a video that reportedly showed Tristan with two women in a club last October. Tristan has never publicly commented on the reports or the video, and Bustle's request for comment was not immediately returned.
All of these reports came out just days before Khloé was suppoed to give birth to True, which is what the Kardashian and Jenner sisters are reacting to in this week's episode.
To learn that these rumors about your partner — and the father of your baby — are circulating just days before giving birth is an unimaginable circumstance, but it makes sense that Khloé wouldn't want to allow it to ruin one of the most special days of her life. It can't be easy to turn on a dime against longterm partner, especially after you've been preparing to become a parent with him for months, no matter what allegations come out. Especially with everything else she's dealing with, she needs time to process things, and doesn't want to be doing that when she should be focusing on the baby.
Always one to do her own thing, she specifically tells her family she doesn't want anyone to bring up the situation, or make Tristan or Khloé uncomfortable in any way as they welcome their child. As Khloé prepares for the delivery, she needs to keep her stress levels low for the sake of her own health, and for True's, and it's important to her that her family follow her wishes.
Kim and Kourtney in particular are shown discussing how exactly they'll be able to remain civil after being thrust into such a reportedly tense situation, but fans will have to wait until the delivery and its aftermath are explored next week. Although the Kardashian sisters aren't always the most sympathetic characters, it's hard not to understand Khloé's wish to bring her daughter into the world without any drama in the delivery room.