Kim Kardashian Claims That Kanye West's Support Of Trump Isn't Actually About Politics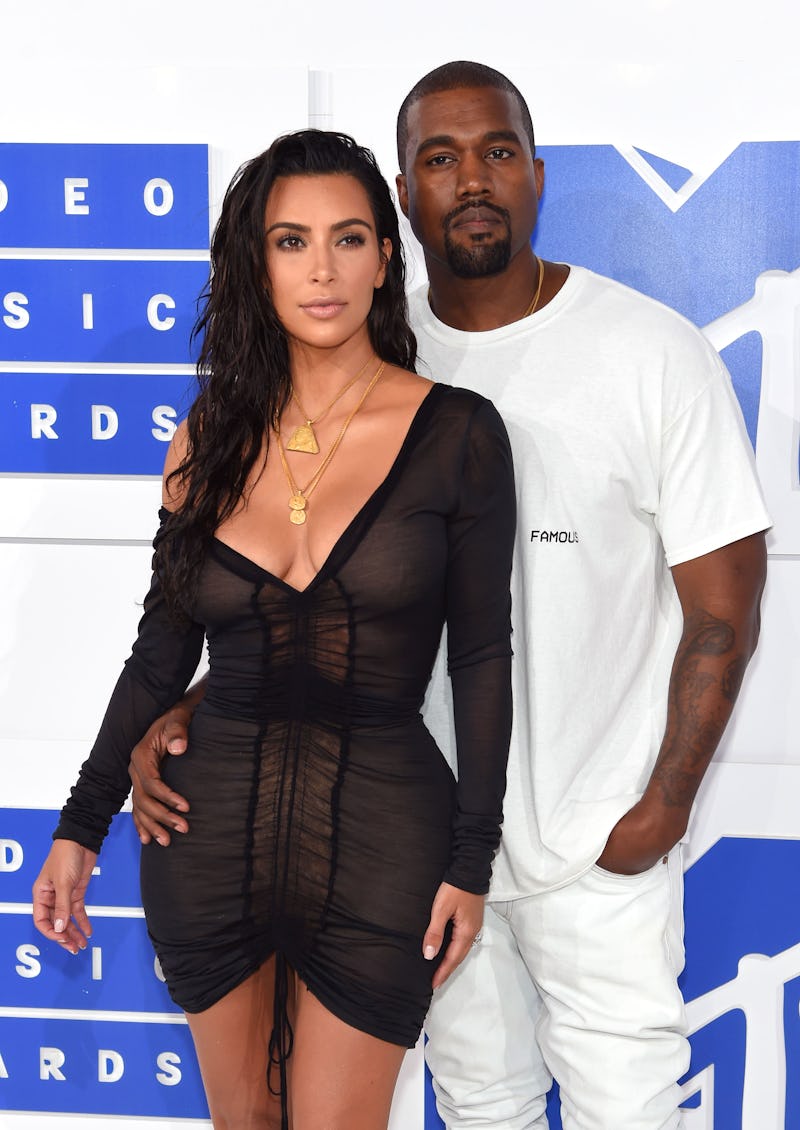 Jamie McCarthy/Getty Images Entertainment/Getty Images
For many of his fans, Kanye West's support of Donald Trump has been confusing (to say the least), but now, his wife is attempting to clear up some of the questions people have about his political beliefs. At this week's Rolling Stone and Variety Criminal Justice Reform Summit, Kim Kardashian explained why West likes Trump, and according to her, it's not because he agrees with the current president's politics — it's that he likes his personality.
As Variety reported, CNN commentator Van Jones mentioned that Kardashian and West have different politics, which certainly seems true, since Kardashian has always been more liberal and, most recently, very outspoken about her support for stricter gun control. But as Kardashian puts it, they actually agree on political issues, and she insisted that West is "misunderstood."
She said:
"I feel like he's very misunderstood and the worst communicator. But, when we talk about it, we have very similar politics. He's very not political, actually, he just happens to like Donald Trump's personality, but doesn't know about the politics. So, I've educated him recently. I think it gets really misconstrued. He will always say he was friendly with him before, and he's the same person and friendly with him now. I could also co-exist with someone and still have different political views. My mom and my step-dad did that. It's fine to be different and have your own view."
It's hard to imagine that West, as an American, wouldn't know what Trump stands for — his policies have been all over the news (and Twitter) for well over two years now. But if he truly does just like Trump for his persona, it makes sense that Kardashian would want to educate him about why that can be problematic right now.
She also went on to say that West wants people to respect what he likes because he likes it, even though it may be a different view — and that she feels like he would be "compassionate" toward issues like immigration if he was more educated on them.
She said:
"What he fights for is the right to like what he wants to like. Even if it's different from what you like. He never said, 'OK, I know what's going on with immigration, and I know this and I know that.' If he really knew, he would feel very compassionate about it. He never said that he supports that. I know it's very confusing because when you see someone wearing a red hat you would think that they are supporting that. But he's just fighting for free thought and freedom to like a person even if it's not the popular decision."
She also added that she knows West's heart, and that's how she knows that ultimately, they're probably more closely aligned politically than some people think — and that she thinks he'll catch up to her eventually.
"I believe people have their own journeys," Kardashian said. "I know his heart, so I know that one day what he's been trying to say will come out. It's taken a little long so I'm jumping in and helping out, but I know his heart so I never really stress too much."
Although it has to be hard sometimes for Kardashian and West where Trump is concerned, it sounds like they've found a way to agree to disagree peacefully. And who knows? Maybe once West is educated on the issues, fans will see a shift in his feelings. But until then, it sounds like all is good in the Kardashian-West household.