Fans Are CONVINCED Kylie Jenner Is In Labor Right Now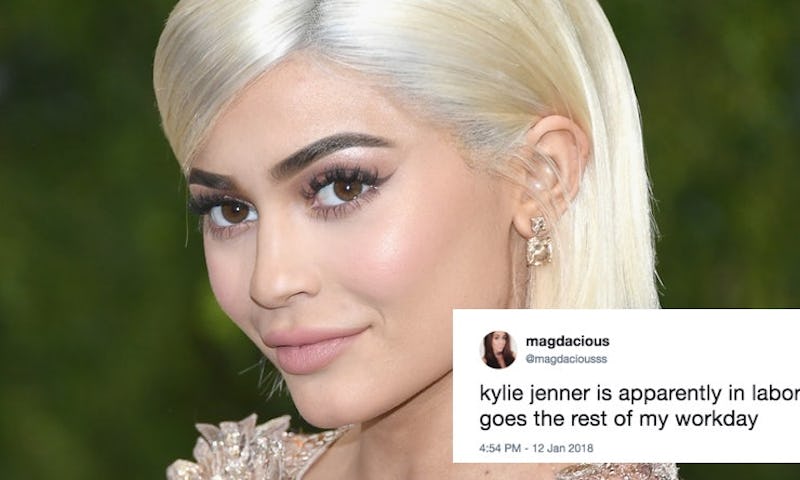 Dia Dipasupil/Getty Images Entertainment/Getty Images; magdaciousss/Twitter
In news that's bringing a burst of energy to this Friday afternoon, fans are wondering if Kylie Jenner is in labor after a series of tweets are speculating Kylie may be in the hospital began to spread across the social media site. Bustle reached out to Kylie's rep for comment, but did not receive an immediate response.
UPDATE: Around 6:30 p.m. EST, TMZ shut down rumors that Kylie is currently in the hospital going into labor. The site cited "multiple sources close to Kylie and Travis Scott." In fact, TMZ claims she's not even due this month.
EARLIER: Of course, it's currently unclear what the source of these rumors is, but it's enough to send the makeup mogul's fans into a frenzy. Even the Say Bible, the self-proclaimed "podcast for the Kardashian Konnoisseur" is talking about it. They also claimed to be "Doing more research," so who knows exactly where that will lead.
Rumors that Kylie is expecting her first child with boyfriend Travis Scott have been circulating since September. While she and the rapper have yet to confirm anything, fans of the youngest Keeping Up With The Kardashian sibling have been looking for clues all over her Snapchat and Instagram posts. Anything from pink doughnuts to a blue phone over-sized shirt have sparked speculation about the rumored baby-to-be's sex — but again, it's just speculation until she says otherwise.
Needless to say, fans are still freaking out right now and convinced the major announcement could be coming any moment.
But let's take a look back in time: It was in September 2017 that TMZ reported that Kylie was pregnant with her boyfriend Travis Scott, and the internet imploded. This became especially true when rumors swirled that Khloé Kardashian was also pregnant. Alongside Kim Kardashian's surrogate's pregnancy, that meant three members of the reality TV family would be reportedly carrying babies all at the same time. Khloé confirmed her pregnancy with an Instagram announcement shortly before Christmas after letting fans speculate for months, and Kim has been open about her journey with her surrogate in interviews and on Keeping Up With The Kardashians. But Kylie has remained completely mum on the subject of whether or not she's pregnant.
That hasn't stopped people from speculating about it, though. US Weekly reported earlier this month that Kylie is keeping her pregnancy under wraps because, according to sources:
"She's very happy about the pregnancy but she doesn't want to share this with the world. Her not being out is strictly personal preference. She wants to keep this one aspect of her life private."
However, the same publication also reported that Jenner had already completed the nursery for her rumored baby on Jan. 11. "She's a go-getter like her mother," claimed a source. "No way she waited long to set that up!"
In light of all the unconfirmed stories that were already swirling about Jenner, it's no wonder that fans immediately spread the "confirmation from a source of a friend of a friend" that the reality star is currently giving birth at Cedars-Sinai Medical Center in Los Angeles. However, the family has yet to comment on any of the rumors surrounding Kylie — even and especially this one. In the meantime, fans have done their own sleuthing to pick out the numerous "clues" that they think mean that Jenner must be pregnant.
And these clues are seized upon from the tiniest of details. We're talking the fact that Kylie has taken a social media hiatus of sorts, posting pictures at a rate much slower than she usually was and hardly any recent selfies. We're talking sending her family pink doughnuts on the most recent episode of Keeping Up With The Kardashians. We're talking a Snapchat about buns in the oven. If she really is taking a break from the spotlight, it seems to be backfiring on her in a major way, because she's never been more talked about.
So, as fans desperately wait for any kind of confirmation that Kylie is a) pregnant and b) giving birth on Friday, Jan. 12, one thing is for certain: The rumors will always keep flying.