Kim Kardashian Wore A Full Face Of Makeup During A Facial & It's The Most Kim K Thing Ever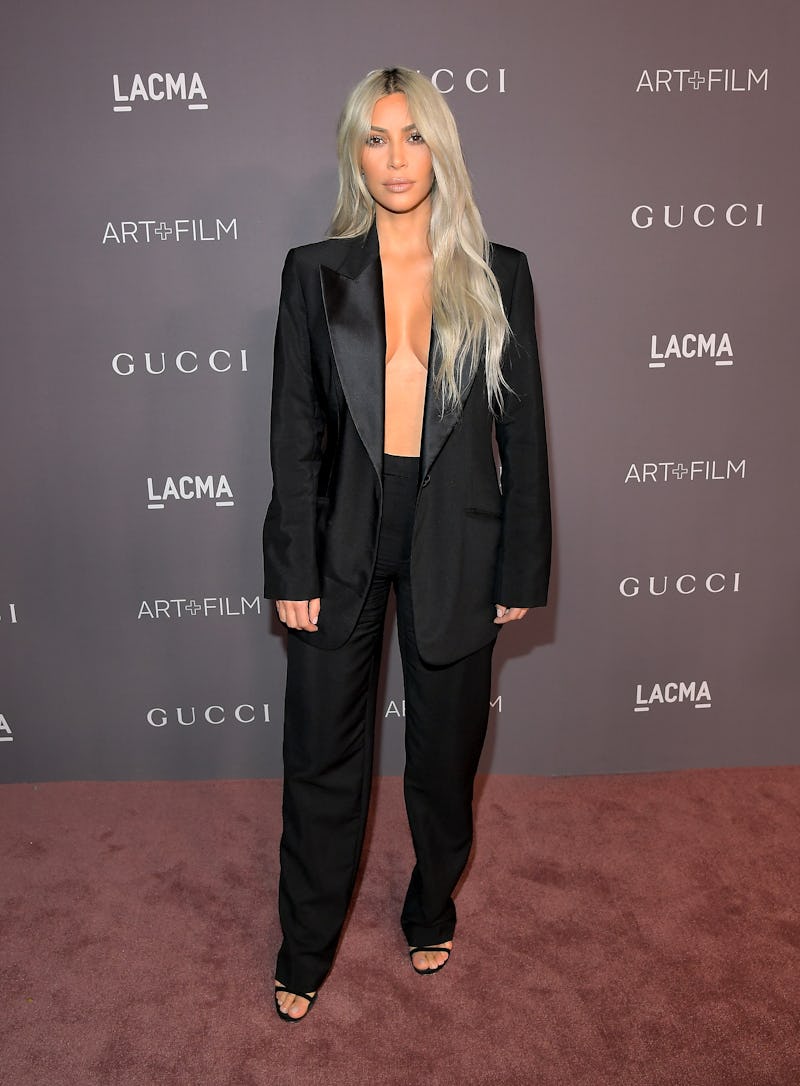 Charley Gallay/Getty Images Entertainment/Getty Images
The creator of a beauty brand loving makeup isn't exactly a shock. However, KKW Beauty founder Kim Kardashian seems to have taken her love of makeup to the level on Snapchat. Kim Kardashian wore makeup to a facial, and honestly, it may just be the most peak Kim K thing ever (next to her infamous naked Instagram posts that is).
According to Allure, Kardashian went to Skin Thesis, a spa uses "the latest in aesthetic medicine," to get her pamper on, and while you my be thinking that she documented the whole thing barefaced, well, you'd be wrong. This is Kim K after all.
In her Instagram story documentation of her latest facial, Kardashian's base makeup is removed, but everyone's most extra (and most savage) Kardashian kept her dramatic pink eye makeup, lashes, and nude-pink lip perfectly intact throughout the entire procedure.
Now, admittedly, in the video, Kardashian's facialist says that the facial is designed specifically for her skin, not her eyelids or lips. The aesthetician explains, "We're going to do a laser facial, so we're going to plump the skin, stimulate the collagen, work on pores, tightening everything up." Theoretically, then, should her wearing eye makeup and lipstick effect the facial?
Allure spoke with a dermatologist about the KKW Beauty founder's decision to keep on some of her makeup, and as it turns out, maybe you can be a bit glam while getting your skin pampered. Dermatologist Joshua Zeichner explained to the magazine that as long as the skin being effected is clean, you can keep your lashes on perfectly fine.
Considering that, according to People, the facial costs over $600, you should be able to keep on whatever brow, lip, or eyelash you want, tbh.
As it turns out, there may be a very good reason why Kardashian left on her lip look. Could it be a wear test? Prior to her facial, it seems that Kardashian had her makeup done by artist Ariel Tejada who posted the finished makeup to his Instagram account. Tejada explained in the post that he was using one of KKW Beauty's new nude lipsticks. Was Kardashian testing the staying power?
Of course, this isn't Kardashian's first time wearing her new lipsticks. It seems as though she's been testing them out for a little while now. A week ago, she posted a photo showing off a number or layered necklaces with just the bottom half of her face visible. On her lips, she explained that she's wearing a new KKW lip that was coming soon.
So far, however, there has been no official announcement on when the lipsticks may be coming, but it's clear that Kardashian is dedicated to wearing them herself, and they certainly seem like sturdy products. After all, her lip did stay on during that facial.
The beauty mogul's desire to keep on her makeup during the procedure won't come as too much of a surprise to fans — even if it wasn't in the name of a wear test.
Back in 2015 at the InStyle awards, Kardashian praised famed makeup artist Charlotte Tilbury for not allowing her husband to see her without some sort of glam and sleeping in her makeup. As it turns out, Kardashian does the same.
While Kardashian may no longer be sleeping in her makeup — which is a bad call, by the way — she seems as dedicated as ever to her glam. While many of us would go to a spa sans makeup altogether, Kardashian went with a full face and let those sculpted brows and that nude lip exactly where they were.
So hey, no one can say that Kim Kardashian isn't committed to beauty, right?