Kim K Just Shut Down This Baby Name Rumor, So Let The Guessing Game Continue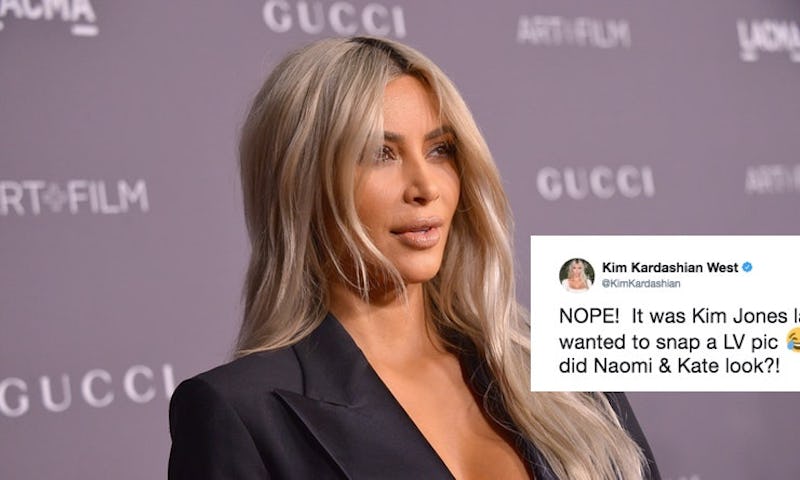 Charley Gallay/Getty Images Entertainment/Getty Images; Kim Kardashian/Twitter
For those in need of a lesson on celebrity speculation, listen up: Kim Kardashian's baby isn't named Louis Vuitton. The multi-hyphenate confirmed as much herself. "NOPE! It was Kim Jones last show and wanted to snap a LV pic. How amazing did Naomi & Kate look?!," she tweeted alongside a cry-laugh emoji on Thursday.
Kardashian's comment comes roughly 20 hours after she posted a cryptic Instagram photo of the famed fashion house's logo, prompting fans to wonder if it was a subtle nod to the newest member of the Kardashian-West clan. She'd only announced the arrival of her third child, born via a gestational carrier, on Tuesday, and followers were hungry for hints about her second daughter's name. But when it comes to her kids, Kardashian doesn't play, and she was quick to shut down the digital furor.
It certainly wasn't that far-fetched a prospect. This is, after all, a woman that veers toward the unconventional when it comes to naming children (ahem, North and Saint), and she has a noted proclivity for luxury labels. Why not combine the two? Louis, on its own, is actually quite traditional, and it has that royal ring to it, no? For a family largely considered reality TV royalty, it would have been a rather apt choice.
But "Louis" goes against Kardashian's preference for "short, easy to spell, one syllable" names, as she told Ellen DeGeneres last year, and if history is any indication, Kardashian will opt for something a little more original. Besides, if she were to single out a designer, it seems more likely that she'd go with Balmain or Givenchy, two brands that have become part of her signature wardrobe.
Fans have thrown out ideas ranging from "Love" to "Eve" to "Donda" — a tribute to husband Kanye West's late mother — and even with Kardashian debunking Louis Vuitton, there are still plenty of theories.
Maybe The Name Is Hiding In Plain Sight
Since she hasn't yet revealed the name, Kardashian has simply been referring to her daughter as "she," as in the birth announcement. But also, that's a pretty common way to refer to a newborn girl, so...
Or It Will Start With The Letter "E"
This fan (who, by the way, took the time to write out a road map of evidence — that's true commitment) is convinced the baby has to be named something starting with "E" in order to round out the apparent compass theme the Kardashian-West family has been sticking to thus far.
Or They'll Really Lean Into Their Last Name
They did name their first child North, so they're definitely not opposed to a play on words, and "Wild" is just weird enough that it feels right.
Or They're Simply Taking Their Time
A source told People as recently as Wednesday that Kimye haven't revealed the name because they reportedly haven't chosen one yet. "They still don't have a name," the insider claimed to the magazine. "They've been thinking about it for months and they want to make sure it's right. They will get there eventually!"
Which Could Lead To Something Like This...
You can call the Kardashians a lot of things, but lazy isn't one of them. This seems a little too literal, but hey, who knows?
Either Way, Fans Want Answers
From the looks of Twitter, people are really, really invested in the newest Kardashian, and their patience is running thin.
By now, the Kardashians have turned keeping details under wraps into an art form, so knowing them, we won't know the name of their family's newest addition until they want us to. But by all means, go ahead and try to guess.