Here Are The Strict Rules Kim K Is Allegedly Living By To Prevent Jewel Thieves After The Paris Robbery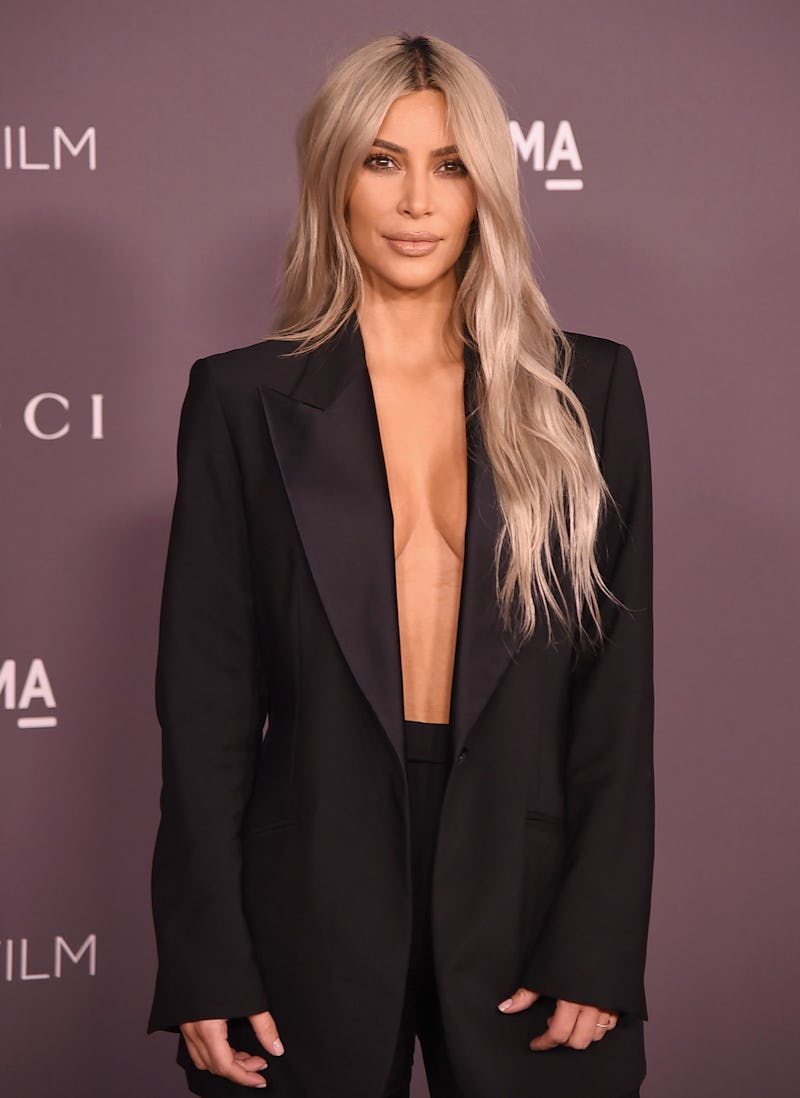 Kevin Winter/Getty Images Entertainment/Getty Images
It's barely into the new year and Kim Kardashian is already reportedly making major changes. Along with growing her beauty empire and expecting baby number three, the reality star is allegedly implementing new house rules for her Hidden Hills mansion. According to TMZ, Kim Kardashian's house will now be jewel-free, and it's reportedly a security measure she hopes will thwart potential jewel thieves.
The new no-jewelry-in-the-home-whatsoever rule allegedly comes in light of Kardashian's Paris robbery ordeal back in October 2016. Reports revealed that Kim K's engagement ring was stolen, along with a $10 million haul of other jewelry, when a group of masked men dressed in black broke into the star's private apartment and held her at gunpoint. Police labeled the crime as a highly-organized, planned raid, as the thieves gagged and handcuffed the concierge at Kardashian's hotel before tying Kim K up and locking her in the bathroom. Needless to say, the KUWTK star ended Paris Fashion Week completely shaken up, even though she was left physically unharmed.
After such a traumatizing experience, it's no wonder Kardashian is protecting herself, and the family jewels, by any means necessary. To keep Casa Kimye from becoming a future target, Kardashian allegedly plans to rid her home of all precious stones.
According to Cosmopolitan, Kardashian's jewelry will reportedly be kept in a location separate from her home. And when you're Kim K with a stash worth insane millions, the precautions can't stop there. Armed security will reportedly work around the clock to keep an eye on the collection — so, jewel thieves, beware. Kim K is playing no games.
Although you can't really blame the socialite for taking such extreme measures, the new mansion rule does seem like it will be a huge inconvenience. Gone are Kim K's days of having her go-to bling in arm's reach before heading out of the door. If she wants to get jazzed up in her favorite accessories, it looks like she'll have to make a trip just to access her stash — and that has to be super annoying.
But it's probably a small price to pay for Kardashian if it means she won't have to experience another terrifying robbery. So much of Season 13 of KUWTK was dedicated to how Kim K's life drastically changed following the incident. The star even described testifying in the Paris case, divulging that she spent a whopping eight hours in court giving and hearing testimonies from that scary night.
One has to wonder how hubby Kanye feels about the alleged jewelry mansion rules. One could only imagine that he's 100 percent in favor of the changes, considering the rapper made headlines for stopping a concert he was giving at Meadows Festival in Queens at the time of the robbery after receiving news about Kardashian.
As it seems, Kimye is holding up well since the incident, however, taking all necessary precautions. Not even a letter sent to Kim Kardashian expressing regret from the Paris robber was enough to convince the beauty mogul to let her guard down.
TMZ reported that in September 2017, Kardashian's legal team was sent a hand-written letter from Aomar Ait Khedache, the alleged mastermind behind the heist. "I want to come to you as a human being to tell you how much I regret my gesture, how much I have been moved and touched to see you in tears," the report allegedly read, as translated by Kardashian's attorneys. But it had already been nearly a year since the robbery at the time of letter.
According to TMZ reports, Kardashian never believed the apology to be sincere. Looks like she's calling bullsh*t, instead, and responding by beefing up the security and making boss moves to relocate her jewelry stash. Touché Kim, touché.