Kim K's Latest Comments About Tristan Acknowledge How Bizarre It Is To Relive Drama On TV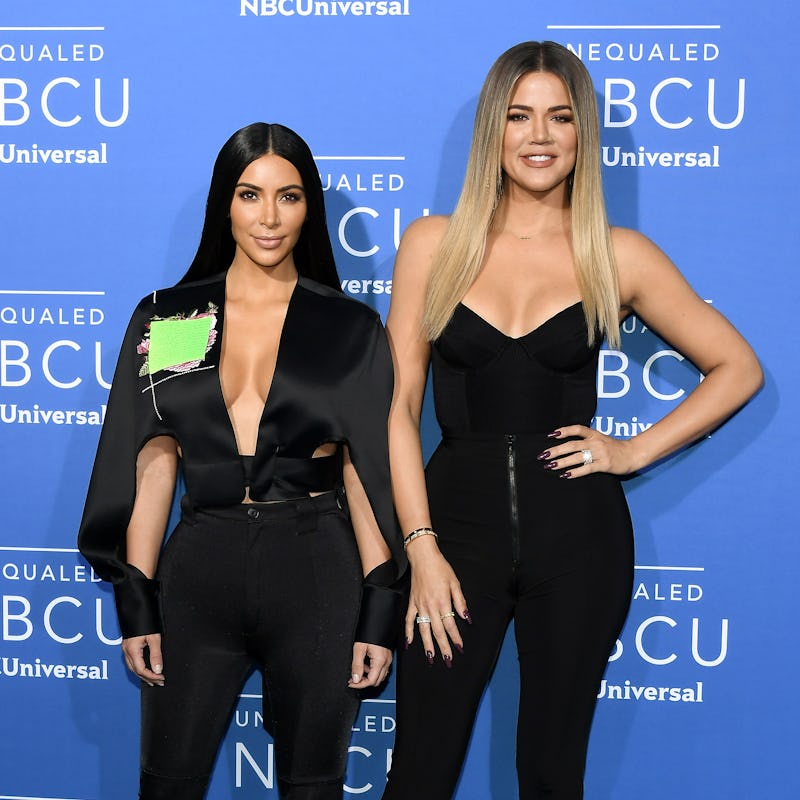 Dia Dipasupil/Getty Images Entertainment/Getty Images
Dealing with personal hardship is hard enough in real time, so just imagine how difficult it'd be to confront those moments all over again months later on national TV. Kim Kardashian's latest Tristan Thompson comments — shared during her appearance on The Ellen DeGeneres Show on Wednesday, Nov. 21, — acknowledge this distinctly bizarre reality star lifestyle, which the KarJenner clan has somehow managed to normalize over the course of Keeping Up With The Kardashians' 15 seasons.
But as Kim explained during her new Ellen Show interview (fans won't find this particular segment on the talkshow's YouTube just yet, though ET's report includes a clip from their conversation), the same can't necessarily be said for certain significant others who've joined the family over the years, by way of marriage, courtship, or some combination of the two.
More specifically, Kim spoke about Tristan Thompson, who's apparently having a hard time reliving his own personal drama on KUWTK's current season. She referenced Thompson's cheating scandal, which played out for the first time earlier this year in real life, and again recently during KUWTK's latest string of episodes. (Thompson has yet to publicly comment on the situation.)
Speaking to DeGeneres, Kim said rewatching the painful family ordeal six months after the fact "is awkward, especially for maybe Tristan, who isn't used to this."
But as she continued to say, when you're rolling with the KarJenners, having your personal life put on blast is just par for the course. Once again alluding to the Thompson cheating rumors that cropped up last April, just two days before Khloé Kardashian eventually gave birth to True, Kim told the host,
"Unfortunately, that was what's going on in our lives. So six months later when it replays ... and it's rehashed in front of everyone ... That is hard for Khloé and I'm sure for Tristan, but it's our reality."
Fans who've been keeping up with the family religiously this past year will probably have a hard time forgetting the rumors Kim's getting at here. (Quite possibly because, like she said, those same rumors were revisited in a pretty huge way during KUWTK's latest episode, as well as the one that came before it.)
Understandably, the whole KarJenner family pretty much kept quiet about the alleged cheating issue in its aftermath, save a few vague comments from Khloé on social media and a few slightly-less-vague comments from Kim during her last Ellen Show appearance (the ones that led Thompson to block her on social media), not long after the rumors broke. Still, despite the family's silence, most of the internet didn't stop talking about Thompson and his alleged infidelity for months.
And just about six months later, when it seemed the "Thompson cheating scandal" chatter was just starting to die down, audiences watched the whole thing take center stage once again on KUWTK. Before the series' two most recent episodes (which chronicled True's birth as well as the cheating rumors), Khloé took to Twitter to confirm that, yes, fans could expect to see the chaos up-close come Sunday evening.
Replying to a fan who commended Khloé for being so vulnerable on the show — specifically regarding Thompson — the star responded with a message similar to the one her older sis told DeGeneres on Wednesday.
"I signed up [for KUWTK] to show the good and the bad, right?" wrote Khloé, adding, "The bad is very hard to relive but it's life." Of course, airing her personal business for all the world to see is basically Khloé's day job (along with the rest of her siblings), so it makes sense she and Kim have both adopted such a detached perspective on this particular issue.
As for Thompson? After everything he's put the KarJenners through, it seems weathering the "awkwardness" — as Kim put it — is probably the least he can do.