Kim K's Tweet About Kylie's Baby Is So Kim K It Hurts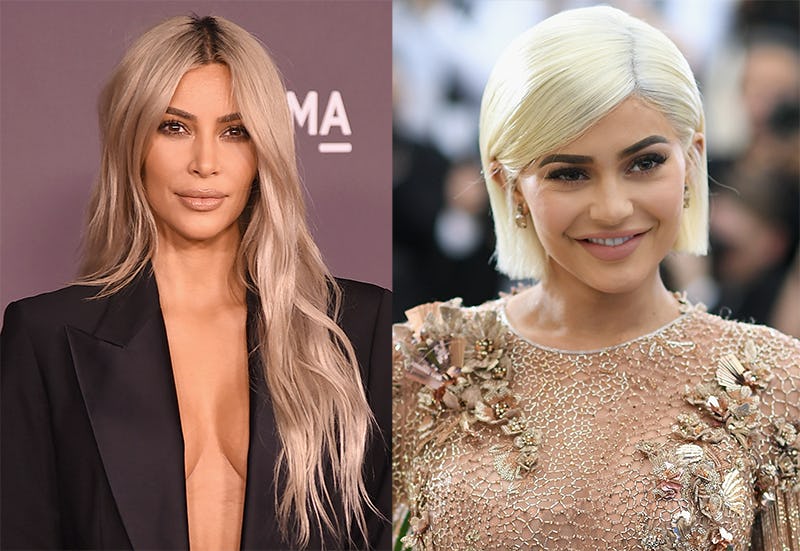 Getty Images
What's almost as exciting as finding out what Kylie Jenner named her baby is finding out how her sisters are reacting to said baby's name. Especially Khloe and Kim Kardashian, who are known for their wily senses of humor. Well, Kim Kardashian's reaction to Jenner's baby name didn't really disappoint, although it was a lot more simple than fans might have been expecting. The reality TV star tweeted one thing in response that was downright adorable — and will give you the impression that referring to Jenner's baby over text messages just got easier.
Shortly after Jenner posted a picture of her baby to Instagram with the caption "stormi," Kardashian tweeted a storm cloud emoji, complete with rain and lightning. It's a completely Kim Kardashian move — not only to tweet nothing but an emoji and wrap up 18,000 likes in under an hour, but also to show her support for her sister by teasing her in this way. Imagine Kardashian-Jenner group chats in which Kim K asks Jenner how Stormi is doing by posting nothing but this rain cloud emoji. Heck, imagine Kardashian-Jenner group chats in which Kim K collectively refers to Reign and Stormi by this same emoji. (Rain storm, get it?) The possibilities are endless.
Kardashian has been incredibly supportive of her sister during her pregnancy, not that this is any surprise. In addition to helping to keep the secret and divert the attention away from Jenner as she retired from the public eye to prepare to be a mother, Kardashian was also shown in the "To Our Daughter" video Jenner posted, which showed her last nine months, jokingly suggesting that she had "school" Jenner on "what her vagina's about to feel like" after she gave birth. (Jenner didn't want to know, but we can be reasonably sure that Kardashian told her anyway.)
The 37-year-old is also shown allowing Jenner to hold the newborn Chicago West and informing her (and the camera) that she had decided to call the baby that. Not that this video is the only proof of how close the two are, but it's the most recent.
Kardashian's sense of humor is well-documented as well. Remember the time that she said she wasn't taking six hour spa treatments at her Thailand hotel because she was "busy taking selfies all day"? Or when she wished her friend Stephanie Sheppard happy birthday by sharing a series of pictures of the two of them... in which Kardashian was prominently featured and/or even covering her friend from view? Or when she captioned a picture of Kanye West sleeping with his mouth open with "#TheRealLifeOfPablo"? The reality star loves poking good-natured fun at her loved ones, and Stormi is already no different despite only being a few days old.
Of course, Kardashian wasn't the only member of Jenner's family who gave the newly named baby a shoutout on social media. Grandmother Kris Jenner also tweeted, "Meet my precious granddaughter Stormi! I love you endlessly," along with the same picture of the newborn baby that Jenner had shared on her Instagram. The tweet, while sweet, also likely destroyed any hope fans had that Stormi was just a nickname for Storm.
With one more baby on the way — Khloe Kardashian is currently pregnant with her first child — this is an incredibly happy time in the life of one of TV's most famous families. The fact that they're sharing it with fans after nine months of secrecy is sweet, and fans are loving every second that they can celebrate Stormi (and newborn Chicago) — as well as their mothers, of course.