Kirsten Dunst Is Going Back To The '90s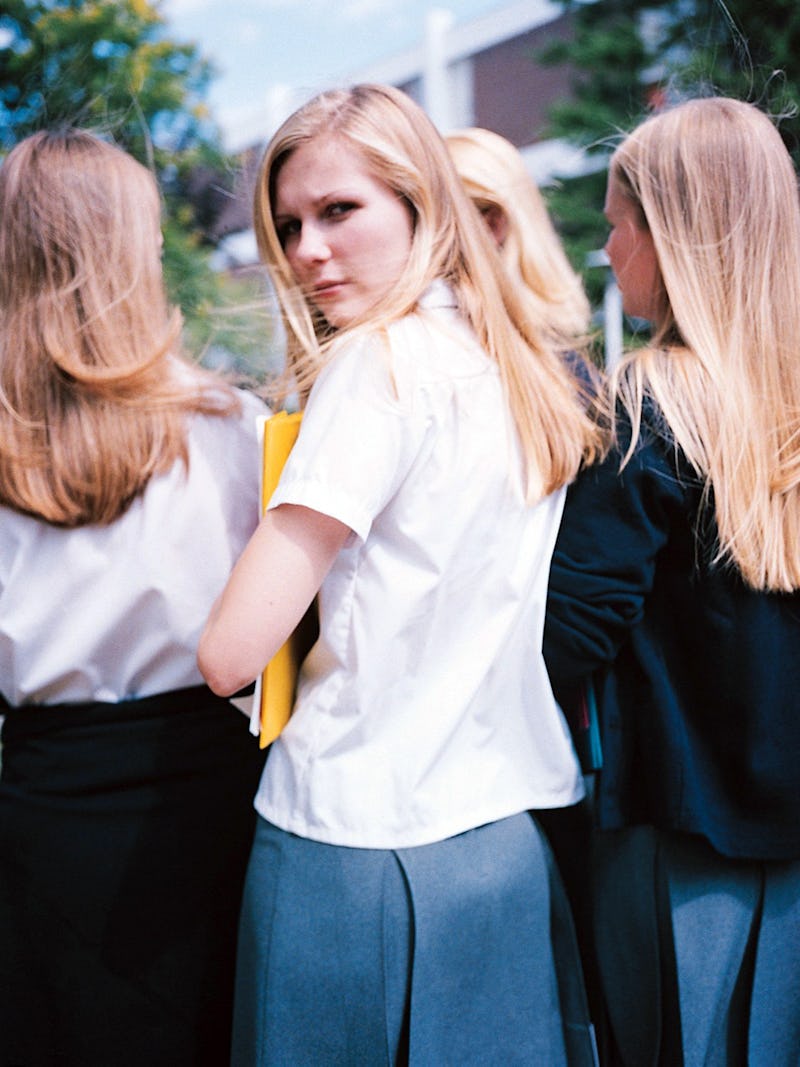 On Becoming a God in Central Florida might be a long-winded name for a TV show, but as with most things Kirsten Dunst has done, it won't be quickly forgotten. Dunst will reportedly star in the new "dark" comedy series on AMC, which she will also co-executive produce with former ER colleague, George Clooney. The show is still in its nascent stages of development, but per The Hollywood Reporter, here's the synopsis: On Becoming a God in Central Florida is a "darkly comedic story about the cult of free enterprise and one woman's relentless pursuit of the American dream in the early '90s." So basically, Peggy Blumquist, but without the Minnesota accent. And set in the early 1990s. And probably no UFO sightings.
This type of role — i.e. a small town woman with a dark side — seems right up Dunst's alley. (See above: Dunst's most recent stint as Peggy, the naive hairdresser pursuing an American dream who gets caught up in a scandal during Fargo Season 2.)
But, it's the decade that seems to fit seamlessly into Dunst's résumé. As a successful child actor, turned teen actor, turned serious adult actor, Dunst has been in the game for a few decades. The '90s, however, launched it all. In fact, the '90s gave Dunst some of her finest material — and the most memorable. Just in case you forgot, here's a refresher.
Interview With The Vampire (1994)
Dunst's breakthrough role as Claudia should be applauded. She was 12 years old, but somehow pulled off the complexity of playing an immortal vampire stuck in a child's body.
Little Women (1994)
In her second film of that year, Dunst played Amy March. She starred alongside some huge stars like Susan Sarandon, Winona Ryder, and Claire Danes, but held her own, proving that Interview wasn't a fluke.
Jumanji (1995)
There was no better young star to play the wide-eyed, braid-wearing Judy Shepherd.
ER (1996-1997)
Dunst's time as Charlie Chiemingo was short (it lasted only six episodes), but the memory of her duplicitous teen character will long be remembered.
All I Wanna Do (1998)
Verena von Stefan was the coolest, wise-cracking budding feminist we needed in 1998. Thankfully, Dunst was there to nail the part.
The Virgin Suicides (1999)
In Sophia Coppola's directorial debut, Dunst plays the enigmatic, "stone fox" Lux Lisbon. With her casual demeanor and haunting stare, Dunst encapsulated Lux flawlessly.
Drop Dead Gorgeous (1999)
In this black comedy (shot in mockumentary style), Dunst plays the optimistic Amber Atkins. The role had "early Torrance Shipman" written all over it.
Dick (1999)
Alongside Michelle Williams, Dunst starred in this political satire about Richard Nixon and the Watergate scandal. Like Drop Dead Gorgeous, Dick showcased the humorous side of Dunst.
In On Becoming a God in Central Florida, Dunst will play Krystal Gill, a recently widowed Orlando water park employee on her last legs. According to THR, the Founders American Merchandise, a "cultish, flag-waving, multibillion-dollar pyramid scheme," will take her down, but Krystal will find her way back to the top.
Here's to hoping scrunchies, pagers, and the "Macarena" are somehow involved.