Kris Jenner Shared A Kylie Meme That Will Make You Want To Call Your Mom Immediately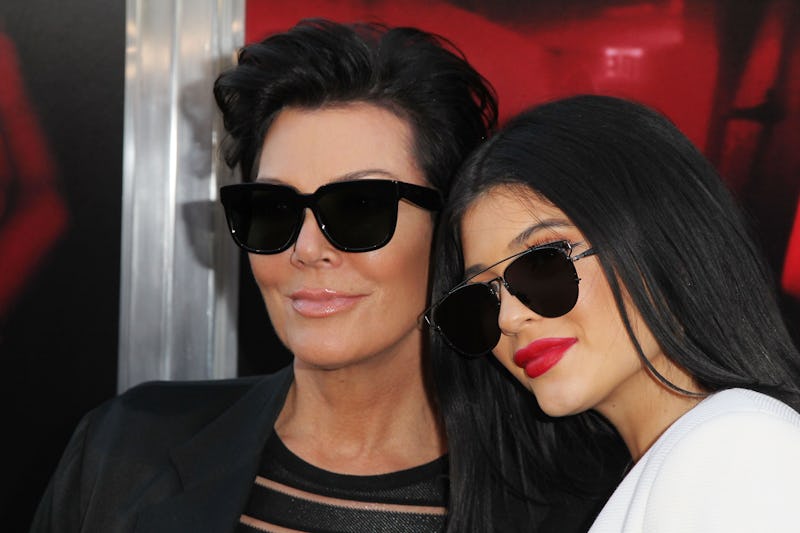 David Buchan/Getty Images Entertainment/Getty Images
Never tell a mom that her child has no talent, unless you want her to come for you. And if that mom is possibly the most famous "momager" on the planet, she'll definitely use social media. Kris Jenner shared a Kylie meme on Instagram that is at once a throwback and a genuine moment of her youngest daughter showing off her early cool factor. The meme in question reads, "'Kylie Jenner has no talent' OK explain this," followed by a video of little Kylie singing with Gwen Stefani.
Kris not only shared the meme, she used the caption to give her daughter some love. The proud mom wrote,
"Exactly. Love you @kyliejenner #talented #proudmama #explainthis @gwenstefani #kyliesfirstgwenstefaniconcert"
For the record, Kylie is someone who has a makeup empire, created a thriving personal brand, and is also a mom. And she's 20. She definitely has a privileged background, but she's also talented in her own right. The fact that she ended up singing "Hollaback Girl" with Stefani when she was 10 is just one of her many accomplishments — although, that's an admittedly awesome one.
Kylie first posted the throwback video on her app back in 2016. According to E! Online, she wrote,
"My first concert ever was Gwen Stefani in 2005! During the 'B-A-N-A-N-A-S' part of 'Hollaback Girl,' she brought a bunch of girls onstage to sing with her. One of her backup dancers put me on his shoulders and then Gwen put the mic in front of me to sing. I was so little! But it was cool because I ended up going on Gwen's concert DVD, Harajuku Lovers Live."
Only a member of the Kardashian-Jenner crew could have a first concert experience that amazing. Kylie: owning it since 2005.
Kylie's 2018 has been super eventful so far. The businesswoman welcomed her daughter Stormi in February, and in June, Time named her one of the internet's most influential people. She's not even 21 yet, and the youngest of Kris' daughters is already known for making bold moves. In fact, her influencer status is so strong that her Snapchat complaints led to the app dropping in value.
When it comes to being an internet mover and shaker, Kylie knows the business inside and out. And that's likely yet another reason her mom is so proud of her. Kris has raised a daughter who knows her own mind, and is busy building her own empire. During a May Evening Standard feature, Kylie's big sister Kim Kardashian asked her if she had any regrets, and the makeup mogul's answer was honest and powerful. Kylie said,
"I don't feel like I ever look back and want to do things differently, because I'm so proud of where I am right now, and where we all are. So I feel like everything that happened was how it was supposed to happen."
For Kris, Kylie's drive and ambition are not only things to be proud of, but they're also qualities she shares with her daughter. In May, she told People her youngest daughter reminds her of herself at that age. She explained,
"I do see myself in Kylie. She hasn't stopped! And she does remind me of me in that way. I'm so proud of her. I just beam when I watch her."
From singing "Hollaback Girl" with Stefani at age 10 to raising her daughter Srtormi and running a business at age 20, Kylie has a way of making things happen for herself. Her goal-driven ways have earned her a legion of followers, but it's pretty clear that at the end of the day no one will ever be a bigger Kylie fan than Kris.