Kristin Cavallari & Heidi Montag's 'The Hills' Friendship Has Evolved In SUCH A Grown-Up Way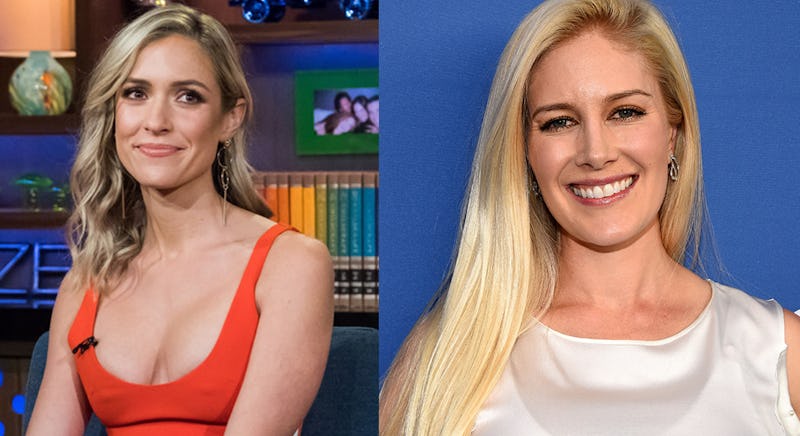 Charles Sykes/Bravo; Araya Diaz/Getty Images Entertainment/Getty Images
Like a mascara-coated tear cascading down a reality star's face, life continues to roll on and the years continue to tumble by. The passage of time really is never more apparent than when you look at how Kristin Cavallari and Heidi Montag's The Hills friendship has evolved. On the Wednesday, July 11 episode of Watch What Happens Live with Andy Cohen, the titular star of Very Cavallari said Heidi reaches out to her for parenting tips on a regular basis.
To think, only a decade ago, The Hills was still on, Les Deux was still around, and Heidi and Kristin were two 20-somethings who lived out their drama in front of a camera crew for our entertainment. And now, in the year 2018, Heidi and Kristin are moms who talk mom stuff. Whether you're an '00s reality show alum or a person who watched reality TV in the '00s, growing up happens.
Kristin shared,
"Heidi has texted me with any and every question about being a mom. I talk to her all the time. She's doing great."
Aw, isn't that sweet. Anyone else's heart feel about as warm as a pair of feet in combat boots at the beach right now?
Kristin and Heidi's personal lives have changed quite a bit over the last several years. Kristin and her husband, pro football player Jay Cutler, have three children; Heidi and Spencer Pratt welcomed their first baby, Gunner, on Oct. 1, 2017. Months before she gave birth, Heidi started picking Kristin's brain for child rearing advice. Kristin told Entertainment Tonight in April 2017 that Heidi was asking her "lots of baby questions."
She added,
"I sent her a whole list of things I loved as a as a mom [during] the first six months, because I remember being a first-time mom, I [didn't] really have anyone I could turn to."
When Heidi appeared on TODAY in September 2017, she talked about how much she appreciates her former costar's parenting tips. The Celebrity Big Brother star said,
"Kristin's definitely the mom guru of three so I love getting her advice. She seems like a similar type of mom to what I want to be, and I love how healthy she is and her whole lifestyle, so I love getting product advice and things like that from her."
Toto, I don't think we're at that party where Kristin yelled, "If it's gonna be like this, it's on" anymore.
Heidi is not the only person from the The Hills/Laguna Beach universe who's still a part of Kristin's life. The Balancing in Heels writer told Cohen she regularly talks to Audrina Patridge, Brody Jenner, and Stephen Colletti, too. Oh, and Kristin apparently wants the guy who launched a thousand STEH-PHENs on her current reality TV show. She explained,
"I actually spoke to him today, we do talk. We're trying to get him, if we get a Season 2, I'm trying to get some old faces back, make a little cameo."
Yes, if everything goes according to Kristin's plan, there could be a STEH-PHEN cameo onVery Cavallari one day. OK,Very Cavallari Season 2 better happen.
Speaking of STEH-PHEN, Kristin made it pretty clear that she and the third member of Laguna Beach's first iconic love triangle still aren't best friends. On Wednesday's episode of WWHL, Kristin said she does not regularly chat it up with her The Hills/Laguna Beach nemesis, Lauren Conrad — but don't worry, there isn't any drama, drama, drama.
"There's no animosity, but we've just never stayed in touch," Kristin clarified. What a chill and mature and drama-free explanation. To quote a song by a band the Laguna Beach cast saw at an amphitheater in San Diego, "Well, I guess this is growing up."