Kylie Posts Snaps Aout A Collaboration With Rob Kardashian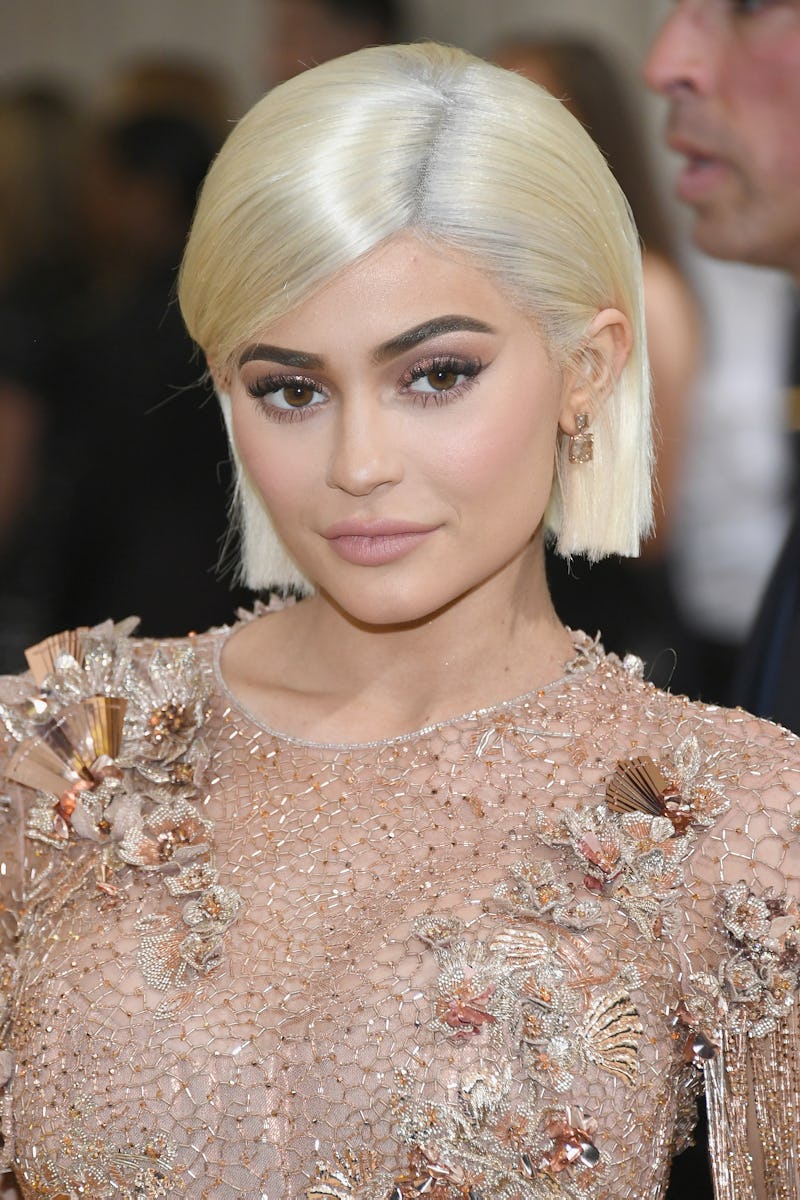 Dia Dipasupil/Getty Images Entertainment/Getty Images
If you follow the youngest member of the Kardashian-Jenner family, you might have noticed Kylie Jenner's Snapchats about a sock collaboration with Rob Kardashian on Friday. She doesn't specifically tag Kardashian, or even reference him, but her posts show the brand name on the garments: Arthur George. That's Kardashian's sock line, which he's operated since 2012. Still, while Jenner doesn't mention Kardashian's name, her posts stand out since none of the Kardashian-Jenner sisters have spoken out about Kardashian since he posted his controversial Instagrams and tweets involving Blac Chyna.
Jenner's snaps show off three new offerings: socks with an image of Jenner herself, a pair with a repeated pattern of pink-manicured middle fingers raised, and a pair that says "I <3 LIP KITS" on the bottom. The three new styles are available on Jenner's site, KylieJennerShop.com, but not on ArthurGeorge.com — at least not yet — even though they feature the brand name.
Still, while Jenner doesn't mention Kardashian by name in her Snaps, her posts are noteworthy, as the Kardashian-Jenner sisters have kept their distance from their brother, at least in the public eye, in the wake of his problematic social media posts involving Chyna. Any collaboration between Jenner and Kardashian being released now would likely have been in the works for a long time, so while the collab itself shouldn't be taken as commentary on the latter's actions, Jenner promoting it on Snapchat now could indicate that she hasn't done anything more extreme in reaction to Kardashian's social media posts, like completely cut ties with him. Or, she could just want to promote her new items — fans do love Jenner's products.
For their part, the other members of the Kardashian-Jenner empire have mostly stayed mum on the subject of Kardashian and Chyna's situation. A rep for Kim Kardashian reportedly sent a copy of a non-disclosure agreement signed by Chyna to ABC News (Bustle reached out to Kim's rep for comment, but did not receive a response), which could suggest that Kim believes Chyna breached the agreement by speaking publicly about Kardashian in her ABC News interview and/or in her request for a restraining order against him, but Kim's intent, if she did send the NDA, is unclear at this time.
Also, Caitlyn Jenner spoke out about the situation with Kardashian and Chyna while appearing on ABC News and called Kardashian's actions "stupid."
Other than that, the family has been functioning normally on social media. They're posting their regular content and promoting their own brands, and haven't publicly aligned themselves on either side of this issue.
As for Chyna and Kardashian, they have both made clear that their priority is their daughter, Dream. Chyna told reporters after she received her restraining order on Monday, "I'm just going to get back to co-parenting Dream."
Kardashian's lawyer Robert Shapiro told reporters, "Now we move forward to do one thing and one thing only, whatever is in the best interest of the child."