Kylie Jenner Gave A Sneak Peek Of Her Baby's Closet & It's Probably Better Than Yours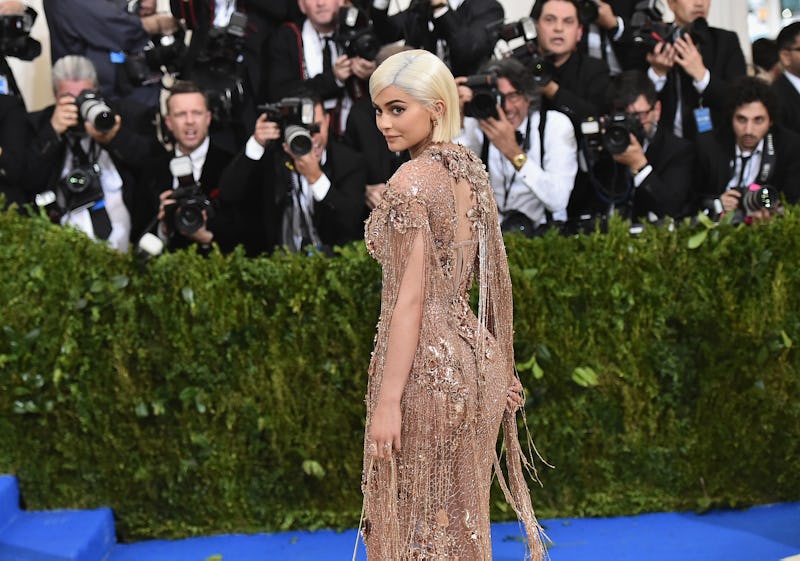 Mike Coppola/Getty Images Entertainment/Getty Images
In case you hadn't heard, Kylie Jenner had a baby. Those pregnancy rumors aren't rumors anymore. Jenner confirmed her baby girl's birth on Sunday, and it sent Twitter into a frenzy. Fans may have missed that Kylie Jenner's nursery tour low-key happened during the announcement as well. While the Kylie Cosmetics mogul clearly wants to keep things about her child mum (she did practically disappear for nine months), she gave a little glimpse into what life will be like for the yet to be publicly named baby girl in her "To Our Daughter" YouTube video.
In case you've been under a rock since Sunday, Jenner didn't just take to her Instagram account to announce that she'd not only been pregnant but that she'd also given birth on Feb. 1 to a girl. In celebration of the occasion and seemingly as a way to let fans know about her life during those months, she posted a YouTube video featuring family and friends' words to her daughter as well as footage of she and the baby's father Travis Scott during the pregnancy.
In the overwhelming moments of "oh my god, Kylie Jenner had a baby," you may have missed that she also kind of gave a little bit of a nursery tour, and suffice it to say, Jenner's baby's closet may just be the best part.
In the video, fans can see Jenner being gifted an adorable pair of baby sneakers, but it's what she does with them that may interest fans. She adds them to what seems to be a growing collection of baby footwear on shelves in what appears to be the nursery. Then, you see a row of sweet, tiny pink baby outfits hung perfectly inside a closet. It's adorable. Are baby clothes and shoes not the cutest things?
The baby Nikes seem to be from either Scott or Jenner's best friend Jordyn Woods, and they look so cute lined up next to the baby's other adorable items.
The bouncing baby girl clearly already has a closet full of clothes, and honestly, these sweet little pieces may just be better than a grown woman's closet.
However, it wasn't just her closet that was seen. Jenner's sister Kim Kardashian appears to have brought her newborn Chicago West to Jenner's home, and they appear to be in Jenner's nursery while they discuss Chicago's name.
Then, there's the sweet photos of books on the wall.
Has there ever been a more perfect book for a Jenner child than Mary Had A Little Glam?
Then, of course, there's the butterflies. In the video, fans can see the colorful animal covering the walls of Jenner's nursery, and while seeing the space where the latest Kar-Jenner baby will grow up is exciting, it's also leading to a lot of speculation about Jenner's baby's name.
There are some seriously intricate theories, but the leading one seems to be that Jenner and Scott have named their daughter Butterfly or Mariposa (which is butterfly in Spanish). From the butterfly necklace Jenner dons in the video to Scott's "Butterfly Effect," and the couple's alleged matching butterfly tattoos, the nursery decor seems to be yet another sign that butterflies play a major part in Jenner's pregnancy.
The theories are pretty convincing.
Some, however, still seemed focused on the nursery overall.
However, if you believe theories that Jenner and Scott have named her their baby Mariposa (with the nickname Posie), could Jenner have painted the nursery the color of the Posie K lip kit? Is it all connected? Is it? Is it?
The truth is that no one will really know until Jenner and Scott decide to reveal the baby's name. Until then, however, you can bask in the pastel pink, butterfly-covered, clothing and shoe-filled wonderland that is Jenner's baby nursery.