Kylie Jenner Just Returned To Twitter In The Most Kylie Way Possible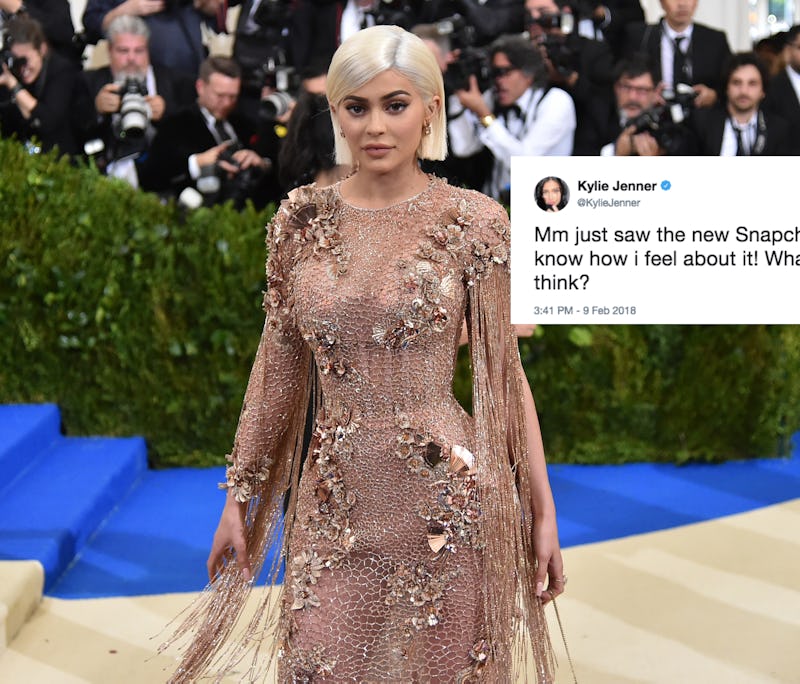 Mike Coppola/Getty Images Entertainment/Getty Images; Kylie Jenner/Twitter
This week, Snapchat users far and wide noticed something quite different about their beloved social media app: The look has been completely overhauled. This adjustment was so striking, it inspired even Kylie Jenner to tweet about the Snapchat redesign. Yes, Kylie ended her Twitter hiatus to talk about what's going on with Snap.
OK, the phrase "Twitter hiatus" is to be taken loosely here. The Life of Kylie star didn't totally disappear from Twitter during her not-so-secret pregnancy; after TMZ reported that Kylie was expecting, she still tweeted about her cosmetics line on a regular basis. However, the lack of personal tweets were just one of the many things that changed while she laying low and with child. She barely appeared on the current season of Keeping Up with the Kardashians, she wasn't part of the family's Christmas card, the angles of the photos she posted on Instagram felt strategic, and her personal tweets seemed to be a thing of the past.
Before Kylie seemingly went into hiding, she regularly tweet-chatted with fans about anything and everything. When someone asked her if she and Kendall Jenner share underwear? Kylie got back to them. When someone asked her if she had a new tattoo in the works? Kylie let the person know that she recently got one. When someone told her that Italian Greyhounds are cats in dogs' bodies? Kylie responded, "True."
Sure, Kylie occasionally tweeted at fans about topics other than Kylie Cosmetics while she was pregnant, but those posts were few and far between. She wished fans a happy Sunday, wished them a happy Thanksgiving, and let them know that she copied Kris Jenner's Barbie art idea, but that's about as personal as her posts got. Kylie opted to pare down her social media activity while keeping a low profile during her pregnancy, and no, that isn't a bad thing. If someone decides scaling back on their social media presence is what's best for them, there's no reason to judge that.
On Super Bowl Sunday, the makeup maven switched things up a whole lot and got real personal: On Feb. 4, Kylie tweeted her baby announcement and video. She wrote,
"I'm sorry for keeping you in the dark through all the assumptions. I understand you're used to me bringing you along on all my journeys. My pregnancy was one I chose not to do in front of the world. I knew for myself I needed to prepare for this role of a lifetime in the most positive, stress free, and healthy way I knew how."
Kylie's first post-baby announcement tweet came on Feb. 9 and surprise! It was about a Kylie Cosmetics Bundle. Her Twitter timeline was getting back to its regularly scheduled business programming. … Or so fans thought.
Not a few hours after the Kyle Cosmetics bundle post happened, Kylie tweeted, "Mm just saw the new Snapchat.. I don't know how I feel about it! What do you guys think?" And when one fan said they weren't into the changes to the app, Kylie quote-tweeted the reply and said, "I kinda agree."
King Kylie is back and tweeting about random stuff and it all feels right.
Are these tweets about the Snapchat update her way of letting the world know that she's going to get back to bringing her fans along on her journeys again? Are fans going to get more content like that tweet about Italian Greyhounds being the closest thing to a real-life CatDog? There's only one way to find out: Buy lip kits— wait no. Let's try that again: Keep keeping up with Kylie on Twitter.