Fans Are Convinced Kylie Will Reappear Now That Kim's Baby Is Here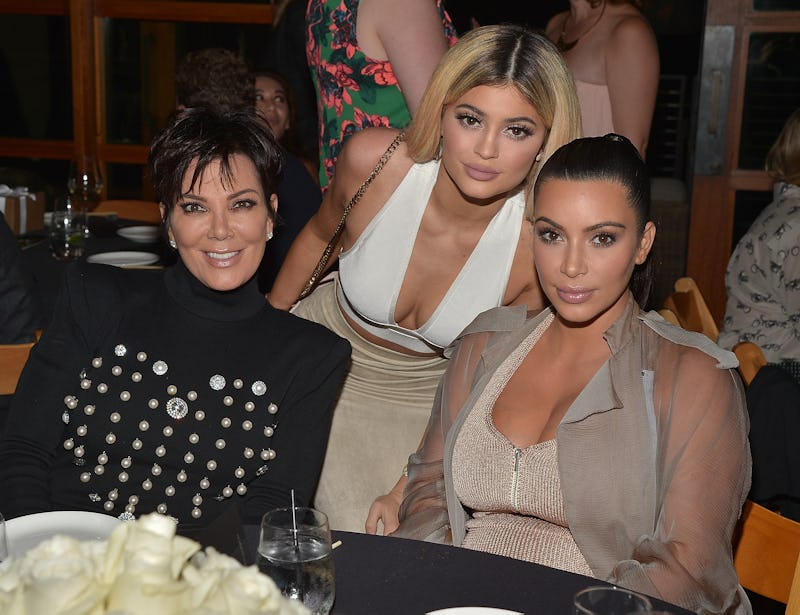 Charley Gallay/Getty Images Entertainment/Getty Images
On Tuesday, Kim Kardashian announced the birth of her third child, a daughter, via surrogate. Now that the news is out in the open, fans are speculating hardcore, including the theory that Kylie Jenner will reappear, proving that she's Kimye's surrogate. Jenner has yet to step out in public, but if or when she does come out of hiding, fans believe this means she had to have given birth to her sister and Kanye West's baby girl.
There have been many theories about Jenner actually being Kimye's surrogate (Bustle reached out to Jenner's rep for comment on the rumors, but did not receive an immediate response) and not reportedly pregnant with her first child, like TMZ initially reported in September 2017. (At the time of the report, Jenner's rep couldn't be reached for comment.) But, of course, fans continue to theorize, because that's what Kardashian fans do best.
Furthermore, on Friday, Jan. 12, some were convinced that Jenner was in labor. Many fans took to Twitter speculating that the Life of Kylie (senior story producer: Janelle Couture) star may be in the hospital giving birth. At the time of the rumor, Jenner's rep did not immediately respond to Bustle's request for comment. However, TMZ soon reported that Jenner wasn't in labor. TMZ reportedly spoke with "multiple sources close to Kylie and Travis Scott" who said Jenner isn't even due this month and that she didn't go into premature labor.
However, that doesn't seem to be enough for fans. Based on when the labor rumors were reported and the fact that Kardashian and West just welcomed another baby, fans are absolutely invested in the theory that a Jenner public appearance would solidify the rumors that she was Kimye's surrogate.
Here are just few of the tweets from fans who believe just that.
Finally
This is pretty much the consensus.
It's Bound To Happen
Everybody keep your eyes peeled.
The Time Has Come
She can finally go back to her routine.
Social Media Will Be The True Reveal
Her accounts haven't been the same since the pregnancy rumors began.
"Full Body Pictures"
Fans haven't experienced those in a long time.
It's The Question Everyone Has
Fans are waiting...
The Labor Rumors Can't Be Ignored
This isn't something you just move on from and forget about.
All Will Go Back To Normal
This would give fans even more to discuss.
It's understandable why fans are thinking this particular way. Ever since Jenner's reported pregnancy made headlines last September, she's been extremely cautious about going out in public and what she posts on social media. So if she were to reappear, well, her appearances both in public and on social media would absolutely set fans off — and further fuel the "Kylie is Kimye's surrogate" rumors.
If she were to reenter the spotlight, there's a chance Jenner won't comment on her recent absence, since she's she's kept quite thus far. She could easily continue living her life as if nothing has happened and like she was never reportedly carrying her own child or her older sister's third child.
Guess what? Jenner's family probably won't be saying anything, either. As Kardashian told Ellen DeGeneres in November 2017, "When there are lots of rumors, we have these family group chats and we threaten each other's lives if we speak for the other one." She added, "We just decided there's so much that goes on that we respect each other's right to speak for themselves."
Basically, fans will have to keep theorizing until Jenner decides she wants to speak for herself regarding the pregnancy and surrogacy rumors. And if she never does, then that's something they should respect.