Kylie Jenner Just Cleared Up Once & For All Whether She Writes Her Own Tweets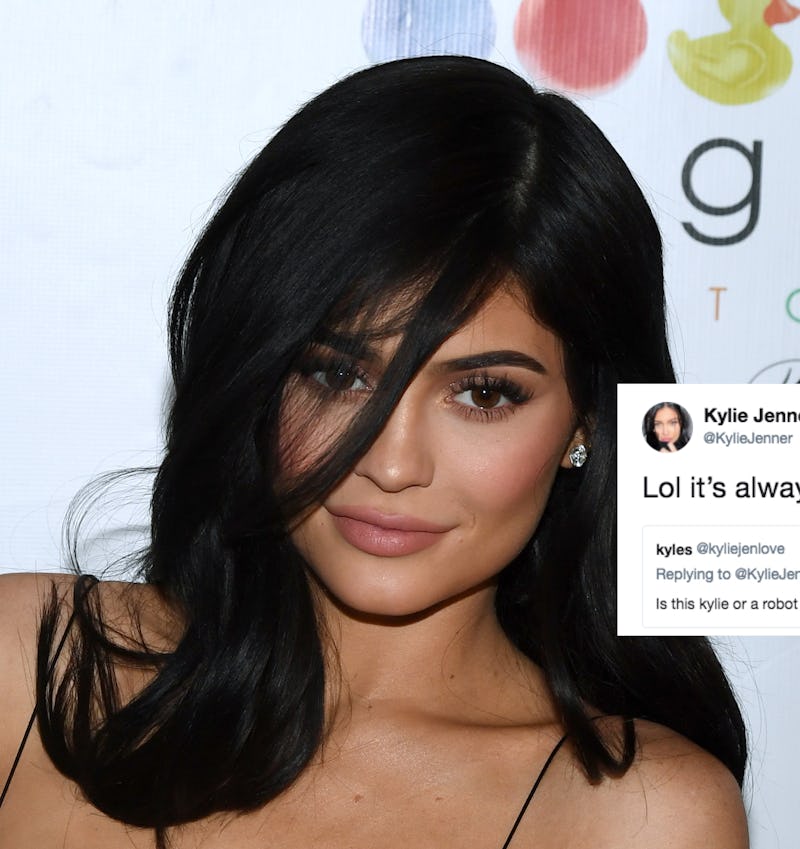 Ethan Miller/Getty Images Entertainment/Getty Images; Kylie Jenner, kyliejenlove/Twitter
When it comes to celebrity-fronted social media accounts (and social media accounts in general nowadays), it's no secret that sometimes an account's actual author is not necessarily its namesake. So, when A-list celebrity accounts start producing any variety of decidedly uncharacteristic content, fans tend to get suspicious. But to quash any lingering doubts, Kylie Jenner always writes her own tweets, as confirmed by the reality star herself via Twitter on Tuesday, Feb. 13.
Earlier Tuesday afternoon, Jenner took to Twitter to share a bit of news with fans of her makeup line, appropriately dubbed Kylie Cosmetics. (At 20 years old, Jenner is already something of a triple-threat: a reality superstar, entrepreneur, and social media mogul to boot. Oh, and she's also a new mom.) Accompanying a crystal-clear, manicured snapshot of the Nice Palette, one of Kylie Cosmetics' signature eyeshadow products, Jenner tweeted, "btw i just restocked The Nice Palette for you guys & a few of my other favorite things!"
The palette, for the record, looks like a pastel-shimmer lover's dream come true, with a whole color spectrum's worth of powders touting names like "Santa Baby" and "Slay." And, as is customary when it comes to the unbelievable scope of Jenner's social media prowess, the post racked up almost 7,000 likes in its first few hours.
And while the post's comments section is littered with praise from Kylie Cosmetics fans who've dubbed The Nice Palette revival "perfect," among other things, one Twitter user was a bit more skeptical. Replying to the tweet (just seconds after Jenner's original post graced the Twittersphere), the user asked, point-blank, if Jenner had actually written it herself. "Is this kylie or a robot tweeting," the user wrote, retweeting Jenner's post.
But, before the "robot" inquiry could spark any sort of real controversy, Jenner nipped that fallacy in the bud, real quick. Hardly one minute later, she replied to the suspicious Twitter user with all the text-lingo'd charm of a no-nonsense social media queen. And, of course, she still managed to get her point across, loud and clear. "Lol it's always me," Jenner tweeted, tacking on a laughing emoji and four exclamation marks to the end of her message.
Following a notoriously extended leave of absence from her hard-earned internet kingdom (which, fans now know, was part of the reality star's attempt to keep out of the limelight during the course of her first pregnancy), Jenner returned to her social media throne just over a week ago, on Feb. 4. And, as evidenced by her proximate series of explosive, viral social media posts, she's back with guns blazing.
In the aftermath of Jenner's long-rumored pregnancy (which, for the better part of five months, was spoken about only in loud, desperate interrogatives, sans official confirmation), the star marked her long-awaited return to Instagram with an explosive, two-part announcement: She was actually pregnant and gave birth to her first-born daughter on Feb. 1.
Suffice to say, both installations of Jenner's two-part pregnancy announcement gleaned a substantial (read: frenzied) bout of attention from fans and news outlets alike. But it was her follow-up post two days later, on Feb. 6, that solidified her seemingly ceaseless aptitude for all things social media-related.Because, naturally, the only Jenner-helmed post juicy enough to garner more attention than her pregnancy announcement (seriously, that one was a long time coming) was the unveiling of her daughter's name, which racked up nearly 17 million likes on Instagram and deemed Jenner the new titleholder of Instagram's "most-liked." Her daughter's name, for the record, is Stormi. (Social media users have had more than their share of fun with the weather-related wordplay.)
So, if there are any dissenters out there who aren't quite convinced that Jenner's claim is legitimate, consider this: With more than 100 million followers on Instagram and an additional 24.4 million on Twitter, it's probably safe to say that, as far as active, personalized social media presences go, Jenner's is definitely at the top of the list. It's hard to believe the breadth of her internet fame would be possible had her accounts been manned by a robot.