Lady Gaga's Metallica Grammys Mani Matched Her Top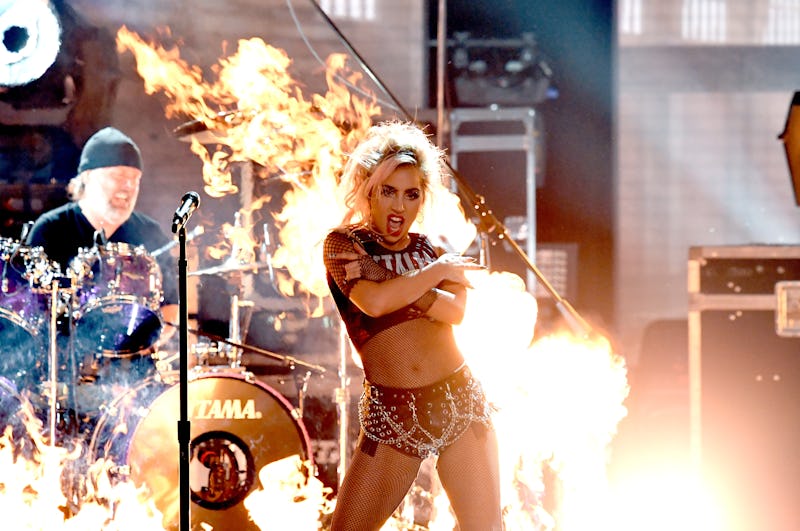 Kevin Winter/Getty Images Entertainment/Getty Images
When Lady Gaga commits, she really and truly goes all out. For her 2017 Grammys performance with Metallica, Lady Gaga was a total rock chick, from her torn and tattered Metallica tee to her leather 'n' chains hot pants. Also, Lady Gaga rocked a Metallica manicure for the Grammys and it was a must see moment.
Gaga shared a shot of her Metallica mani and thoroughly rock 'n' roll nails on her Instagram story a few hours before the big show. Her nails were oval shaped and painted with glossy black lacquer. The design was adorned with earrings, studs, and Metallica's name spelled across them.
Gaga's mani was supremely badass, just like the faux back tattoo that the singer sported for the joint performance. Before she took the stage with the hard rock legends, Gaga also shared a shot of a large tattoo which took up significant real estate on her back. It was a massive moth and all of the hashtags, and the fact that she wasn't sporting this piece last week during her Super Bowl performance, made me think this was indeed fake ink that functioned as a visual accessory for her Grammy performance with rock gods.
Check out Gaga's extra-special and accessorized Metallica nails. They really are cool AF.
Oooh! Don't you love the studs, rings, and the dagger-like shape? The rings make it look like her nails were pierced, which is edgy and rawk!
That's a metal manicure for sure. How fun.
Those rings and studs, though!
Gaga really wanted her mani to match her performance partner as well as her shirt. When Gaga puts together a stage costume, nothing is left to chance and that's part of Mother Monster's fashion charm.
Check out Gaga's take on matchy matchy.
Gaga was consummate rock chick. She slayed it, nails and all.
Here's one more Metallica mani shot before you go!
Images: Lady Gaga/Instagram (3)