Landon From 'Southern Charm' Supported Kathryn On Twitter & Wants To Leave The Past Behind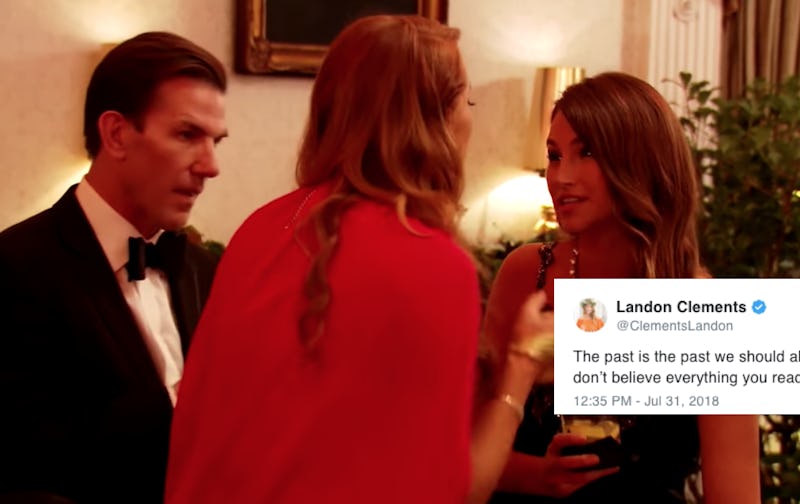 Bravo; Landon Clements/Twitter
Kathryn Dennis is getting back into everyone's good graces. Even Southern Charm's Landon Clements is supporting Kathryn. On Tuesday, Landon, who last appeared on the Bravo hit series in Season 4, tweeted how she currently feels about Kathryn. As fans recall, Landon and Kathryn never got along. They both said not-so-nice comments about one another in the past. Even though it doesn't seem like the two are in each other's lives at the moment, Landon is voicing praise for Kathryn turning her life around in so many positive ways.
Referring to a July 30 Forbes article titled, "The Inspiring Inner Strength Of 'Southern Charm' Star Kathryn Dennis," Landon tweeted, "Popping up on @Forbes it's been a long road KD. Happy for your happiness."
That statement is huge for Landon, who told Bustle in May 2017, "If the audience saw how Kathryn carried on, I don't think she would have any fans, to be perfectly honest." That said, Landon also hoped Kathryn found a happy ending. "She's got a lot going on right now and just needs to focus on getting well," she told Bustle at the time. "I hope she's able to do that."
Well, Kathryn has definitely done just that. In addition to going to rehab, maintaining her sobriety, and getting a job, Kathryn now has 50/50 custody of her two children with Thomas Ravenel. She's had quite the journey and Landon appears to be happy for her.
Of course, Southern Charm fans came for Landon and criticized her nice tweet about Kathryn. One person tweeted asked about Ashley Jacobs, Thomas Ravenel's current girlfriend, "Didn't I read an article there you said you agreed with Trashley and what she said about Kathryn? Why pretend you're happy for her now, you were disgusting to her." Landon simply replied, "The past is the past we should all look to a bright future (also don't believe everything you read)."
Another Twitter user went as far to call Landon a "hypocrite" and said she was just "jumping on the bandwagon" of having Kathryn's back. "I'm not trying to redeem myself but happy that she did," Landon tweeted the person. She also added, "This tweet feels so angry #blessyourheart."
Someone else also tweeted a screenshot of Kathryn giving the middle finger to Landon in a Season 2 episode and wrote, "#TeamKathryn." To that, Landon replied, "[crying laughing emoji] I think we have both moved beyond this moment but thanks for sharing."
Landon isn't the only one who's changed her tune about Kathryn. Patricia Altschul and Kathryn are now friends. They even watched the Season 3 reunion together. In a July interview with Entertainment Tonight, Patricia discussed her relationship with Kathryn. Patricia said, "I had not had any contact with Kathryn for five years, and a lot of that had to do with her behavior in the past. Volatile, screaming, yelling, giving people the finger."
Patricia continued, "She went to rehab, she got her life back in order, she's passed every drug test. She has been like a different person, and I think it's just a great redemption story. She inspired me, I was actually very impressed."
There's no doubt Kathryn is a changed woman. Most fans couldn't be prouder and happier for her. It's wonderful to see not only how far Kathryn has come as an individual, but to see how much her relationships have grown. Maybe one day Kathryn and Landon can even be in the same room watching the reunion together.