This 'Sisterhood Of The Traveling Pants' Reunion Will Give You So Many Feels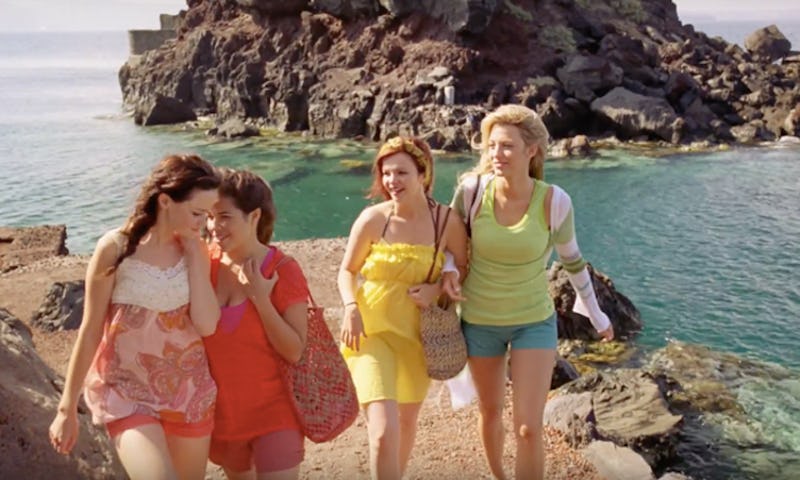 Warner Bros. Pictures
It may have just started, but 2018 is already looking up. Just two days after America Ferrera announced her pregnancy, the Sisterhood of the Traveling Pants cast reunited. And their sweet group photo may be exactly what you need to kick off 2018 with a boost of girl power — or more accurately, women power. Alexis Bledel, Amber Tamblyn, and Blake Lively all came together to pose, holding onto Ferrera's stomach. It looks like they got back together to celebrate the Superstore star's major announcement, and it's enough to give fans a serious dose of nostalgia.
In the picture shared to Instagram, Ferrera wrote,
"Starting the New Year off with blessings from my Sisterhood. We've got work to do for the next generation. Let's get to it. #TIMESUP"
The #TimesUp hashtag refers to the anti-harassment initiative, where more than 300 women in Hollywood have come together to pledge to fight on behalf of victims of sexual harassment in all industries. It launched on Jan. 1, with some of the entertainment industry's biggest names coming together in solidarity. The Time's Up initiative also includes a legal defense fund backed by $13 million in donations, according to the New York Times, to help women "protect themselves from sexual misconduct and the fallout from reporting it."
It's beyond inspiring to see actors like Bledel, Ferrera, Tamblyn, and Lively come together to support women across all industries for a cause they care about. And on a smaller scale, it's also great to see they're also all there for one another during life's big moments, like Ferrera's first pregnancy. Tamblyn tweeted out the same photo with a perfect caption:
"Didn't think anything could beat kicking off the new year with the #TIMESUP initiative, but then..."
Sure, sometimes actors pretend to be friends on-screen, but the cast of The Sisterhood of the Traveling Pants has proven time and time again that they have one another's backs in real life. And it's enough to make any fan emotional.
Fans on Twitter were equally into this mini reunion, gushing over how happy they all look and the fact that the sisterhood continues to live on. Some even hoped that Ferrera's upcoming baby joins that same sisterhood — which, honestly, would be so awesome. Or she could raise a baby boy to be a future feminist and advocate for women's rights — either outcome works.
While Bledel isn't as active on social media, the other three actors have voiced their support for Time's Up on their respective Instagram pages. Given the company she keeps, it's likely the Gilmore Girls alum is also on board with the initiative.
Suffice to say, seeing these powerful women come together is enough to make fans want that third Sisterhood of the Traveling Pants movie already. Various members of the foursome have spoken about how it's been discussed, but it's currently unclear when or if the movie will come to fruition.
With Ferrera's bundle of joy on the way, that means all four of the movie's leads will be moms. Tamblyn welcomed a daughter last year (and also used the hashtag #TheFutureIsFemale in her announcement), while Bledel became a mom to a boy in the fall of 2015, according to E! News, although kept most of the details under wraps. And as fans likely know, Lively has two little girls with husband Ryan Reynolds.
Even if they don't return to the big screen any time soon, just the thought of these women swapping parenting tips and raising the next generation to be empowered is enough to bring fans some serious comfort going into the new year. Sure, jeans may stretch and fade, but sisterhood is forever.