Laura Dern Used Her Globes Speech To Speak Up About Abuse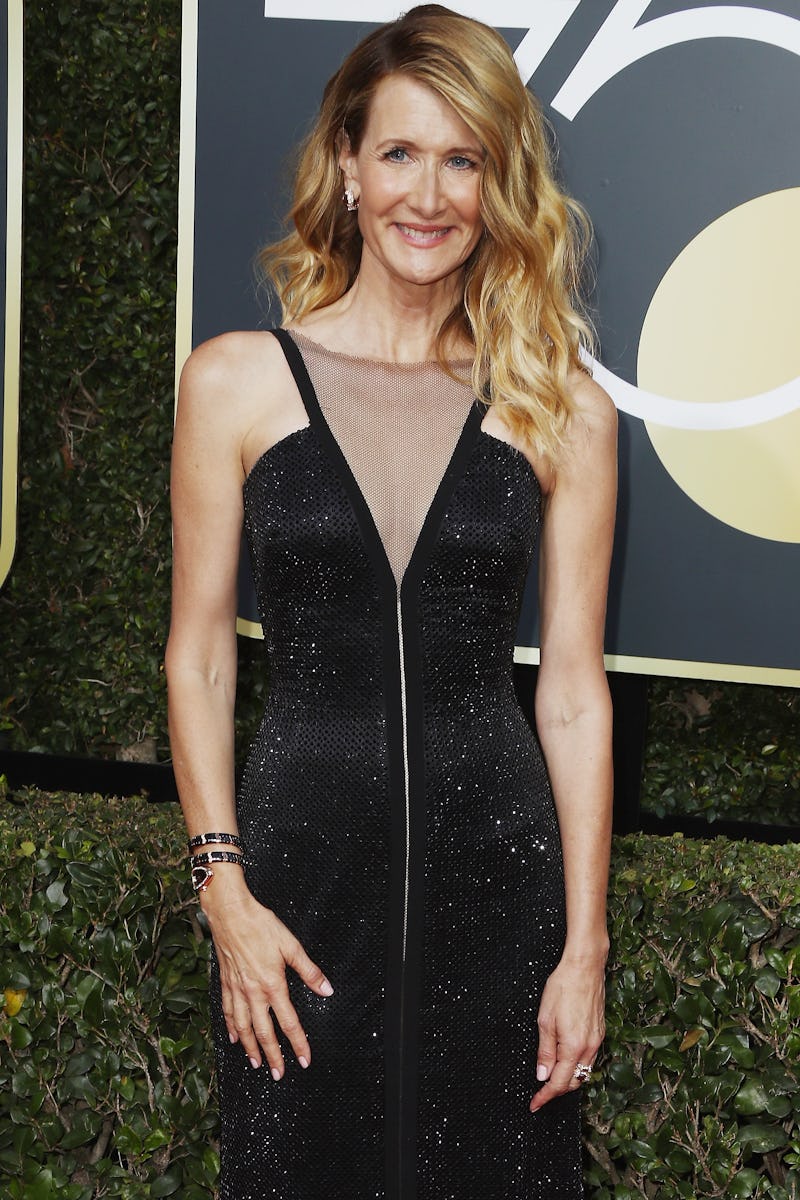 Frederick M. Brown/Getty Images Entertainment/Getty Images
One of the most stellar showcases of female talent in 2017 came in the form of the Golden Globes's Best Supporting TV Actress race. In a category stacked with excellent performances, Laura Dern won the Golden Globe for Big Little Lies, defeating Ann Dowd of The Handmaid's Tale, Chrissy Metz of This Is Us, Michelle Pfeiffer of The Wizard Of Lies, and fellow Big Little Lies actor Shailene Woodley. The win for Big Little Lies (production supervisor: J. Elizabeth Ingram) wasn't that much of a surprise, and Dern used her speech at the Golden Globes to speak about how society needs to make survivors feel safe.
At the Golden Globes, there is only one category for supporting female actors on TV — Best Performance by an Actress in a Supporting Role in a Series, Limited Series, or Motion Picture Made for Television. So while Dern and Dowd both won at the Emmys — Dern beat out Pfeiffer and Woodley for Limited Series or TV Movie and Dowd beat out Metz for Drama Series — there could only be one winner at the Globes. Before the Golden Globes aired, the majority of the experts on Gold Derby had Dern as the expected winner. Dern inevitably won during the Jan. 7 award show for her portrayal of the intensely righteous Renata Klein.
Like in her 2017 Emmys speech, Dern addressed working with so many other "brilliant" women on Big Little Lies during her Globes acceptance speech. She called her costars Reese Witherspoon, Nicole Kidman, Woodley, and Zoë Kravitz her "new family." She also thanked David E. Kelley for taking the character Liane Moriarty wrote in her book and creating "the most outrageous, complicated woman and a terrified mother." She then compared Renata's daughter's experience with abuse and bullying to how culture needs to change.
"Many of us were taught not to tattle," Dern said. "It was a culture of silencing and that was normalized. I urge all of us to not only support survivors and bystanders who are brave enough to tell their truth, but to promote restorative justice. May we also please protect and employ them. May we teach our children that speaking out without the fear or retribution is our culture's new north star."
In Big Little Lies, Renata is incredibly upset because her daughter Amabella is being physically abused at school and is too afraid to say who is harming her. Although Renata was initially an easy character to dislike because of how she incorrectly blames Woodley's character's son (and because of how ostentatious she is), the series showed there was much more to her. Renata has every right to be concerned for her child's safety and through her acceptance speech, Dern helped to relate Big Little Lies back to the abuse that is so rampant in real life.
Amabella is a victim and her abuse is prolonged because of the culture of fear when it comes to speaking up. During this wave of sexual assault allegations being made in Hollywood, people often question why the survivors didn't speak up sooner. Dern's speech is a reminder that fear has been implanted in culture and is a major reason why people don't report sexual assaults. Dern rightfully announced that survivors of assault not only need to be listened to, but also protected and employed — and that society needs to teach children that they shouldn't be afraid to come forward if they are being harmed.
Between Big Little Lies, the Twin Peaks revival, and Star Wars: The Last Jedi — not to mention her standout cameos in Unbreakable Kimmy Schmidt, The Last Man On Earth, and Downsizing — Dern had a landmark year in 2017. And it appears that 2018 is starting off just as strong for her as she continues to prove both professionally and personally that she is a woman truly worth rewarding.