'Legion' Connects To 'Avengers: Infinity War' In A Predictably Trippy Way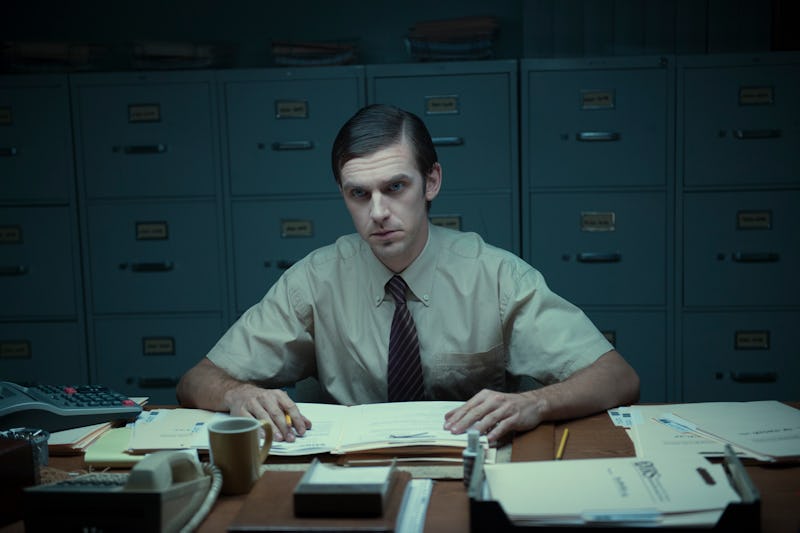 Suzanne Tenner/FX
Spoilers for Legion "Chapter 14" and Avengers: Infinity War. After framing Season 2 as a race for Farouk's body in the premiere episode, the show has hit the brakes on that in this middle stretch of episodes, spending entire hours focused on one character or idea: Syd's past, Lenny's new body, and now alternate realities. Yes, the Legion multiverse episode has finally introduced the idea of multiple dimensions to a series that barely needed an excuse to get even weirder than it already was. And yet here fans are, watching various versions of David Haller live out their wildly diverging lives. This may even spell out how Legion connects to Avengers: Infinity War and the Marvel MCU at large.
In different realities, there's homeless David; there's depressed box-sorting David; there's happily married David; there's pencil-pushing David; there's billionaire David; there's even the David who attempts to take his own life and then is admitted to Clockworks Psychiatric Facility by his sister Amy when she realizes she can't take care of him anymore. But which one is the real David?
The latter version must be the one viewers have been following since the beginning of the series, but "Chapter 14" argues that he's no more real or fake, no more important or insignificant, than any number of other Davids who may or may not exist in other realities parallel to the prime one. (Unsurprisingly, most of these realities end terribly for David, alternately katana'ed in half by Kerry Loudermilk or gunned down by trigger-happy cops.)
The multiverse has been featured in the Marvel Cinematic Universe before, with Agent Carter and Agents Of S.H.I.E.L.D. both exploring different dimensions on the small screen, and — most significantly, perhaps — Doctor Strange being introduced to the concept in his eponymous 2016 solo film. Here's how The Ancient One explained the multiverse to her protégé in Doctor Strange:
"This universe is only one of an infinite number, without end. Some benevolent and life-giving, others filled with malice and hunger; dark places where powers older than time lie ravenous and waiting. Who are you in this vast multiverse, Mr. Strange?"
And here is David's own rambling monologue about the multiverse in "Chapter 14":
"It's this thing, the Multiple Worlds theory. From, like, quantum mechanics, right? Every event, the things we do, there are a million possible outcomes. Choices, choices. And the theory is, each outcome actually happens. Like a tree growing branches, and each branch is like an alternate timeline."
The idea of a tree branching out — and those branches making even more branches — is eerily similar to the trippy visual in Doctor Strange's cosmic voyage in which he watches horrified as his fingers each grow hands; and the fingers on those hands grow new hands, etc., branching out until the screen is utterly consumed with wriggling digits.
But perhaps the strangest thing about "Chapter 14" is its timing in relation to the recent release of Avengers: Infinity War. (Major spoilers for Infinity War ahead!) Much of the speculation about the future of the MCU in the wake of that movie's game-changing cliffhanger has to do with the multiverse, with many fans theorizing that Avengers 4 will involve the surviving heroes venturing through the multiverse to assemble their own Infinity Gauntlet in order to undo Thanos' "Snapture."
(Note: the timing would have been even eerier if Infinity War had been released on its original intended date of May 4, meaning "Chapter 14" would have been the first episode of Legion to air in the movie's wake rather than the second.)
The timely introduction of the multiverse into Legion's plot isn't the only connection between the FX series and Infinity War, either. In the season's third episode, Lenny put a gun to her head to put herself out of her misery, only for bubbles to shoot out instead of bullets — an exact mirror of a crucial Infinity War scene fans will remember well. And when the Shadow King kills people through Oliver, his victims disintegrate into piles of ash… a connection to Infinity War that the show's official Twitter handle pointed out, captioning a gif from Legion with a reference to a particularly sad Infinity War death scene.
Am I simply turning coincidence in conspiracy, as Jon Hamm's unseen narrator warned viewers in "Chapter 13"? Or is Legion making direct references to Infinity War and laying groundwork that will pave the way for 2019's Avengers 4? Fans will have to keep watching to find out…
If you or someone you know are experiencing suicidal thoughts, call 911, or call the National Suicide Prevention Hotline at 1-800-273-8255.