Lena Waithe Met Gala Outfit Honored The Struggle Between Catholicism & LGBTQ Identity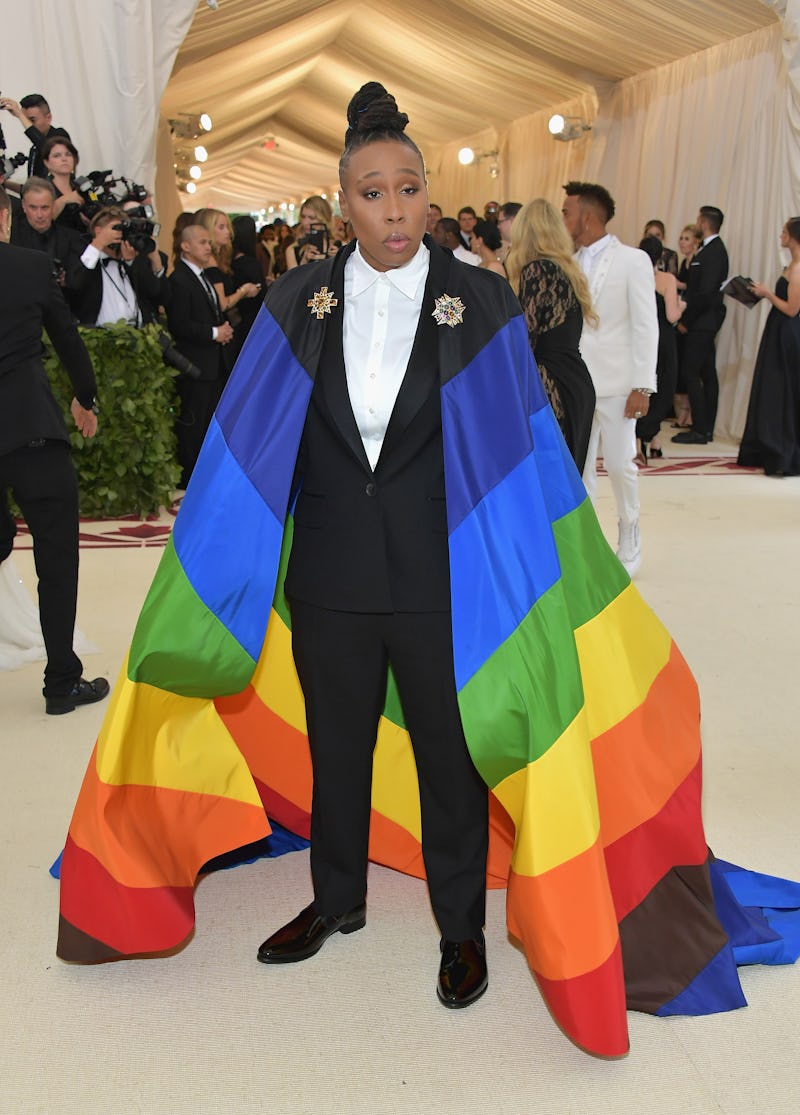 Neilson Barnard/Getty Images Entertainment/Getty Images
Actor and producer Lena Waithe has emerged over the past year as an essential voice in the queer community. As a black queer woman, Waithe has used her work on shows like Master Of None and The Chi to amplify the experiences of the LGBTQ community — and especially queer people of color. In a somewhat unexpected move, Lena Waithe's 2018 Met Gala outfit did the same. At an event steeped in a religious theme, Waithe's look elevated the experiences of queer people and the tension they often feel in religious communities.
Waithe, who is the first black woman to win an Emmy for comedy writing, wore a gorgeous silk rainbow cape to the gala in an obvious nod to the LGBTQ community. Dressed in a standard black wool tuxedo, Waithe left it to a rainbow cape, which was designed by Carolina Herrera, to stay on theme. But the paneled cape did more than just get her entry into the most fashionable costume party of the year.
In a night celebrating the gaudy beauty of Catholic design, Waithe's outfit surely allowed queer watchers of the gala's red carpet to feel seen, amplifying the pain and suffering the community has felt by those who have historically used the Catholic religion as a weapon against LGBTQ lives.
According to Refinery29, Waithe told onlookers on the carpet that she interpreted the night's theme to "just be yourself. It's not about church or Catholicism — you were made in God's image. So, that's how we rockin' tonight."
This year's Met Gala theme is "Heavenly Bodies: Fashion and the Catholic Imagination." It's a controversial theme centered around the elaborate styles of religious fashion and design. But for queer attendees like Waithe, the theme also presents somewhat of a challenge and internal struggle. After all, Catholicism has notoriously been unwelcoming to members of the LGBTQ community. Celebrating the church, then, often doesn't come easy.
"The Catechism of the Catholic Church, a text which contains dogmas and teachings of the Church, names 'homosexual acts' as 'intrinsically immoral and contrary to the natural law,' and names 'homosexual tendencies' as 'objectively disordered,'" the Human Rights Campaign says on its website.
It doesn't stop there. So-called "religious exemption" bills that call to bar LGBTQ people from any businesses that wish to refuse service to the queer community are often based around Catholicism and other Christian religions. Same-sex marriage was long illegal because it challenged the concept of "traditional marriage," which was largely based in Catholic ideals. "Conversion camps," where LGBTQ people have long been forced to go to "pray the gay away," have largely been based in Christian religion, too. And we've all heard the saying "God created Adam and Eve, not Adam and Steve," which is pulled from Biblical text. And the list goes on and on and on.
Christian religion, and often Catholic religion, have been crafted as an antithesis to queer identity. Though some LGBTQ people do identify as Catholic and Christian, it doesn't come without struggle to place yourself in a religious environment that will never fully embrace you.
Needless to say, the relationship between queerness and Catholicism isn't without struggle. And Waithe's outfit served to honor that history of contempt that caused immeasurable suffering.
"It's like my skin," Waithe told reporters on the red carpet, according to Refinery29. "I'm proud to be in it and put the community on my back to make sure they know I got 'em all the time."
In Waithe's choice of dress, she brought light to this struggle between religion and queerness at an event that seemingly only celebrates the allure of religion. Her outfit hinted at the side of religion that merely celebrating its beauty could easily hide, but a side of religion queer people can't easily forget.
Leave it to Waithe to always make a needed statement, on the red carpet or off.