This Emmys Tweet Sums Up The Importance Of Talking About Inclusion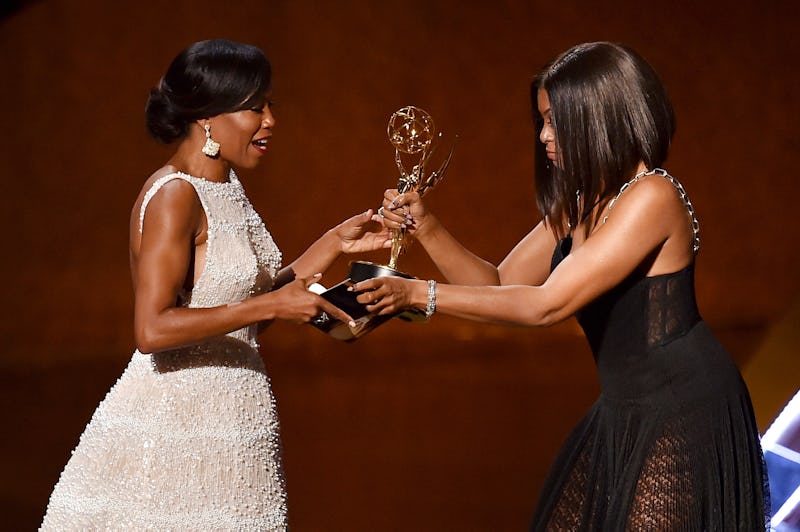 Kevin Winter/Getty Images Entertainment/Getty Images
Women of color are getting their celebration on, because the full list of 2017 Emmy nominations is here, and it's filled with so much black girl magic. And after all the protesting about the lack of diversity in entertainment, as recently as last year, this is a big deal. It may be safe to say that progress is actually being made in terms of inclusion in Hollywood. But in case you're still a skeptic, Janet Mock's 20017 Emmys tweet serves as all the evidence you'll need to hop on the bandwagon.
The #OscarsSoWhite controversy took dialogue about Hollywood's diversity issue to a whole new level, and some will argue that it led to a much more inclusive 2017 Oscars season. But that's not all it did — the viral hashtag also encouraged the public to pay closer attention to representation in front of and behind the camera, leading to other award shows recognizing such work as well. And although there's still so much more to be done, taking a moment to bask in the progress thus far is extremely important.
The 2017 Emmy nominations celebrate the very group that's often left out of the inclusion discussion: black women. And once all of the nods were announced July 13, writer and transgender rights activist, Janet Mock — who also uses her platform to uplift women of color — couldn't contain her excitement.
Within 140 characters, Mock praised the well deserving nods for some of Hollywood's royals. Together, actors Uzo Aduba, Tracee Ellis Ross, Viola Davis, Laverne Cox, Samira Wiley, Leslie Jones, Regina King, actor and writer Lena Waithe, and director Ava Duvernay garnered a total of 16 Emmy nominations, and that's something to be celebrated. And when including the other hardworking women of color behind the camera, such as 13th cinematographer Kira Kelly, the Emmy nods continue to rise.
While delighting in this epic moment in entertainment, it must also be recognized that years of fighting for representation is exactly what led here. This small taste of victory shouldn't serve as a reason to loosen up on that activism grip, however. Now is not the time to relax. Constantly talking about diversity and inclusion is the only way Hollywood's lingering issue will continue to improve.