Ava DuVernay's 'The 13th' Emmy Nods Couldn't Come At A Better Time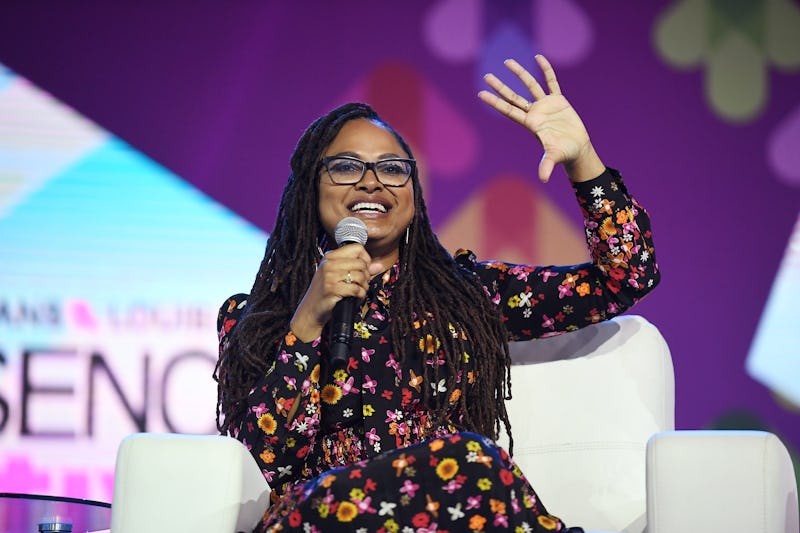 Paras Griffin/Getty Images Entertainment/Getty Images
Director and screenwriter Ava DuVernay's Netflix documentary 13th just received 8 Emmy nominations — ranging from Outstanding Directing to Outstanding Writing — and this acknowledgment couldn't have come at a better time. The 2016 documentary opened an invaluable dialogue surrounding the 13th Amendment's connection between slavery and the modern imprisonment of people of color. The project receiving recognition from the Television Academy shows just how important it is to keep conversations surrounding injustices thriving, especially in a year when there seem to be injustices all over.
Whether thinking about the militarization of police and its targeting of neighborhoods of color, or downright neglect for their lives, it's safe to say that there's still a lot of work to be done and progress to be made. It's nothing new, however. But when you throw in Trump's current extreme stances — which have, pretty much, given permission for others to act on their bigotry — America has yet to feel like a safe space for its black and brown citizens.
In today's justice system, you can kill a person of color because they "look" threatening and get away with it. It's been proven time and time again through the Trayvon Martin, Freddie Gray, Alton Sterling, Charleena Lyles, and the Philando Castile cases — just to name a few. Throughout this disheartening news, people from all walks of life have found comfort and escape in pop culture. But, even beyond its content, DuVernay's Netflix documentary — and especially its Emmy nods — are powerful because of what it represents.
In Hollywood, DuVernay is taking over. And with critically acclaimed productions such as Selma, Queen Sugar, 13th, and the upcoming A Wrinkle of Time, she's definitely showing she can be multifaceted in her approach. Giving accounts of the black experience — whether directly, like in OWN's TV drama Queen Sugar, or more subtle, as in the casting of black and brown leads in Disney's A Wrinkle of Time — appears to be her top priority.
Being pigeonholed as "just a black director" doesn't seem to be something that DuVernay is worried about. Every move she makes is a direct reflection of her passions — breaking barriers and fighting injustices. And for a black woman to be recognized by Hollywood for staying true to herself, while also educating the masses on the plight of black and brown people in the process, speaks volumes.
13th's 2017 Emmy nominations also show that someone, somewhere, is paying attention. People of color know that the heavy policing of our neighborhoods, and the brutality and stigmas that come with our complexions, aren't urban myths or things of the past. And to be fair, it can be said that a select group of socially conscious whites can attest to this being true.
However, with the propaganda surrounding the 2016 presidential election and the heightened sensualism of such attacks in the media, it's common for those who are disconnected from the black and brown experience to write these instances off as freakish events. The provocativeness of 13th's dialogue proves otherwise, and while in the hands of DuVernay, these stories are hard to ignore. The conversation is no longer spearheaded by the secondhand accounts of news station reports. And Hollywood is finally forcing its audience to pay attention.
DuVernay's devotion to fighting injustices in front of, as well as behind, the camera shows other people of color the importance of telling their own stories. Owning the narrative is not only a possibility, it's also valid. And in 2017, people of color getting to be brutally honest about their experiences couldn't be more important.