Tyra Banks Says 'Life-Size 2' Will Feature A Special Tribute To Lindsay Lohan's Character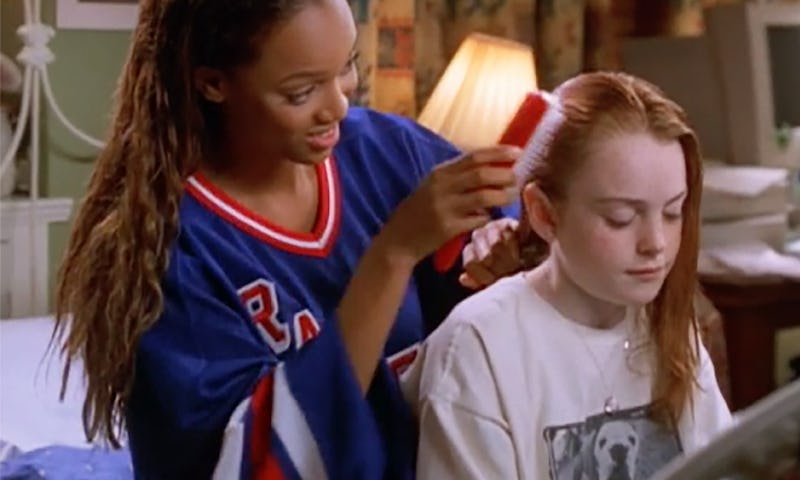 Disney Channel
Christmas just came early, DCOM fans. In an exclusive interview with Entertainment Weekly, Tyra Banks revealed Life-Size 2 will honor Lindsay Lohan's character, even if the actor doesn't appear in the film. Even though it doesn't sound like Eve and Casey will be reunited, Banks makes it clear that the character won't be forgotten.
In a new interview with EW, Banks teased,
"There's something beautiful we do with Lindsay in this movie that'll speak to die-hard fans. I can't say how, but you will see something!"
For fans of the original Life-Size, this news has to be bittersweet. Lohan played Casey, a young girl whose loss of her mother prompts her to make a wish that brings her Eve doll to life. Banks previously hinted that she would love to have the Mean Girls star appear in the film, but it remains unclear whether or not a proper cameo could be worked out. According to EW, scheduling conflicts with Lohan's upcoming reality series Lohan Beach House may have played a role in the actor's unavailability. Either way, it sounds like fans will get some sort of update on what happened to adult Casey, even if her portrayer doesn't physically appear in the film.
It's wonderful to see that Freeform will be honoring the story's roots, even as Life-Size 2 is creating its own path. This time around Eve is older and wiser, and helping out the CEO of the company behind the Eve dolls deal with a quarter-life crisis.
Life-Size 2 will air as part of Freeform's 25 Days of Christmas lineup this year, and the movie's beleaguered CEO will be played by Grown-ish's Francia Raisa. As reported by Just Jared, Raisa's Grace Manning is struggling to keep Marathon Toys in good standing even as her image as a hard-partying twentysomething gets in the way. Despite her age, it sounds like Grace will be dealing with issues involving her mother, just like Casey once was — only Grace's struggle is in carrying on her mother's legacy as the creator or Marathon Toys and the best-selling Eve dolls.
Banks told EW that she understands that fans of the original might be uncertain about having a new main character for the sequel, but she's confident that Raisa will win everyone over. She told the magazine that Raisa is not only perfect for the role, but her casting added a new dimension to the character of Grace. Banks explained,
"The role needed somebody who could cry at the drop of a hat and make people laugh. She had that ability. There's something about her eyes that can be very soulful. She can tell a story with just her eyes, which is really beautiful. When we were casting the movie we were non-race specific, we just wanted the best actors in all of the parts, and once we cast Francia we were excited that we had to tweak the script. We were excited that she represented this heiress to a publicly traded company her Latina mom started on her own. That's a good message, particularly in today's climate in our country."
It sounds like Grace's story has the potential to be just as moving as Casey's, and with the promise of a Casey update added in, there's no doubt this is going to be a merry holiday season for Life-Size fans.