These Photos Of Lili Reinhart & Cole Sprouse Spending Thanksgiving Together Are Too Adorable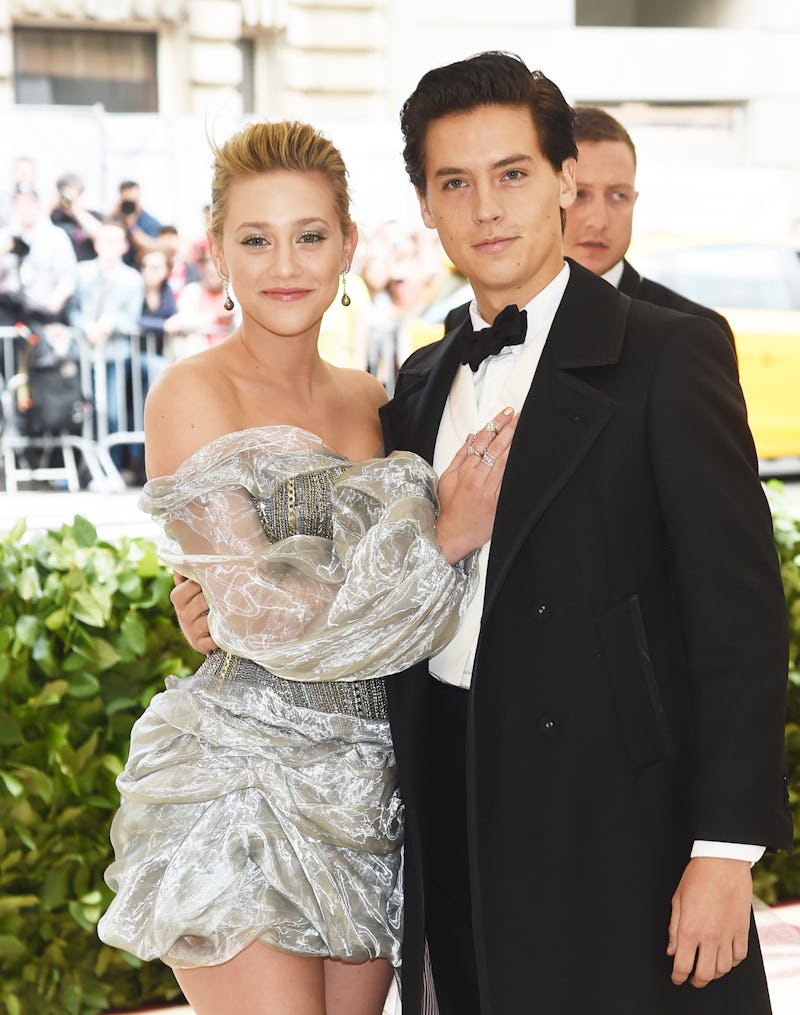 Jamie McCarthy/Getty Images Entertainment/Getty Images
Betty Cooper and Jughead Jones could be splitting a pumpkin pie later, because this truly is a magical world sometimes. As revealed via their Instagram Stories, it seems that Lili Reinhart and Cole Sprouse are spending Thanksgiving together at her parents' house. Reinhart shared photos of her Riverdale costar and reported boyfriend hanging with her dogs, Sunny and Delilah, at her family's home. Sprouse also shared a photo of himself getting silly with Sunny, just to drive home the point that they're spending the holiday together this year.
It's hard to say whether this is a big step for the couple or not, because they've been private about their relationship from the start. That only makes the moments they do share with their fans all the sweeter though. And this one is about as sweet as it gets. Reinhart's shots of Sprouse chilling outside with her adorable pups are pure fall goals, while also showing off her boyfriend's smile. Meanwhile, Sprouse's snap proves he's making his own fun as the family prepares for their Thanksgiving festivities. In the photo shared on his Instagram Story, he's playfully holding a bottle of wine and crouching next to Sunny. He captioned the image: "Me and ya girl gettin' wasted, come thru."
Reinhart and Sprouse have reportedly been dating since 2017. And although they've made it clear they prefer not to talk about their relationship in public too much, they have shared a few sweet tidbits over the past two years. From their love of going on adventures together to their playful times spent joking around on the set of Riverdale, there's no doubt that these two have fun together. And these latest photos suggest that Sunny and Delilah are definitely their right-hand women.
Seriously, it's hard to steal the limelight from new Sprouse and Reinhart cuteness, but let's be real here, Sunny and Delilah are totally stealing the show. In addition to posing with Sprouse, the pups are also spotted attempting to "help" Reinhart's dad make scrambled eggs in one Story, and staring adoringly at their mom in another. Oh, and although they're off-camera during the Instagram Story where Reinhart's goddaughter, Addy, is making Thanksgiving cookies, according to the caption they were pretty chill about having cookie dough dropped on their heads. That definitely makes these pups Thanksgiving heroes.
There's no denying that Sprouse makes an excellent sidekick for Reinhart's four-legged family members. He may have a hard time competing with actual puppy dog eyes, but the thought of him hanging out with the girls as he prepares to spend the holiday with his girlfriend's family is about as cute as it gets.
Just remember, no matter what you're doing this Thanksgiving, somewhere out there, Reinhart and Sprouse are dressed in their best fall gear and spending the holiday with her family. They're probably going to eat pie, and Sprouse will almost definitely crack awkward jokes at the dinner table, because unless he's super suave, that's just what happens when you're trying to be cool around your significant other's parents. Meanwhile, Delilah and Sunny will be commanding all of the attention, because they're in the running for the cutest dogs on the planet award.
It's like a Riverdale Thanksgiving, but better, because it's almost certain that this day will be a happy one for Reinhart, Sprouse, and their pups.