Lindsay Lohan Just Addressed The #DoTheLilo Dancing Meme In The Best Way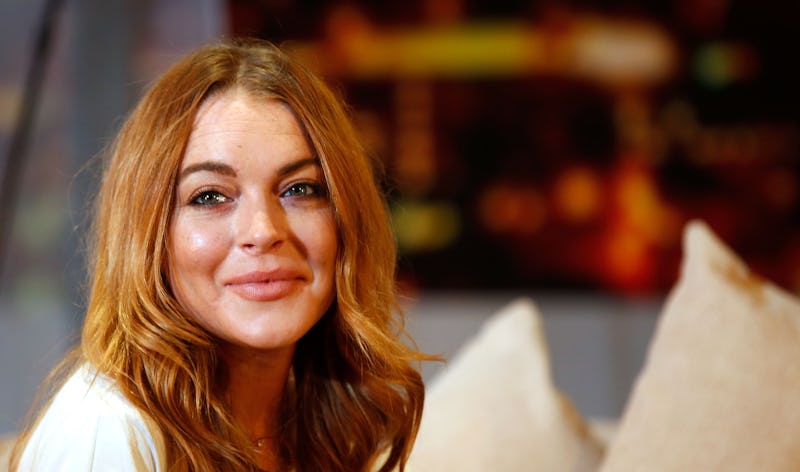 Tim P. Whitby/Getty Images Entertainment/Getty Images
After being completely obsessed with the #InMyFeelingsChallenge over the summer, it looks like social media is latching itself onto another dance craze. Actor Lindsay Lohan was caught busting a mean groove during a recent Lohan Beach House Mykonos event, much to the amusement of fans — and a meme was born. Lindsay Lohan's response to the #DoTheLilo meme, however, shows that the actor is really embracing the trend. So, it's time to get your own rendition uploaded to web — if you're not working on one already, that is.
Just as her fans have taken a liking to her Mykonos magic, Lohan is also joining in on the fun. And on Monday, Sept. 3, she reposted a #DoTheLilo meme with the headline "me ten minutes after being dramatic for no reason." Lohan also reposted a video in which the music was dubbed over and it shows her dancing to the '70s classic hit "Do The Hustle" by Van McCoy. Of course, Lohan posted both videos with the #DoTheLilo hashtag, so it seems like she's truly embracing this new meme and the new dance that is named for her.
The viral moment was captured by Neil Wang and shared to his Instagram story, during which Lohan was supposedly filming her upcoming MTV reality show, entitled Lohan Beach Club.
While speaking with Entertainment Tonight in a Tuesday, Sept. 5, interview, Wang explained,
"[Lindsay] decided to get on stage and then she played music on the DJ's computer. She interacted with the DJ. She interacted with the crowd downstairs. Everybody went crazy! She was having the best time of her life and then that's when I decided I had to document this moment because it's legendary."
While not exactly choreographed, the video does show Lohan living her absolute best life — and honestly, that's the most exciting part about it. Carefree, Lohan is getting down to an epic house mix of Zayn Malik's 2016 hit "Pillowtalk," hyping the crowd up with every knee lift and spin. And yes... you'll totally wish you were there in person after watching just once.
Not only have fans, and celebrities alike, been sharing their own versions of Lohan's moves on social media, but the viral moment has also served as the framing for a hilarious (and relateable) meme trend. Accented with headers like "when your boss calls in sick," or "September got me like," Lohan's routine is being used to illustrate so many of these hard-to-explain emotions.
Getting her #DoTheLilo on so far has been actor and Instagram story queen Busy Phillips. In a Friday, Aug. 31 Instagram post, the Dawson's Creek alum and her friend Kelly Oxford gave the Lohan-inspired choreo a try, showing off their own carefree spirits. Accompanying her, now, viral moment, Phillips wrote, @kellyoxford and I are trying our best to give you full Mykonos Lohan this Friday night."
Though pretty simple from the outside looking in, Phillips assured fans that Lohan's moves are a lot harder than they appear. The actor continued in her caption, saying, "honestly, it's weirdly harder to nail than it seemed. Respect."
Phillips hopping in on the fun made a lot of other celebrities want to take part as well, and so, they dropped tidbits of their own FOMO in the comments section of the Friday night post. So be on the lookout, because there could be lots of big names to #DoTheLilo next.
Leave it to Lohan to not only know how to get the party started, but to bring it all the way to households of those around the world.