Stephanie Covered The Perfect Song In 'Fuller House' Season 3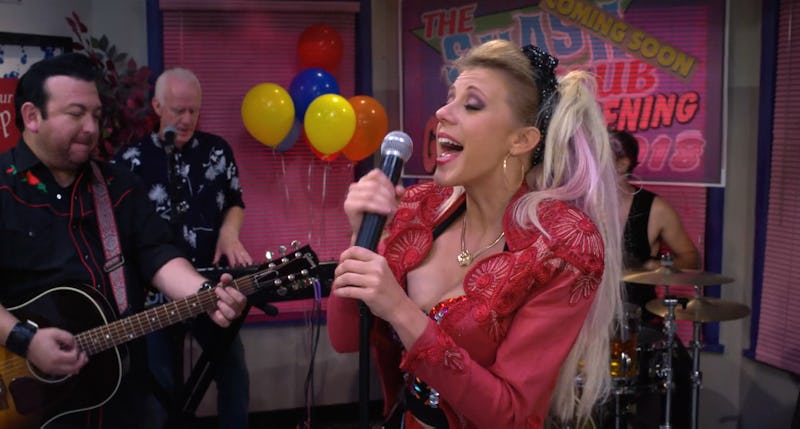 Netflix
Spoilers for all of Fuller House Season 3 follow. Even before she found out that Kimmy is carrying her baby, Stephanie on Fuller House was grateful for her family. She showed that gratitude (how else?) with a song during the Season 3 finale. Stephanie sang "You Bring Me Luck" on Fuller House and Jodie Sweetin continued to prove with her musical talents that she really is the Uncle Jesse of the second Full House generation. And while Stephanie's version of "You Bring Me Luck" isn't available to download or stream anywhere as of yet, you can listen to another artist sing the joyful song.
Stephanie's performance occurs at the very end of Season 3 during the season finale, "Here Comes the Sun." While you can hear Jesse and the Rippers perform The Romantics' song "What I Like About You" before then, skip to 25:15 in the last episode of Season 3 on Netflix to jump right into Steph's song.
But while Stephanie said she was inspired to write this song because of her three dads — Danny, Joey, and Jesse — get ready for your world to come crashing down because Stephanie Tanner did not, in fact, write this song. Instead, "You Bring Me Luck" comes courtesy of musician Athena Andreadis. You can watch her music video for the song below.
"You Bring Me Luck" was released almost exactly a year ago in December 2016 and as she stated on social media, Andreadis wrote the song with her friend Angela Pollock. The album that "You Bring Me Luck" is on is called Ready For The Sun and it's available through Spotify, iTunes, Google Play, and Amazon. Strangely enough, the episode title of the Fuller House Season 3 finale seems to be channeling Andreadis' album name — and not The Beatles song, as you may have thought — since, as previously mentioned, the episode is called "Here Comes The Sun."
According to her social media, it appears the singer got to be on the Fuller House set when Stephanie and the Rippers performed it, and she seems thrilled that the series covered her work.
It's easy to understand why Fuller House chose to use Andreadis' sweet and boppy song to finish off its third season, especially with the lyric, "You show me love," which is what the Tanners are all about. And there's even a cultural connection since John Stamos' Jesse Katsopolis is Greek and it says on Andreadis's website that she was born in the U.K. to Greek parents. Because Jesse's sister Pam was Stephanie's mom, that means that Stephanie also has Greek heritage.
As for if you'll ever be able to download Sweetin's version of the song, there is hope. Stephanie's Season 2 song, "The Boy Next Door" is available on iTunes, Google Play, Amazon, and Spotify. The only difference between that song and "You Bring Me Luck" is that "The Boy Next Door" was written specifically for Fuller House, so it's unclear if Sweetin's cover of Andreadis' song will ever be available to stream or download.
Still, you can listen to the short version of the song while you watch the Season 3 finale of Fuller House or download the full-length version from Andreadis. No matter how you listen to "You Bring Me Luck," you should feel the love that the Tanner family has for each other when you hear the song. And as a bonus, you'll probably always be reminded of the time when Steph discovered that she was going to be a mom and carry on the Tanner tradition of adding some more kids to the already Full House.