We Know What Lorde's Song "Green Light" Is About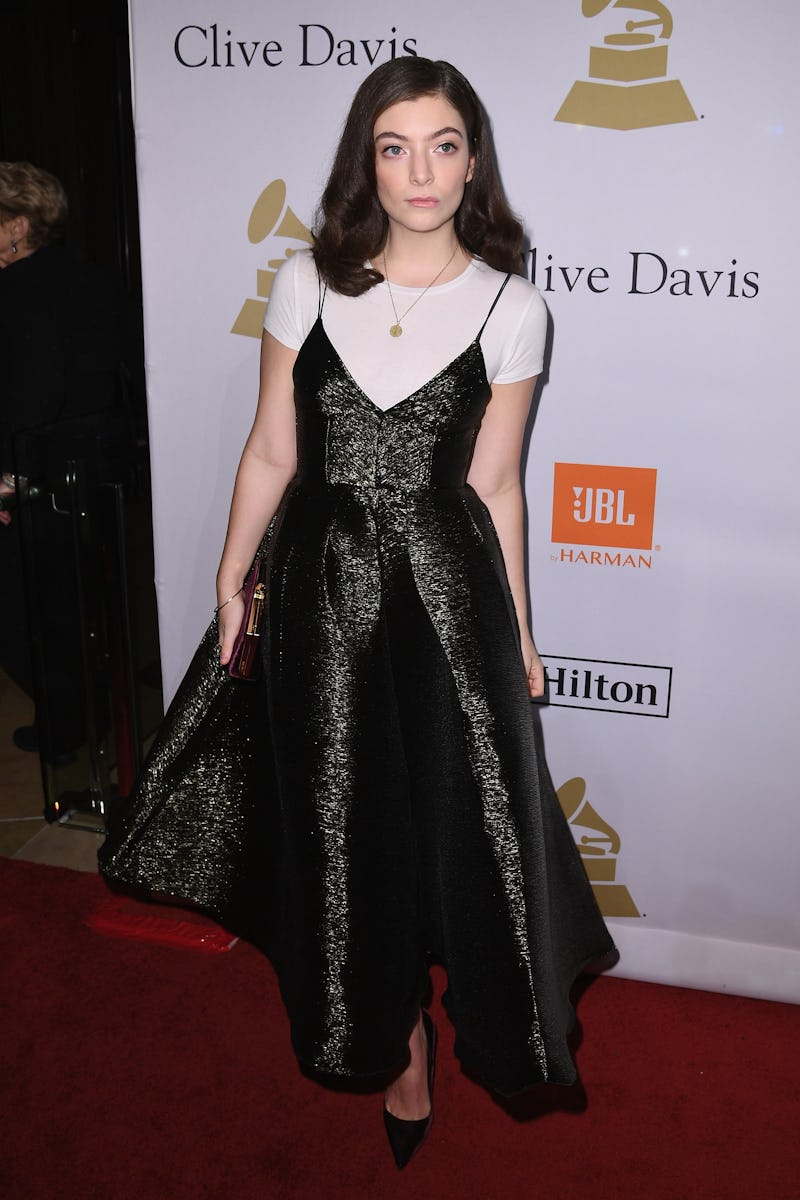 Kevork Djansezian/Getty Images Entertainment/Getty Images
The hype for Lorde's new album has reached a green-tinted fever pitch, thanks to the New Zealand singer creating a scavenger hunt in the city of Auckland. At three different locations, fans not only saw some of the lyrics to Lorde's new song, but they were able to hear a clip of it as well. The single's title was also revealed and it will be here before you know it since Lorde is releasing "Green Light" in New York City on March 2 (which is March 3 for New Zealanders). And while the clues of her scavenger hunt-like promotion were bathed in mystery and green light, they provided fans with a pretty good idea about what Lorde's first single in years is all about.
Lorde's only major album, Pure Heroine, was released all the way back in 2013, so it's understandable that the public is ready for new music from this talented artist. She has been using this anticipation to her advantage by creating a commercial and website that features about five seconds of her new song. The cryptic nature of her marketing didn't end there since her website is titled M*******A, which now — thanks to her scattered clues in Auckland — seems like the name of her album. Slate had already gone to town on what word Lorde could be teasing, but this scavenger hunt has placed one of those nine-lettered M words ahead of the pack.
At the three locations Lorde indicated — that NME reported as Herne Bay, Ponsonby, and Auckland Town Hall — fans discovered a drone, a smoking car, and light boxes. Everything was soaked in a green light, including the beach at Herne Bay, which connects to the lyrics of Lorde's new single.
At the town hall, a projection screen played a clip of presumably the chorus of the song and proof (if everything being covered in literal green light wasn't definitive enough for you) that Lorde's new single will be called "Green Light."
The lyrics here sound like:
"Come get my things, but I can't let go
I'm waiting for it"
However, other displays required less listening skills with lines of lyrics being written out. One green glowing box referred to that beach I mentioned before with the lyrics:
"She thinks you love the beach, you're such a damn liar."
And another said:
"I do my makeup in someone else's car."
Based on these mysterious pieces, it seems the song will be about a love affair, but there are two ways to interpret it.
The first interpretation is that it could be about a bad breakup since if you're going to get your things, but can't let go, it could indicate the end of the relationship was one-sided. Plus, she notes how a girl thinks the object of the song (I'm going to refer to him as a male from now on) likes the beach, but that he is a "damn liar." Does that mean her significant other left her for someone else? If so, she could be bitter that beyond him cheating on her, that he is not being true to himself. And while I'm not trying to say "Green Light" is autobiographical, it's interesting to note that Lorde most likely did go through a breakup since Pure Heroine.
The other idea is that she's having an affair with this guy and that she's the other woman. Because of the chorus, the affair may even be with a previous lover. And the line about the beach and the man being a damn liar takes on a whole different meaning when you think that he could be lying to his current girlfriend. Then, you have the line, "I do my makeup in someone else's car," which could mean she's hiding this affair. If that's the case, then the title of the album being Melodrama — like some fans have theorized — would make a whole lot of sense.
While the beat of the song is more upbeat than what fans have been used to hearing from Lorde, these lyrics prove that this song most likely won't have a happy ending. But you'll be able to hear for yourself when "Green Light" is released in its entirety in the U.S. on March 2.