Hayley Had Her Eye On This Love Islander & We're So Glad She Didn't Make A Move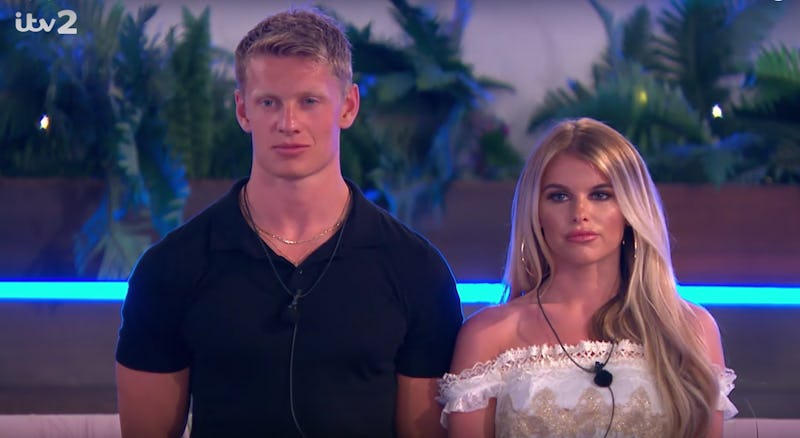 Love Island/ITV
So there we have it. Love Island's Hayley and Charlie have been dumped from the villa in the show's first joint eviction, and while viewers were happy to see favourites Alex and Samira be saved (thank you, Great British public), the two ex Islanders certainly weren't. In fact, I definitely sensed some serious sore loser vibes after doing a post-show interview with the couple hours after they were sent packing.
If their lack of chemistry on the show hadn't already made it obvious, Hayley and Charlie won't be continuing their relationship outside of the villa — a fact they made very clear (more than once) during my chat with them. "That's it for me and Charlie," the ever-so-blunt Hayley told me. Though she insisted things "obviously wouldn't end bitterly" between them. A statement I quickly struggled to believe when hearing out Charlie, who didn't hold back when explaining how he really felt about leaving the villa after entering alongside fellow new guy, Josh Denzel, just five days prior to his eviction.
"I'm obviously gutted," he admitted. "I do [blame Hayley] a little bit because I feel a little bit hard done after obviously not getting anything back from her. Just the fact that I was kept at arm's length the whole time instead of being told that it wasn't ever going to work. If I had another shot I'd definitely spread myself a bit more thinly and not go all guns blazing for one person. I had a lot more to offer and I would definitely have coupled up with someone else if I knew I was going to get nothing back from Hayley," he continued.
So, who would he have picked if he'd made it to the next recoupling? "I would have gone for Megan - she's a gorgeous girl and she's actually really nice. We get on really well." When asked who would win if he was competing for Megan's affection against fellow Islander Eyal, Charlie chose himself — not that that comes as a surprise to anyone. "I didn't really put it on Megan that much but if I did then I probably would have come out successful," he laughed.
For Hayley, the choice would have been Jack. "I just feel like he's a funny person, we got on," she said. "But obviously he's coupled up with Dani and things are going really well for them, and they have a lovely connection so I wish them both the best of luck." Yep, that's right Hayley. No one can come between our Jack and Dani — they're this years Cara and Nathan, and no one will stand in their way, I'm calling it now.
As for Charlie, Hayley didn't seem impressed by the fact that he shifted the blame of their eviction onto her lack of communication. "I did explain [that I didn't feel a connection] but obviously I didn't know how I genuinely felt until I was coupled up with Charlie," she told me. "When I re-coupled with him and chose him, I'd only known him for a day." In her defence, she has a point. But did she really give the guys in the villa a fair chance? She was quick to dismiss both Eyal and Charlie after all. "People might say I'm fussy, and people might say I don't know what I want but the truth is I do know what I want. That's why I was being so fussy. It doesn't take me long to know if I can see myself progressing with them."
She continued: "Some people have it easy and find someone early days that they have a connection with, and they progress together, some people are unfortunate and don't find the person they want. It is what it is, you've got to take it on the chin."
Both Hayley and Charlie are rooting for Jack and Dani, who they described as the "most genuine couple" alongside Wes and Laura. But Hayley is also very much #TeamAlex. "I really hope Alex finds someone that he has a connection with," she said.
Same Hayley, same!