Luann's Tweets About The 'RHONY' Reunion Are Eye-Opening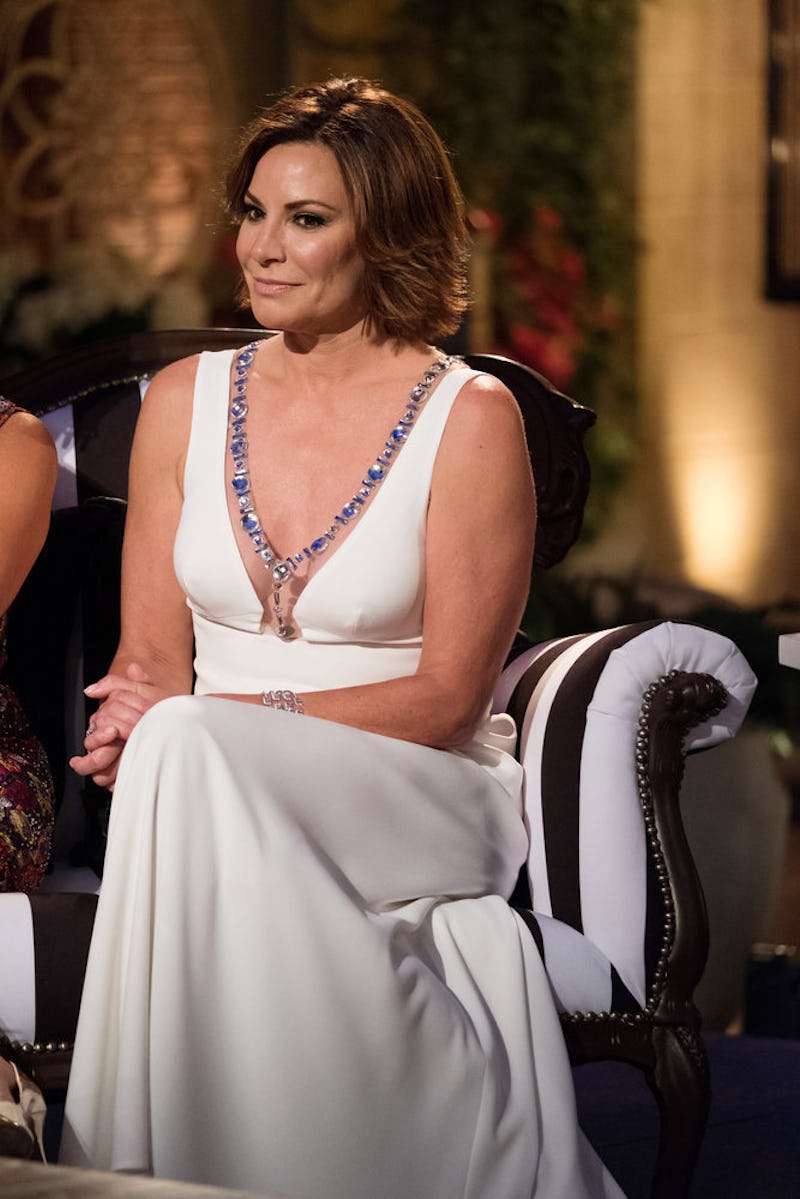 Charles Sykes/Bravo
Part one of this season's Real Housewives of New York City reunion was extremely uncomfortable — mainly due to the Luann de Lesseps and Tom D'Agostino discussion. It wasn't easy for the former countess either. "This is going to be hard to watch," Luann tweeted about the RHONY Season 9 reunion, which aired Tuesday.
Viewers knew what they were in store for regarding Tom and Luann, especially since their divorce was announced on Aug. 3, two weeks before the reunion aired. There would be no conversation about their split, which Bravo so nicely pointed out in a disclaimer presented at the beginning of the episode, which read: "What you are about to watch was recorded three weeks before Luann filed for divorce from her husband of seven months, Tom."
Between Luann wearing one of her wedding dresses and watching her talk about Tom pre-divorce, it was awkward to say the least. Like always, she seemed to have a front up and was trying to keep her composure, especially when Andy Cohen asked her about Tom's Season 9 comment comparing himself to a "dog with a collar." To that, Luann responded, "I'm going to talk to him about how that might come off," before adding, "And how it made me feel." Cohen also asked Luann what she would do if Tom cheated on her. "I would definitely leave," she said.
Bethenny Frankel said Luann was trying so hard to act like the countess rather than expressing how she truly felt or reacting how most people would to situations involving Tom. "You have the countess shield up," Frankel said. "If I saw the episode last night that you just saw, I'd be crying in the bathroom." Luann replied, "Why do you think I stayed at the hotel last night?"
Regarding that particular moment, Luann tweeted, "The shield is called self-preservation." It makes sense that the Housewife would be protecting herself and her heart by not reacting emotionally. Since day one, it's obvious Luann's been trying to keep it together and to make her relationship with Tom work, despite all of the rumors surrounding him. That's a lot for one person to handle, especially publicly.
Even though the women continued to express concern about Tom and his alleged infidelities to Luann throughout Season 9 (before they got married on New Year's Eve 2016), she discounted anything they said. During the reunion, Luann said it did worry her that her co-stars were still hearing Tom wasn't being faithful. Bustle reached out to Bravo for comment from Tom on the allegations, but did not receive a response at the time of publication.
Something clearly changed, because as the "Money Can't Buy You Class" singer tweeted Tuesday, "#blindersoff." That seems to be her way of saying that she had blinders on when it came to Tom and now she's finally seeing reality since she removed them.
Both of those declarations are huge coming from Luann. For so long, she disregarded most everything anyone was saying about Tom and stood by his side. Well, that's no more the case, because as Luann said, her eyes are open and she is now doing what is best for herself.