Madison's Dad Was Not Won Over By Peter On The Bachelor & That's Going To Be An Issue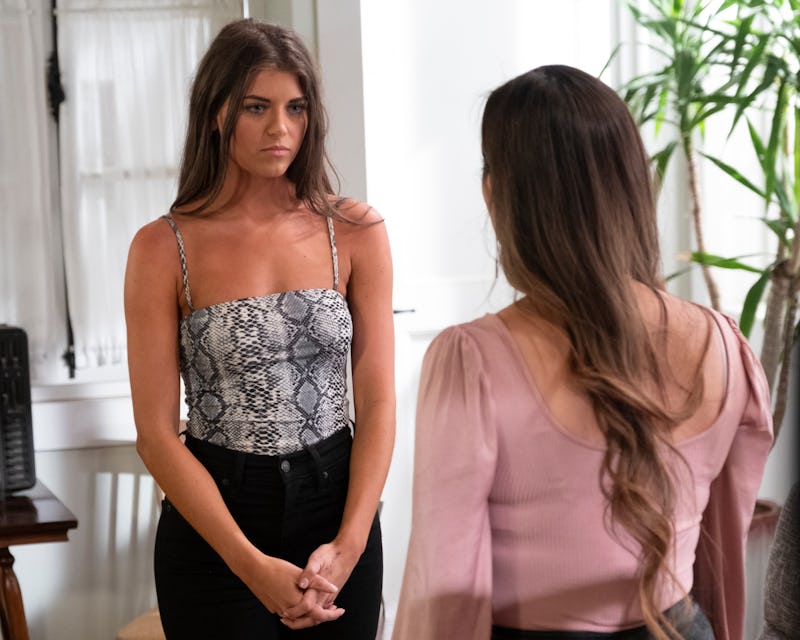 Francisco Roman/Walt Disney Television/Getty Images
Meeting the parents is always awkward, but Peter and Madison's hometown date may have been more uncomfortable than most. Madison's hometown date on The Bachelor got very intense and uncomfortable for Peter — especially once her mother and father raised the issue of her strong Christian faith, and how that would affect her relationship with Peter.
Despite the fact that Madison and Peter had a strong connection right off the bat (he even took her to his parents' vow renewal as their first one-on-one date), she didn't reveal just how important her religious beliefs are to her until Week 7, during their date in Peru. During that conversation, Madison explained that she wanted her husband to "lead the family in faith," which her father emphasized when Peter sat down with him after dinner at her house. And while Peter says he's okay with that, and that he wants to strengthen his own religious beliefs, he wasn't able to answer Madison's father when pressed about whether or not he shares those values.
Madison's conversation with her mother added yet another complication to their relationship, as the Auburn native hasn't yet revealed to Peter that she's saving herself until marriage. All in all, it made for a deeply uncomfortable dinner, as Madison's parents didn't seem impressed by Peter and his comments about his religious beliefs, which Bachelor Nation noted will cause a massive problem in their potential future relationship.
Madison's parents clearly have high expectations for her future husband — their faith is incredibly important to them, and they want to make sure that their daughter is with someone who recognizes, respects and possibly also agrees with that. They didn't appear to be convinced during the hometown date that Peter is the right choice for her, and during her own conversation with her mother, Madison herself seemed to become more hesitant about her relationship with Peter in the face of her parents' disapproval.
Of course, there's also another major issue at play, which Madison revealed during her conversation with her mother. While Peter knows that she has strong faith, Madison hasn't yet told him about the "choices" she has made for herself and her future husband, which is poised to cause some major problems for the two of them when she, Hannah Ann and Victoria F. land in Australia for the Fantasy Suite dates. After all, sex is an important part of a relationship to Peter — just ask Hannah Brown and the infamous windmill.
It looks like Madison does, finally, share that news with Peter before the quartet jet off, but it's clear that the whole situation is taking a toll on her, which means that their relationship isn't exactly as unbreakable as she and Peter may have thought. "Next week is fantasy suite week and I don't think Peter knows how much I'm struggling," Madison says, after earning one of the final three roses. She's "not willing to compromise" her beliefs, but now that she has strong feelings for Peter, it's not so easy for her to just walk away if he doesn't feel the same way.
"If he sleeps with anybody else, it's going to be hard for me to continue to move forward," Madison says in the preview for the upcoming episodes, and while Victoria poses it as an "ultimatum," it seems like it's more of a personal conflict for her. "These are the expectations that I have for myself, these are the expectations that I have for my relationship," Madison tells Hannah Ann in the promo. Because her faith is so important to her, Madison has likely imagined the type of relationship that would lead to marriage for her — and it just so happens that one of her major deal breakers is sex before marriage.
As entertaining as it was to watch Peter squirm while speaking to Madison's father about their respective faiths, the awkward conversations really just served to highlight the difficulties waiting for Peter and Madison as they move forward. She hasn't been fully open about how important her religious values are; he clearly isn't as devout as she is, and there is plenty of turbulence ahead for these two as they head towards Fantasy Suites.