'Manchester By The Sea' Could Pick Up Some Oscars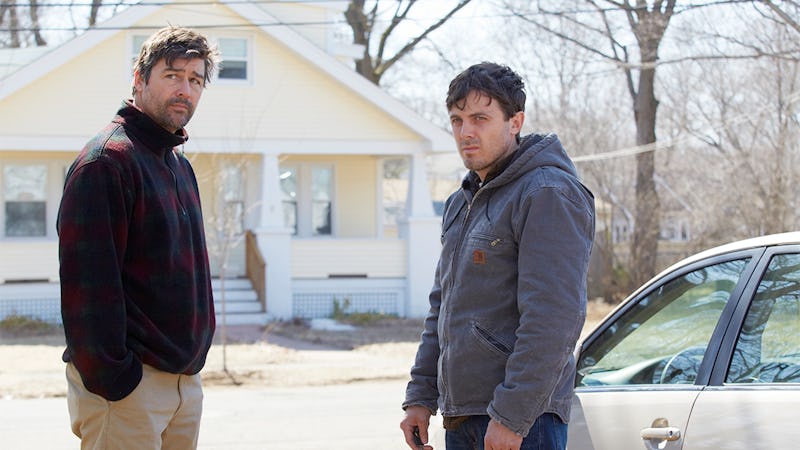 Roadside Attractions/Amazon Studios
The Oscars are almost here, and a trio of films have emerged as the favorites to have a big night at the ceremony on Feb. 26. There's La La Land, the musical darling that dominated the Golden Globes in record-setting fashion; Moonlight, which took home the Globe for Best Picture - Drama; and then there's Manchester by the Sea. But with such stiff competition, what are Manchester by the Sea's Oscar chances? Can the movie really compete against those other two films?
Sure it could. While it's true the movie is currently perceived as running third in the Best Picture race after the Golden Globes, the Globes don't always accurately predict the Oscars. In fact, just last year, the Globes honored The Revenant and The Martian as their Best Pictures (Drama and Musical or Comedy, respectively), while the Oscars went with Spotlight. The year before that, it was Boyhood and The Grand Budapest Hotel winning at the Globes, and Birdman taking top prize at the Oscars. So there are certainly no guarantees that either of the Golden Globes' Best Picture winners — Moonlight or La La Land — will best Manchester by the Sea for the top prize at the Oscars.
But the film will likely have a stronger chance to win an Academy Award in categories outside of Best Picture. Star Casey Affleck is considered the frontrunner by far in the Best Actor category, as he has won the award at nearly every other major competition so far this awards season; including the Golden Globes and the Critics' Choice Awards. Perhaps the only thing that could derail Affleck are the sexual harassment allegations from his past (which he's denied), which have come under increased scrutiny as of late — especially after his Globes victory.
Another Oscar the film stands a good shot at winning is the award for Best Original Screenplay. Director Kenneth Lonergan is getting a lot more attention for his script than for his direction on the film, and he's already picked up wins in the category at 14 separate awards ceremonies; with several more victories possible in shows that have yet to take place.
Manchester by the Sea is widely regarded as one of the year's best films, and I'll be surprised if it doesn't go home with at least one statue at the 89th Academy Awards.