Attention, Lambs: Mariah Carey Is Going To Have A Major Role On 'The Voice'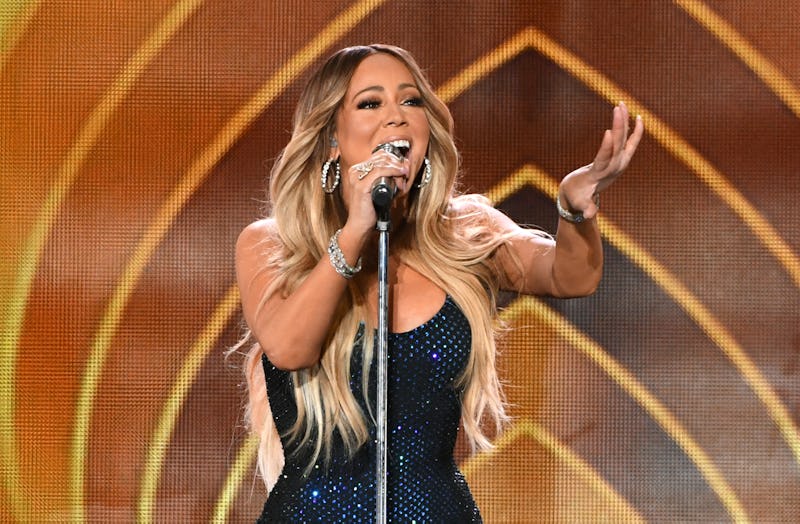 Kevin Winter/Getty Images Entertainment/Getty Images
When it comes to making exciting announcements, Queen Mimi sure gives with two hands, doesn't she? As was revealed on the Tuesday, Oct. 23 episode of The Today Show, Mariah Carey will be the key advisor on The Voice. She will help coach the show's remaining contestants during the Knockout Rounds section, not unlike another singer who also happens to have a song called "Shake it Off." Carey will make her The Voice debut next week.
She told Today,
"The sessions with the contestants, some of them have completely blown me away. It's a very, it's a humbling experience to be around all of the raw talent, and it's great because — I'm not saying you get jaded being in the industry or doing your own music and really being caught up in your own world, but maybe a little bit. And it's nice to see other people and what they're doing and what they're working with and what they're bringing to the table in terms of their contributions as artists. I really enjoyed it."
OK first of all, could you imagine singing in front of Mariah "Five Flippin' Octaves" Carey? And could you imagine Queen Mimi saying your singing chops blew her away? And could you imagine being one of the reasons why her time on this particular singing competition program has been so positive, as opposed to her time on another singing competition program?
Oof, Carey really did not enjoy being on American Idol. During a May 2015 appearance on Australian radio program The Kyle and Jackie O Show, she had some not-so-glowing things to say about working as a judge on the 12th season of the series. According to Billboard, she told the radio show hosts that Idol "the worst experience of my life."
Carey continued,
"I'm not going to get into what it was, but let's just say I don't think they had any intentions for us to have a good experience doing that show. Pitting two females against each other wasn't cool."
That whole Mimi and Nicki Minaj "feud" mess all but derailed the season, and clearly left an unpleasant taste in Mimi's mouth. The five-time Grammy winner also said the show was "so boring and so fake." She explained,
"When I say it's fake, I mean, I have to make up things to say about everybody. Half the time, the performances are good, you'll just be like, 'It was good.'"
However, her stint on Idol didn't sour her on all singing competition shows. The Elusive Chanteuse has put her American Idol days behind her, and has welcomed The Voice into her heart.
As far as Queen Mimi news goes, this month sure has been an embarrassment of riches. Last week, Carey revealed she will drop her fifteenth record next month. She's already shared three of the songs that'll appear on the album and duh, they are awesome. Oh, and just yesterday, she announced she'll be hitting the road next year. The Caution World Tour will commence right after her February leg of her residency at Caesars Palace in Las Vegas ends.
And next week, Queen Mimi will be taking her talents to The Voice. What a moment.