What It's Really Like To Be A Curve Model At Fashion Week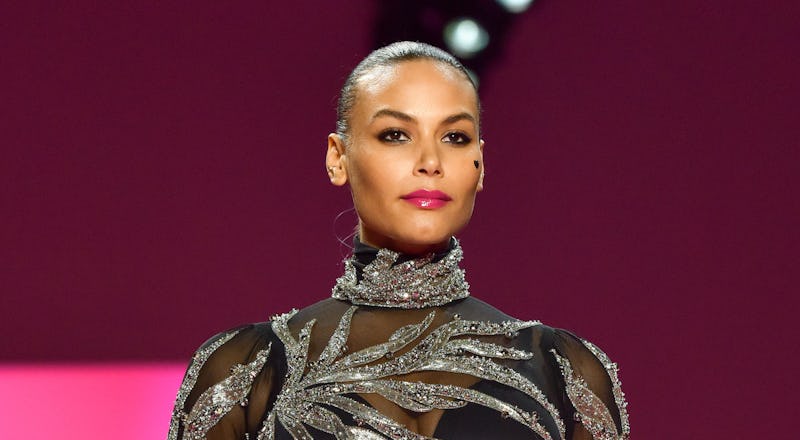 Getty Images
While the retail industry has made strides towards size inclusivity in recent years, luxury fashion has trailed behind at a much slower rate. Marquita Pring knows this all too well. A curve model and 2020 Sports Illustrated Rookie, Pring has been walking in Fashion Week since February 2016. And even though she's a size 12/14, which is on the smaller spectrum of plus, she still has trouble finding designer clothes in her size.
"Every year, it feels like it's getting less [inclusive] than when we first came out the gate," she tells Bustle. "We need to continue having the conversation and continue inspiring casting directors to cast curvier women in their shows. And we need designers to start providing the samples for it."
In many ways, this season felt like a regression in terms of normalizing size inclusivity at Fashion Month. In New York, Christian Siriano, Chromat, and Tadashi Shoji led the charge with the most size diversity on their runways. A few others followed suit overseas by using one or two larger models, including Fendi, Lanvin, and Alexander McQueen. But overall, there was a clear lack of representation of diverse body types on the runway. That's precisely why Pring says it's vital that we speak out with the platforms we have, showing designers that this topic is crucial to the future of the industry.
Only a few designers consistently value the plus-size consumer, Pring explains, and Christian Siriano is one of them. "I'm so proud of him for being so true to it," she says. "He's leading by example and people are starting to finally catch up, but he has been true to this commitment and message for [over a decade]."
Each season, Pring walks in the Christian Siriano show. In fact, she's been walking for the designer since the very first season he put curve models on the runway in September 2016, signaling a huge shift for the industry. She has her getting ready routine down pat: she gets a good night's sleep, works out, preps her skin ("I love these eye patches from Intraceuticals") and does a hair mask. Then, it's time to head backstage. Typically, her hair and makeup experience is seamless. For Siriano's show, that included heavy liner, a lash, a pink lip, and a heart drawn below her eye with a Swarovski crystal in the center — all by Maybelline. Her hair was straightened then slicked back into a bow using TRESemmé TRES TWO Extra Hold Gel with blue and pink extensions to fit the Harley Quinn theme of the collection.
When it comes time for fittings, curve models don't always know what to expect. With Siriano, Pring can breathe a sigh of relief. "You want clothing that fits your shape," she shares. "Fit is by far the most important thing, [and Christian nails that]."
Though most designers have yet to take Christian's lead, Pring insists that there are several opportunities for curve and plus models to blaze a trail. New inclusive agencies are popping up each year like the btwn and Part & Parcel Talent. And a strong community of plus and curve models is developing in the fashion industry. Pring leans on friends like Candice Huffine and Chloe Vero for support. The agency Pring is signed to, IMG Models, also represents leading plus models like Ashley Graham, Paloma Elsesser, and Tara Lynn.
Pring's advice for emerging models? Authenticity is key. But just as important is using your platform to advocate for models of all sizes. "Think about how you can further this conversation, push change, and really make an impact," she advises. "We all need to be using social media to challenge designers to do better."
This article was originally published on